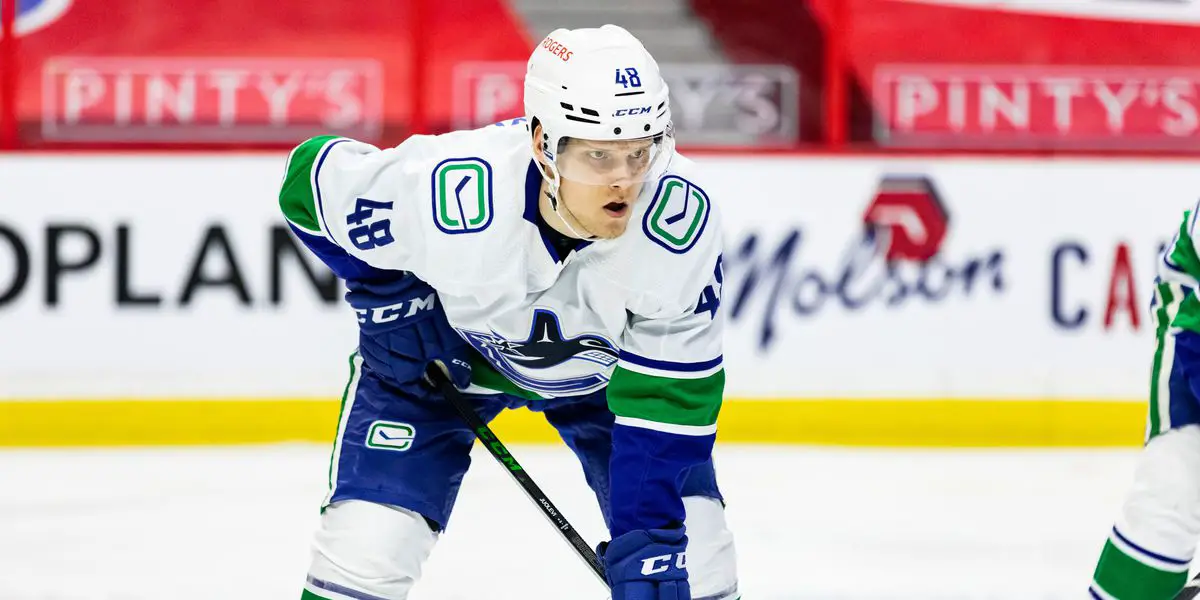 Since taking over in Detroit, Steve Yzerman has made an effort to take chances on once highly-touted young players. Success has varied on those gambles, with the trade for Robby Fabbri being the highlight and the Brendan Perlini trade a swing and a miss. The waiver claim of Olli Juolevi has a chance to pay off for Detroit.
Juolevi is a 23-year old, 6'2, 185 lbs left-handed defenseman and was drafted 5th overall by Vancouver in 2016, being the first defenseman drafted over the likes of Charlie McAvoy and Jakob Chychrun. 
Juolevi had knee surgery during the 18-19 season to repair a tear in his right meniscus. Since then, he has struggled to stay healthy as the most games Juolevi has played in a single season of pro is 45. Juolevi was second in defensive scoring on Utica in that season, with two goals and 23 assists before the season was postponed. 
After making his debut in the 2020 NHL playoffs, it looked like Juolevi was finally ready to make his impact in Vancouver. Even with the tough 20-21 season the Canucks had, Juolevi only played in 23 out of the 56 games.
This year, reports coming out of training camp were that Juolevi hadn't made the proper developmental steps in the summer and was a player outside the lineup looking in. 
This led to Juolevi being traded to Florida in October, in exchange for Juho Lammiko and Noah Juulsen, far off a fifth-overall pick's value. Juolevi was lost in the shuffle on a stacked Florida team, only playing in 10 games and averaging 12:27 minutes a night. The lack of games was due to a lower-body injury that flared up on Juolevi in a game versus Calgary in January, and he has only played in one game since.
How Detroit Could Be Different
Looking back on the project players that Detroit has acquired since Steve Yzerman has been General Manager (Robby Fabbri, Brendan Perlini, and Eric Comrie), they all received plenty of opportunities, which is something Juolevi hasn't had yet in his career.
Frequently when a top prospect isn't developing as fast as their team would like, teams will look over them in the system and leave them in the minors instead of changing the approach of developing the player. Teams still see the potential in their draft picks and struggle to know when to move on, which from a management standpoint loses value.
Juolevi was only given 23 NHL games in Vancouver, which isn't enough time to know what a young defenseman is. Especially when that Vancouver team was near the bottom of the standings and could benefit from developing homegrown talent. In the case of Florida, they are a Stanley Cup contending team and aren't in the business of development, so if a player has a few bad games, there are no second chances.
On Monday, Olli Juolevi joined the Red Wings at practice, and with that came roster moves.
To make room for Juolevi, Detroit placed Danny DeKeyser on waivers Monday, as there were nine rostered defensemen, and space had to be created for not only Juolevi but also Jakub Vrana, who is coming off of IR.
Juolevi will get the opportunity to prove himself in Detroit this season. With the recent play of the defense, especially the left side, Detroit could use some new blood to bring out the best in everyone. In his press conference, Juolevi described himself as a puck-moving, two-way defenseman which is just what Detroit needs right now.
It is unclear what Vancouver's development staff's approach was with Juolevi, but Detroit has drastically improved its staff over the past few years. Looking at the development of young defensemen such as Moritz Seider and Simon Edvinsson, there is a track record of success. That can be attributed to the work of the likes of Niklas Kronwall, Shawn Horcoff, and Dan Cleary, who have focused on letting players play their game.
Juolevi has shown promise in the OHL, Liiga, and the AHL but has struggled to find his footing to make that next step as an everyday NHLer. Juolevi has the chance to be a long-term option in Detroit as he is only 23 years old and is an RFA at the end of this year. It will be interesting to see what Detroit's development staff does to help Juolevi get to that next level, which is the biggest question.
There is virtually no risk in claiming Juolevi as all Detroit needed to acquire him was a roster space, but this is still a project that has a chance of ending the same way as it did in Florida. Based on morning skate, it looks like Juolevi will be a scratch on Tuesday versus Arizona, but with the trade deadline approaching and the likes of Nick Leddy, Troy Stecher, and Marc Staal on expiring contracts, it shouldn't be too long before we see him in the winged wheel.
After beating two top-ten teams in the NHL, the Red Wings have dropped three straight and are facing a crossroads. In this episode we look at what the future may hold for key players, the current roster construction, and the performance form the youth! Please rate and review our show on your favorite listening platform. Check out our partner's website at www.insidetherink.com for all your latest hockey news.