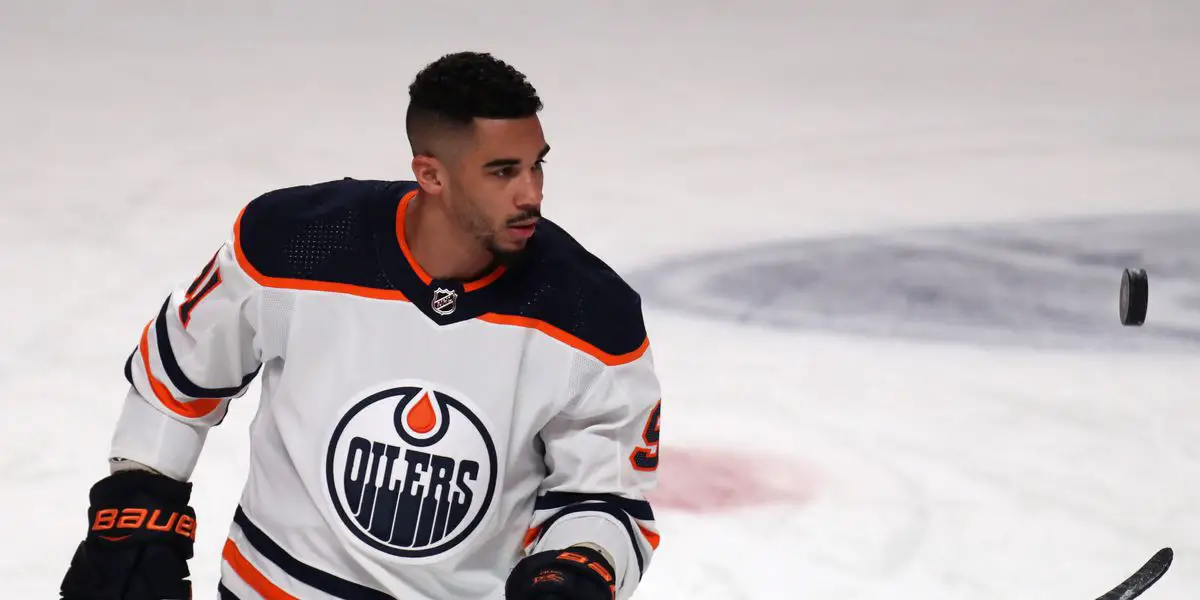 On January 8, the San Jose Sharks terminated Evander Kane's contract after a series of off-ice issues, opening the door for Ken Holland to sign Kane to a prorated $2 million AAV contract for the remainder of the season. This turned out to be one of the biggest bargain contracts in the league, with Kane scoring 15 goals and 23 points in his first 27 games as an Oiler. He has been producing at a terrific rate and adds some physicality to the Oilers' top-six forward group. It would be ideal for Edmonton to keep Kane, but with several key players becoming free agents this summer, they will have some tough decisions to make.
This summer, Edmonton's key unrestricted free agents (UFAs) include Evander Kane, Kris Russell, Brett Kulak, Derick Brassard, and Mikko Koskinen, with the group of restricted free agents (RFAs) including Jesse Puljujarvi, Kailer Yamamoto, and Ryan McLeod. The Oilers will have just under $10 million in cap space to sign all of these players. It seems impossible, but can the Oilers trade away some contracts to create enough space for their core players? Let's break it down.
Bob Stauffer has suggested in the past that the Oilers could offer Kane somewhere in the $4 million AAV for four years range. Assuming Kane agrees to this offer, the Oilers sign Puljujarvi and Yamamoto to 2-3 year bridge deals around the $3.5 million AAV range, and McLeod signs his own bridge deal closer to $2 million, then that would suggest the cost for bringing these players back should be around $12-13 million per season. If they let the rest of the free agents walk, they could replace the empty roster spots with Holloway, Broberg, Niemelainen, and Skinner.
With all of the key players re-signed and the empty roster spots filled out with the players mentioned above, the Oilers would be somewhere around $6-8 million over the salary cap. The only way to clear space would be to trade away some of the more expensive contracts. Some candidates for movable contracts that wouldn't heavily cripple the Oilers to trade away include Zack Kassian ($3.2 million), Tyson Barrie ($4.5 million), Warren Foegel ($2.75 million), and Derek Ryan ($1.25 million).
If Dermott and Hamonic were able to fetch mid-round picks at the deadline this year, I suspect the Oilers could successfully deal Barrie for a draft pick as well. If they add a draft pick to sweeten the pot, Kassian could have a movable contract as well, although the return would just be a depth player at best. I suspect Foegel and Ryan could be dealt for cheaper replacements if packaged with a B-level prospect or a late-mid-round draft pick.
In a best-case scenario, the Oilers would be around $6 million over the salary cap, and the subtraction of Kassian, Barrie, Foegel, and Ryan would open up $11.7 million. Assuming the Oilers could get two bottom-six wingers and a fourth-line center to replace these players for about $3 million, they would have about $2.7 million remaining to acquire a 3RD to replace Barrie, preferably a physical and defensive-minded player. The salary cap is set to increase by $1 million next season, which could either allow the Oilers to keep Derek Ryan or bring in a more substantial replacement for Barrie.
 This is the resulting roster could look something like this:
Kane – McDavid – Yamamoto
Hyman – Draisaitl – Puljujarvi
Holloway – RNH – McLeod
Perlini – Shore – 4RW
extra forward x2
Nurse – Bouchard
Keith – Ceci
Broberg – 3RD
Niemelainen
Skinner
Smith
So is it feasible to sign Kane, Yamamoto, Puljujarvi, and McLeod? Sort of. As I demonstrated, it can be done, but it would take some seriously creative salary cap gymnastics, and the Oilers wouldn't possess the necessary money to sign a goaltender. Instead, they would have to hope that the cheap but unproven Stuart Skinner can be in a serviceable tandem with Mike Smith.
If Edmonton were to pull something like this off, they would still have too many holes on defense and in goal to be true Stanley Cup threats (barring a massive jump forward by Skinner, Broberg, and Bouchard), so the year to go all-in might have to wait until 2023-24. That season, the Oilers will have Keith, Smith, and Sekera's buyout penalty all coming off the books, which could give them the room to finally sign a proven goalie and fill in the gaps on their defense.
This was all a hypothetical exercise; in reality, I believe that Edmonton will make the difficult decision to let one of these key players walk in free agency rather than execute a series of trades to make space for all of them. It isn't an easy scenario to be in, but if the Oilers play their cards right, they could be set up for an all-in push in 2024.