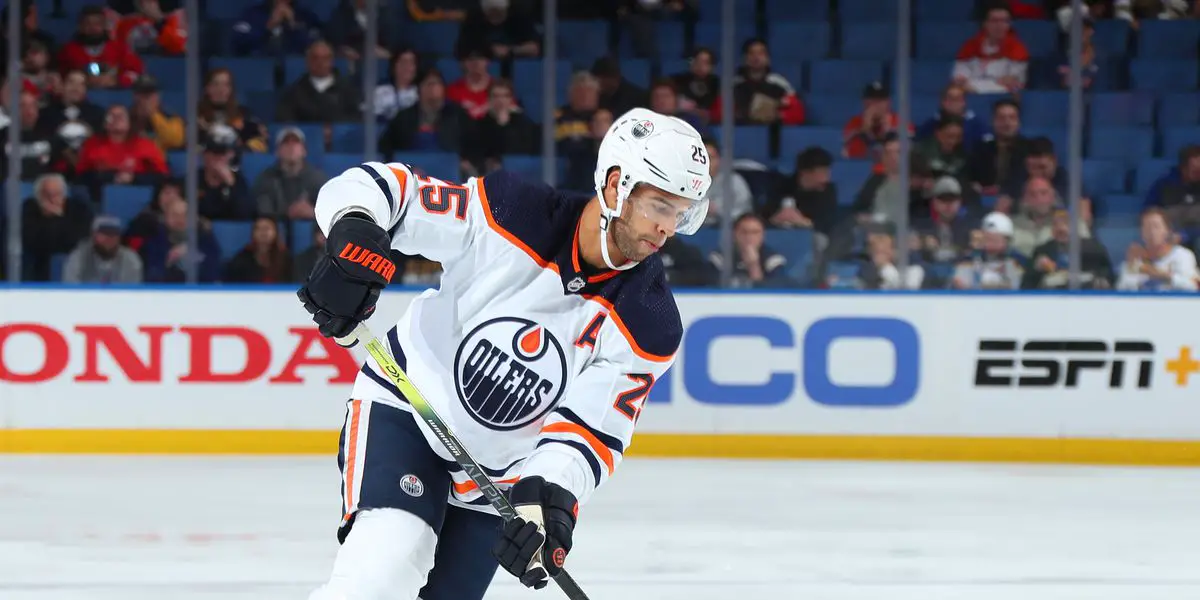 The Contract
There are many reasons why you might have chosen to come this far. You may be searching for any reason to be optimistic about the upcoming eight-year, $9.25 million average annual contract that kicks in this fall. Or maybe you were triggered by what must be a clickbait title and are ready to leave an overtly insulting message in the comment section. Or perhaps you are like me, a die-hard fan, simply attempting to soak up every last droplet of Oil related news to get yourself through the dog days of August and closer to opening day puck drop.
Since signing his big-ticket contract last summer, there has been endless discussion around the hockey world debating whether or not the big defender can live up to the billing as one of the NHL's highest-paid defensemen. Since then, we have heard every argument and seen every statistic for and against the player. For these reasons, I will choose not to be redundant and regurgitate stats—instead, this article focus on what the number 25 will bring to AB's capital franchise. 
On-Ice Factors
There is no denying the presence that Darnell Nurse has on the ice. He is big; he is fast, and he is mean. Aside from becoming a fan favorite overnight and introducing himself to the BOA without even playing in an Oilers regular season game, he proved that he was going to bring a swagger with him along with obvious upside in talent and size to the big leagues. From the first glimpse fans had of the player years back in the Penticton Prospect Tournament, we knew what 25 would bring to his team. We saw the Oilers' future #1 defenceman pummel Flames' top prospect, Rasmus Andersson, into a pile of soot and ash. A sequence that left Flames fans in a state of white-hot rage. 
Since joining the Oilers full-time in the 2015-16 season, Darnell has boasted top-end skills that any NHL team would love. This includes top-end speed, a great first pass, and offensive upside (despite minimal PP action). He is also one of the NHL's top minute munchers. But what makes 25 a unicorn in today's game is his ability to do all this while also being a physical force. His presence is devastating for hopeful forecheckers who are forced to trade an offensive opportunity for a face full of glass. He has also been known to square up against some of the NHL's most challenging individuals, including Milan Lucic and Zack MacEwen. This is a player who is a leader in the locker room and someone general managers dream of having on their roster. Some do not realize it until they are gone. 
Off-Ice Factors
You might still be sitting there, Oilers fan or not, thinking that this writer is still simply blowing hot air. And you would be fitting if not for part two: off the ice. Darnell brings many skills and intangibles to the team; however, he is likely not worth such a hefty price tag. Player comparisons, and rightly so, often project Darnell as more of a $6-6.5-million guy. So why am I bullish on the contract? Let me pose it to you in a partial scenario, partial question:
Pick an NHL team (any team) and pretend you are the GM. Imagine this team has your favorite player, maybe even the best player of all time. Imagine that this "best player of all-time" has a best friend. This best friend wants to sign a max-term deal and play the rest of his career for your team, but he also wants 3 million more than you know you should. Do you a) refuse to offer the contract, lose your #1 d-man, and get upset with the "best player in the world," or do you b) sign the deal knowing it all but guarantees the best player in the world stays with the franchise for their entire career as well?
I am here to wake you up and inform you that 32 of 32 GMs in the league would dump $3 million into the ocean if it meant keeping even one of the two best players in the world on their roster long-term. The Oilers franchise has two "best player alive" types of athletes on their roster. And said "overpaid" defenceman just happens to be best friends with them.
These three core players spend their summers together. Their girlfriends watch the games and travel together. They work out together in the offseason. They are at each other's wedding parties. (see figure 1) This list could go on for several pages. However, the point remains poignantly clear: the deal given to Darnell Nurse last summer may go down as the most important and most valuable contract in Edmonton Oiler history.  
Happy Yet?
If you are a Flames fan, probably not, and that's okay. Darnell Nurse is a unicorn. He is a physical specimen who can skate, hit, pass, shoot, fight, and lead a locker room and any other NHL defender. Despite all 25 offers on the ice, his greatest asset to the team might be the relationship he has built with the two best hockey players in the world. With deals expiring in three and four years, having their lifelong friend locked up long-term and committed to the franchise will provide that little extra incentive for the Oilers superstars re-up and giddy up into the rest of their careers as Edmonton Oilers. 
The boys are back after a long break but have plenty to talk about as the playoffs are in full swing. We go series by series, looking at how teams have fared so far and who will come out on top. Thanks for listening! Please rate and review our show on your favorite listening platform. Check out our partner's website at www.insidetherink.com for all your latest hockey news.