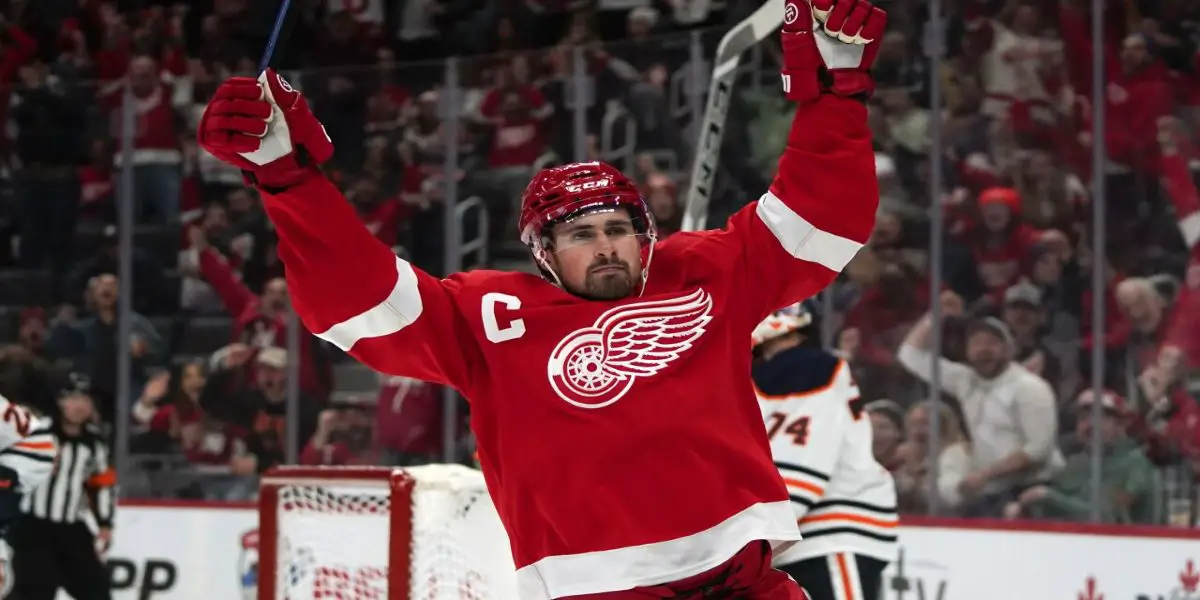 The Detroit Red Wings need to lock Dylan Larkin into a long-term extension before he becomes a UFA next summer. After the blockbuster trade that saw Matthew Tkachuk leave Calgary, NHL general managers have been put on notice that anything can happen, even if a player's contract demands are satisfied. It is well known that Larkin would love to remain the captain of Detroit. How long this love affair lasts depends on several factors for a player who turns 26 next weekend.
Here is a look at what the negotiations might look like for the Red Wings highest-paid player.
Current Contract
After Dylan Larkin's three-year entry-level contract expired, Larkin signed a five-year extension so that he could remain with the Detroit Red Wings. This extension had a cap hit of $6.1M annually and is set to expire after the 2022-2023 season. As Larkin enters the final year before becoming a UFA, he is set to have a no-trade clause (NTC) kick into the last year of the deal.
After 11 years of representation, Larkin decided to change agents. According to Max Bultman at The Athletic, "Larkin will now be represented by Matt Williams, Pat Brisson, and CAA Sports." If CAA and the Red Wings cannot agree on another extension, Larkin will become a UFA next summer, and the Red Wings will not be entitled to anything in return.
Larkin's Career
Dylan Larkin was drafted 15th overall by Detroit during the 2014 draft. He played one season at the University of Michigan before turning professional and playing six playoff games for Grand Rapids in the AHL.
Larkin was an NHL rookie during the 2015-2016 season, playing 80 games and scoring 23 goals, 22 assists, 45 points, and a +11 rating. The Red Wings made the playoffs but were defeated by Tampa Bay in five games. Larkin scored one goal during his loan playoff season in the NHL.
Larkin had his best season in 2018-2019 when he played all 82 games for the first and only time scoring 32 goals, 41 assists, 73 points and had a -6 rating.
Last season, Larkin was on a path to having career-best statistics before deciding to have season-ending surgery to repair core muscle. According to nhl.com, Larkin's recovery time from the April surgery was supposed to be 8-10 weeks. In 71 games last year, Larkin scored 31 goals, 38 assists, 69 points, and a -18 rating.
During seven NHL seasons, Larkin has played 504 games and has scored 147 goals, 211 assists, 358 points, and a -85 rating. Using these statistics as a guide, if Larkin played all 82 games in a season, he would, on average, score 24 goals, 34 assists, 58 points, and have a -14 rating.
Team Leader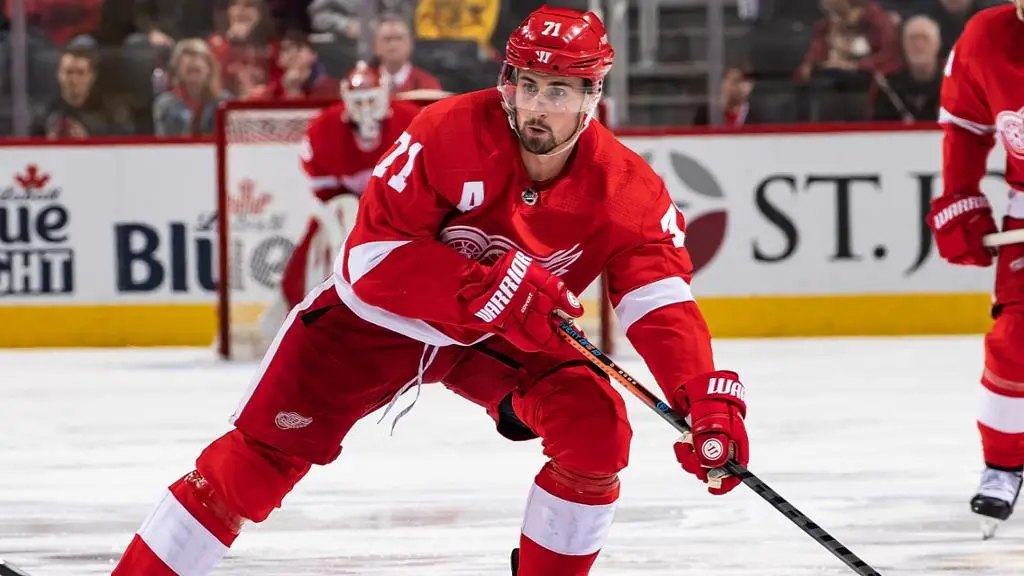 After serving as an alternate captain for two seasons, at age 24, Dylan Larkin was named the 37th captain in franchise history. Not only is Larkin a leader on the ice, but he is also regularly the player who talks to the media after practices and games. His media availability is an integral part of his responsibility as captain. The 2022-2023 season will be Larkin's third season as captain of the Detroit Red Wings.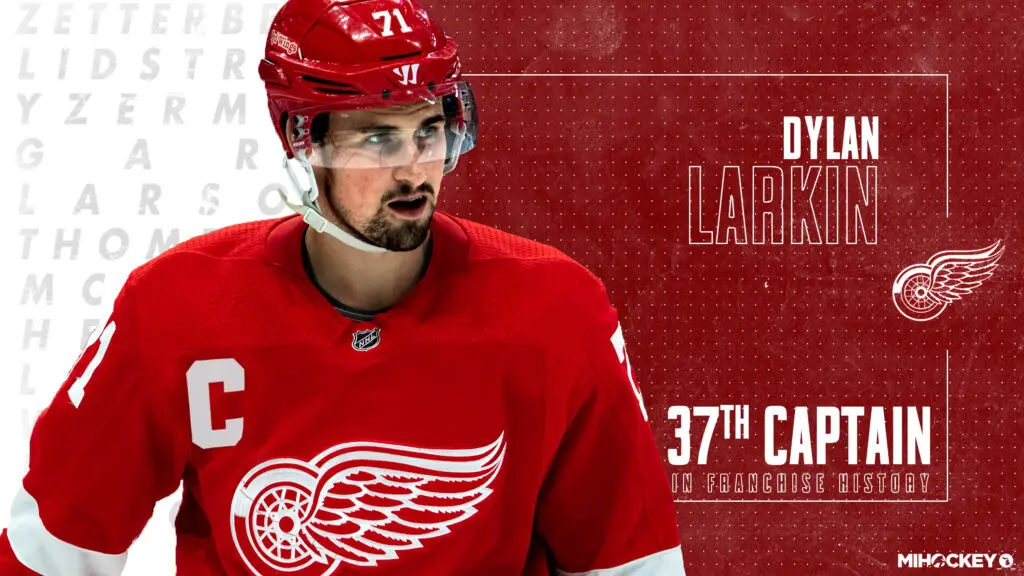 What will it take to re-sign Larkin?
Dylan Larkin will be looking for a long-term contract extension that will guarantee that he stays with the Red Wings until close to the end of his career. His last contract was for five years, and there is no doubt that he will seek the maximum eight-year extension during these negotiations.
If we want to compare recent free agent signings, the top two signings from this year's UFA group of players is possibly the best guide to see what Larkin could get in an extension. These players were only allowed to sign for seven years because they signed with new teams. Johnny Gaudreau has the highest cap hit at $9.75M. He also scored 115 points last year to place second in league scoring. Claude Giroux has the next highest cap hit at $6.5M annually for three years. Giroux scored 65 points playing 75 games for Florida last year. Giroux has a base salary of $7M for the next two years before his contract dips to $5.5M in his final year when he is 37.
For Larkin to sign an extension with Detroit, he will likely seek an annual cap hit of between $8-8.5M. This contract will likely be for eight years and will have a full NMC attached for the duration of the contract.
Final Thoughts
Dylan Larkin must sign an extension before the 2022-2023 season starts. Larkin has all the bargaining power now because he knows that once the season begins, he can't be traded to another team. His representatives and Detroit general manager Steve Yzerman have been tight-lipped about negotiations, but there is no doubt that both sides want to get this deal done before training camp.
Going into training camp without an extension will bring added stress to a season when the Red Wings should be in a fight for a playoff spot. For the first time since his rookie season, Larkin should be playing meaningful games in April.
The new additions of Andrew Copp, David Perron, Olli Maatta, Ben Chiarot, Ville Husso, and Dominik Kubalik should help vault the team into playoff contention. With youngsters Jonatan Berggren, Simon Edvinsson, and Marco Kasper waiting in the wings, Larkin is likely excited about the possibility of a long marriage with the only NHL team he has known.
In this episode, we discuss the Red Wings finish to their four game roadtrip, winning in San Jose and Columbus and losing in the shootout to Anaheim. We dive deep into the games, breaking down Filip Hronek's hot start and what has been different this season. Seider and Copp finding their way, Bertuzzi and Walman return. And a look at the playoff picture in the Eastern Conference. Please rate and review our show on your favorite listening platform. Check out our partner's website at www.insidetherink.com for all your latest hockey news.