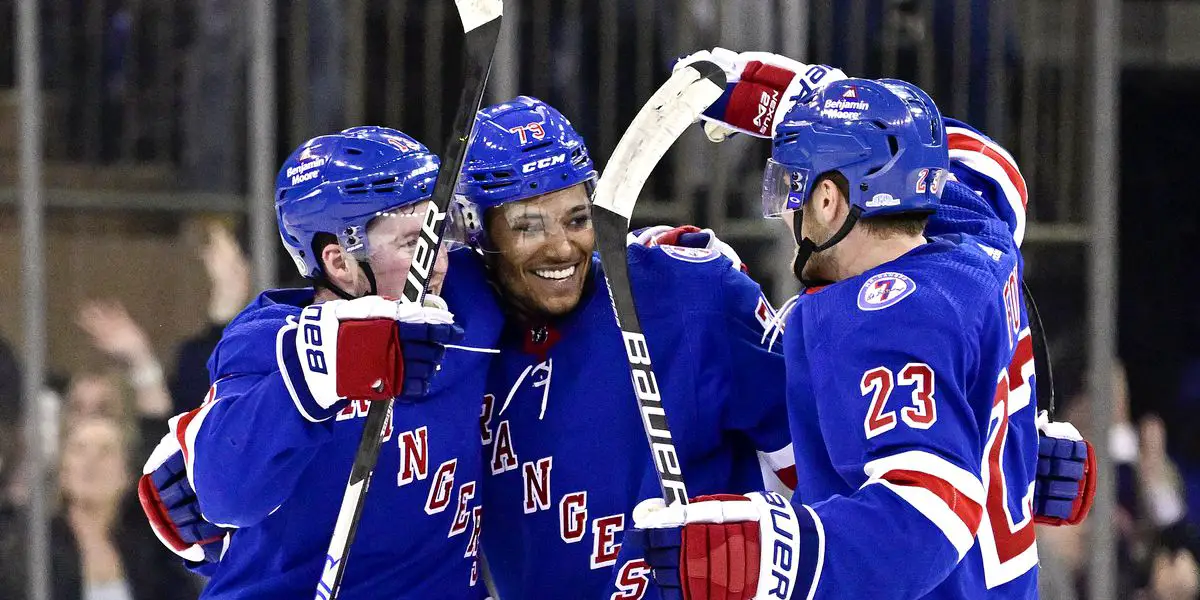 Moments after being traded to the Rangers, Justin Braun said that he hadn't spoken to Chris Drury because the Rangers rookie GM was "still busy making trades." Braun wasn't lying. Drury pulled off a total of 4 trades Monday, and Braun was the first New York domino to fall before the flurry of trades that came in between 2 pm EST and the deadline of "3 pm EST." He brought in help to fix the inconsistent 3rd line, added a veteran defenseman who's played in over 100 playoff games, brought in a depth scorer for the AHL affiliate in Hartford, and added a 4th line spark plug that should be a menace on the forecheck. Coming into Monday, the Rangers were a 40-win team with 19 games remaining on the schedule. Drury did his job by fixing the few discernable issues plaguing this team, and he did it without trading away any key prospects.

With the addition of three new forwards and one new defenseman, the lineup chess game that will most likely be played for the duration of the season began Tuesday night in New Jersey. It started out great with the Rangers jumping out to an early 2-0 lead. New York controlled the puck for the majority of the first period but continued their alarming trend of giving up too many odd-man rushes and premium scoring opportunities, only to be bailed out by their All-World goalie Igor Shesterkin. The Rangers hung Igor and eventually Alexandar Georgiev out to dry in the second period as the Devils took complete advantage of New York's perpetual miscues with five unanswered goals. The third frame was a little better as the Rangers held serve by scoring two goals and giving up two goals, but this isn't tennis.

Ups and downs to any season are to be expected, and no one should blow one game out of proportion, but last night wasn't a one-off. It was more like a microcosm of this season. Gerard Gallant's team has relied heavily on the play of Vezina Trophy favorite Igor Shesterkin, and a top-notch powerplay unit to propel the team into the playoff picture. New York's struggles at five on 5 are well documented and were on full display Tuesday night in New Jersey. Given the amount of talent permeating throughout this roster, it's pretty perplexing how much the Rangers struggle at five on 5. The former Jack Adams Coach of the Year just got a number of new pieces to help fix the issue. Andrew Copp, Tyler Motte, Frank Vatrano, and Justin Braun are not household names or superstars but should provide depth to this lineup that will become necessary in the postseason. Expect Gallant to mix and match with his new guys up and down the lineup from now until the end of the season. Drury went out and bought all the groceries, and it's time for Gallant to get in the kitchen and cook. He now only has 18 games left to figure it out.
This week we have on the Legend himself, Bill Pidto. We discuss the broadcast, the Rangers 2nd half and do our own fastest 150 seconds on a podcast.Thanks for listening! Please rate and review our show on your favorite listening platform. Check out our partner's website at www.insidetherink.com for all your latest hockey news.