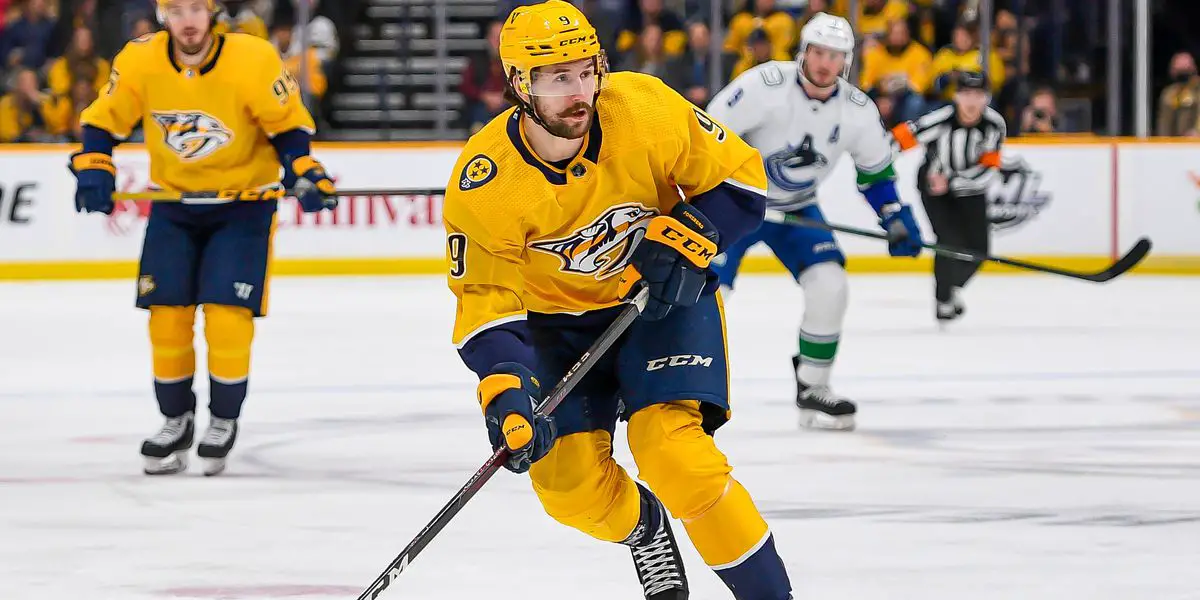 A few weeks prior to the deadline, Filip Forsberg and apparently everyone else in the hockey world was shocked by the news that Predators General Manager David Poile was shopping the veteran left-winger. Forsberg is in the final months of a six-year $36 million contract that has an AAV of $6 million. Forsberg reportedly wants to stay in The Music City and coming off the heels of his best season. He will definitely see a significant pay raise this summer. While the Predators have played 66 games so far, the Swede has only played in 53. Despite the fewer number of games played, he's set new career highs in goals with 37 and points with 65. With 16 games remaining in the regular season, Forsberg can improve upon his career year even further.

So, where does this leave the Predators' All-Time leader in goals? While Matt Duchene is also having a career year, Forsberg (27) has been Nashville's most consistent offensive threat since he's emerged as a 20-year-old during the 2014-15 season. Since then, he's been in the top three in points each season and led the Predators in total points in three separate seasons.

Nashville has a little over $25 million in cap space next season. With no other UFA's set to earn a significant payday, the Predators will have the available cap space to re-sign the Swedish superstar and possibly add someone in free agency.
What Forsberg wants is another question entirely. Nashville's General Manager David Poile threw cold water on the trade rumors prior to the deadline and stated that he was trying to resign him and not trade him. What's the hold up if Forsberg and Poile both want to get a deal done? Poile has reason to balk if Forsberg is asking for money in the neighborhood of Mikko Rantanen or Mitch Marner.

Rantanen: 6-years for $55 million. AAV of $9.25 million.
Marner: 6-years for $65.4 million. AAV of $10.9 million.

While Forsberg is probably a notch below those players, it's entirely possible someone opens their checkbook this summer and signs him to a big-ticket that Nashville refuses to match. The Predators are probably looking for a contract similar to Forsberg's teammates, Ryan Johansen and Matt Duchene.

Duchene: 7-years for $56 million. AAV of $8 million.
Johansen: 8-years for $64 million. AVV of $8 million.

If Forsberg is looking for a little more than his fellow brethren in Nashville, the contract could model Steven Stamkos's or Jakub Voracek's.

Voracek: 8-years for $66 million. AAV of $8.25 million.
Stamkos: 8-years for $68 million. AAV of $8.5 million.

Both parties usually come in high and low in contract negotiations like these. While it's certainly not ideal that he hasn't been re-signed yet, and they run the risk of losing him for absolutely nothing, they'll most likely meet somewhere in the middle with a contract that has an AAV in the neighborhood of $8.5-$9 for 8-years.

Lost in all of this commotion is the fact that the Predators are most likely, baring a collapse during their final 16 games on their way back to the playoffs. With career years from Duchene and Forsberg upfront, Roman Josi is playing like a Norris Trophy candidate and a Hart candidate, and Juuse Saros is playing like a Vezina candidate. This team has a punchers chance in any series. If Forsberg leads Nashville on a deep playoff run, expect his projected contract to increase a little more.