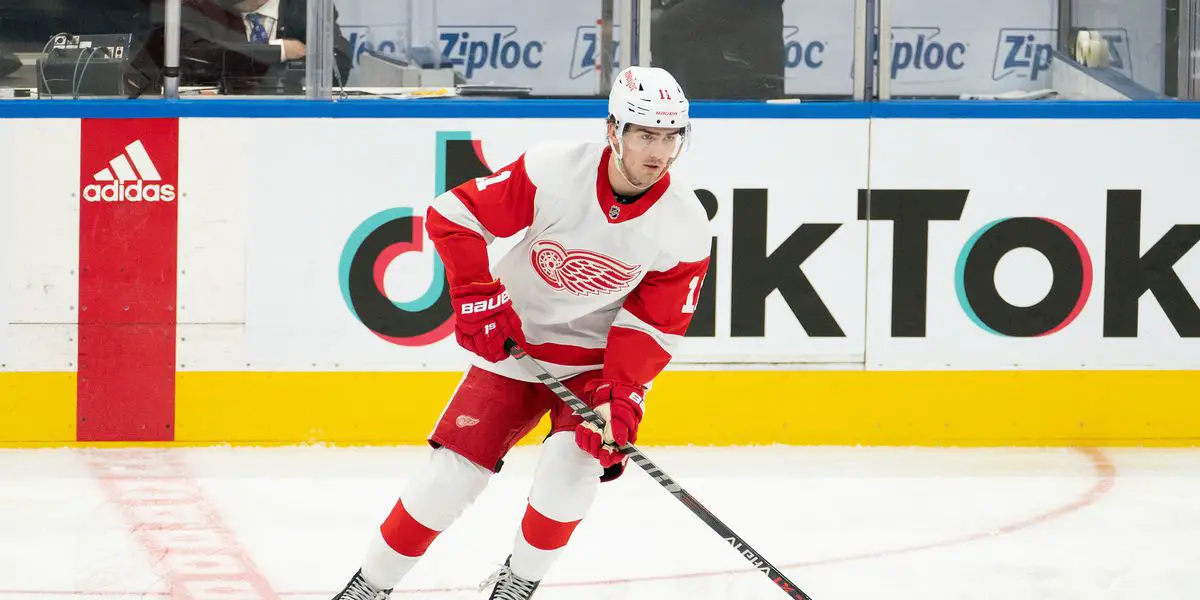 In the midst of a six-game losing streak for the Red Wings and two wins in the past thirteen games, the assumption would be that a head coach would turn to the team's most-skilled players for answers. While Dylan Larkin, Tyler Bertuzzi, and Lucas Raymond have been getting plenty of ice-time, Joe Veleno and Filip Zadina have been slotted lower in the lineup. There is something to be said for young players needing to "earn the trust" of the head coach by playing responsibly in a limited role on a competitive team before. The Red Wings currently aren't a competitive team, and Jeff Blashill still hasn't been slotting the Red Wings' two 2018 first-rounders higher in the lineup.
Filip Zadina
Jeff Blashill's response in a media availability when asked who would provide the extra offense in Robby Fabbri's absence, "I would hang the extra offense more on the guys who would get increased opportunities and probably, even more, ice-time," naming Filip Zadina, Joe Veleno, and Michael Rasmussen.
Since those comments, Filip Zadina has played ten games. He has averaged a little over 12 minutes a game, including Wednesday night versus the Rangers, where he only played 8:43, not exactly increased opportunity. Granted, in those ten games, Zadina has only scored one goal on the power play but has primarily been playing with the likes of Michel Rasmussen, Adam Erne, and Taro Hirose.
Zadina has been an enigma this season as he has had points this season where he looks to be on the verge of a breakout, and other times he seems invisible. Part of the reason may have to do with the fact that even though this is his third season (fourth if you want to count his nine-game stint during the 2018-19 season), this is Zadina's first entire season. 
Transitioning high-end prospects into the NHL isn't always as smooth as the likes of Moritz Seider and Lucas Raymond. With the stops and starts over the past two seasons, that's difficult on any player, especially a young player.
Zadina has looked his best this season when he's been able to play with guys who drive the pace of a line. The first half of the season saw Zadina on the second line with Robby Fabbri and Pius Suter, two guys who don't fit that bill. Blashill made the decision a few weeks ago to put Zadina up to the top line with Dylan Larkin and Lucas Raymond. Some saw this as an opportunity for Zadina to prove himself; others, such as Frank Seravalli of Daily Faceoff, reported that this was a showcase move by the Red Wings to see if there was any interest in the young forward. 
Either way, the move helped Zadina's confidence as he was able to find the back of the net twice through five games on the top line. While that's not an eye-popping statistic, it's an improvement on Zadina's eight total goals through 66 games. 
Zadina has improved his game over the past couple of months, as he's not forcing plays and waiting for them to come to him. He is taking the initiative and is retrieving loose pucks and moving his feet to make a play, which wasn't something he was doing earlier this season. He still struggles with his confidence to shoot the puck, either waiting too long to shoot or missing a Grade-A opportunity completely. Zadina is a confidence-driven player and needs that vote of confidence from Jeff Blashill by giving him a more significant role in the top-six, playing with skilled players.
Joe Veleno
Over the past month, Veleno has been slowly getting more comfortable and earning more trust from the coaching staff. Veleno looked to be trending towards being Detroit's second-line center a few weeks ago from his usage. Still, he's been averaging around 13 minutes a game over this six-game stretch, compared to Pius Suter, who's averaging over 16 minutes a game in that span.
Veleno has always been a guy who has adjusted slowly to a new league. In his first year in the AHL, Veleno had only two goals through his first twelve games. Through his first 26 games, Veleno had only three goals and an assist this season. Granted, Veleno was primarily centering the fourth line during that time with little power-play opportunity.
Now towards the end of the season, Veleno has produced more when his ice-time has increased as he sits with seven goals and 14 points in 53 games played but still has yet to see consistent ice-time on the man-advantage.
Players such as Adam Erne and Oskar Sundqvist have been filling roles on the power play before the young centerman. There seemed to be an emphasis from the coaching staff during the preseason to try Veleno in the net-front position on the power play, which was successful, but that hasn't translated into the regular season, even down the stretch.
Veleno has been one of the few Red Wings during this losing streak that has brought consistent energy to the lineup and has proven to be a line driver from the middle of the ice with his skating ability. Having Veleno play lower in the lineup isn't giving Red Wings' management any new information, as he has shown he is more than capable as a bottom-six player. What is unknown is if Veleno could be an answer for the Red Wings' second-line center slot, and the season's final stretch should be used to determine that.
For a team to move forward out of a rebuild, young players that the team has invested high draft picks on need to have opportunities higher in the lineup at the end of a season like this. Playing Joe Veleno and Filip Zadina in the top-six helps Steve Yzerman have a complete picture of the team moving into the off-season. If they look out of place, then the team can address the needs either in free agency or through trade, but if they look comfortable, then management can focus their attention on another need. 
After beating two top-ten teams in the NHL, the Red Wings have dropped three straight and are facing a crossroads. In this episode we look at what the future may hold for key players, the current roster construction, and the performance form the youth! Please rate and review our show on your favorite listening platform. Check out our partner's website at www.insidetherink.com for all your latest hockey news.