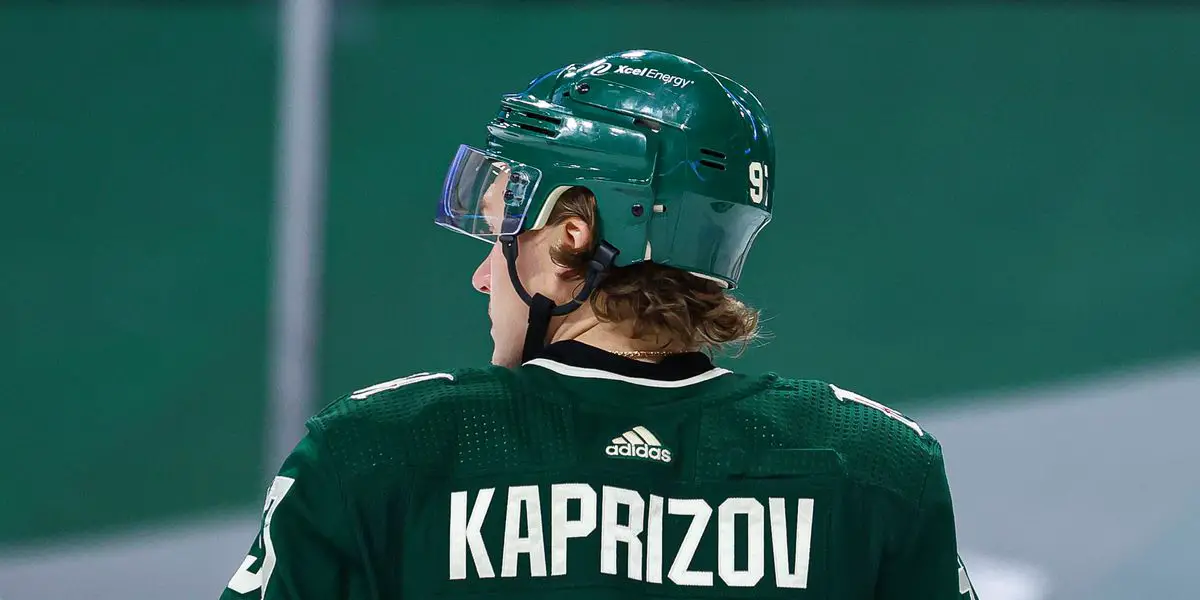 Those that had the pleasure of tuning into the Bruins vs. Wild game on Wednesday night got to experience a player they often don't' see or hear about. The young 24-year-old left-winger for Minnesota put on a show for fans with two goals right off the back as he showed off his developed skillset to help Minnesota jump out to a 2-0 lead early in the first. For Minnesota fans, this is nothing new, as Kirill Kaprizov has been putting on a clinic since entering the big stage last year for his rookie season. He has quickly risen to superstar level among wild players in only his second season in the league and has become the heart and soul of the offense as he's their leading scorer. At 24-years-old this is just the begging for the young winger as he is just scratching the surface of his talent and will only continue to get better as he is destined to be a perennial 30 plus goal a year player.
Rookie Season Ends With the Calder Trophy
The Russian-born Kaprizov entered the league in 2015 when he was the 5th round 135th overall pick in that year's draft. Many were worried about Kaprizov's willingness to leave his home country and play in the states, which led to his drop-in draft stock. His talent was unquestioned; on the other hand, his commitment was the real issue. For the Minnesota Wild, they were willing to take the flier on him in the 5th round, and through two seasons of big-league play, it has certainly worked out. Busting onto the stage during the 2020-2021 season, Kaprizov would play in 55 games and total 27 goals, 24 assists for 51 points as he went on to win the Calder Trophy. Kaprizov found his calling on the power play as the rookie scored eight power-play goals and totaled 13 power-play points during his first season, and achieved three game-winning goals. Showing how much of an offensive threat he is when the puck is on his stick, and he has his sights set on scoring a goal.
Year Two Even Better
Year two has been no different for Kirill Kaprizov as he's elevated his game and becomes a more dangerous threat on the ice. Even though it's just his second year in the league, he is the heart and soul of the Minnesota offense and the essential franchise cornerstone they look to build around. In his second year, Kaprizov has put up 32 goals and 43 assists for 75 points through 58 games as he builds on his rookie season, establishing himself as one of the NHL's young elite players. His plus-minus of 15 is up to five from last year's total of 10, as when he's on the ice, he and his linemates are difference makers. Kaprizov has continued his power-play solid abilities as he has seven power-play goals and 19 power-play points as he continues to excel with the man advantage. This was evident last night in the game against the Boston Bruins when Kaprizov buried his game's first goal on the power play beating Jeremy Swayman. The future is bright for the 24-year-old left winger as he will be a dominant force for years to come as he continues to put the league on notice with his speed, skill, and overall play. The Wild play their next game on Saturday, March 19th, against the Chicago Blackhawks at 2 pm EST, so stay tuned and watch first-hand the skill Kaprizov displays every game.
The boys are back after a long break but have plenty to talk about as the playoffs are in full swing. We go series by series, looking at how teams have fared so far and who will come out on top. Thanks for listening! Please rate and review our show on your favorite listening platform. Check out our partner's website at www.insidetherink.com for all your latest hockey news.