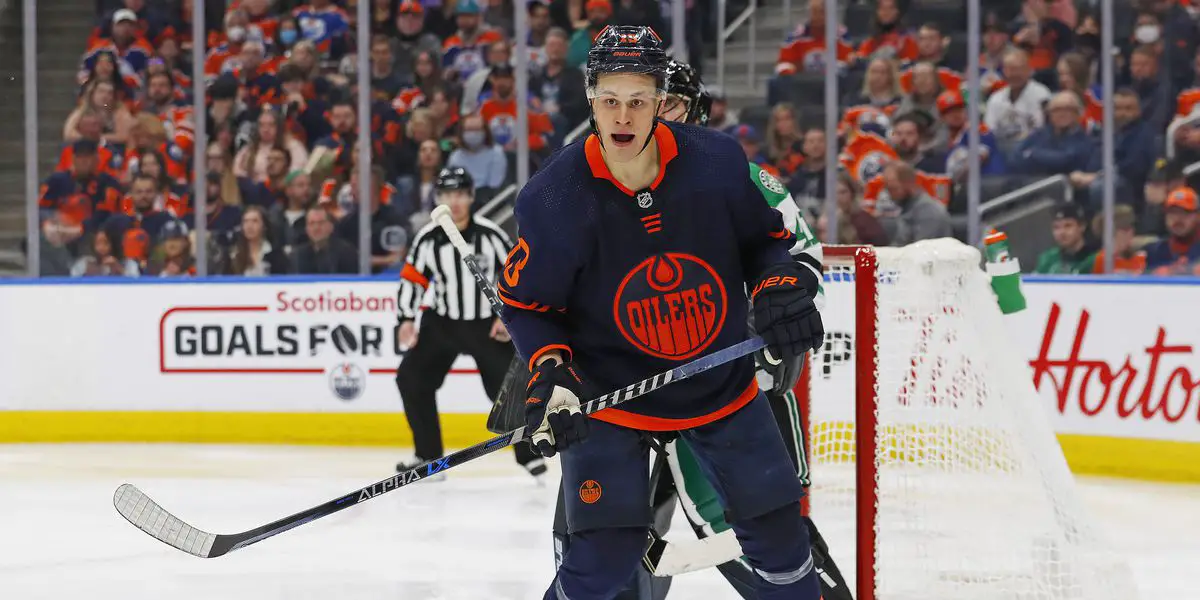 Since joining the Oilers in 2016, after being selected 4th overall in the NHL Entry Draft, Jesse Puljujarvi has had a rocky relationship with the Oilers. From getting sent back up and down, dealing with injuries, and even leaving the team for a season, it's safe to say Puljujarvi and the Oilers haven't always been on the best of terms. Although, Puljujarvi leaving EDM in 2019 was probably warranted after rumors about how he was treated by management. Currently, Jesse Puljujarvi is headed towards being an RFA, and the chances of him wearing an Oilers jersey next season seems slim. Could losing Puljujarvi be a costly mistake on Edmonton's part? To keep it short and sweet… yes, and here is why.
He Makes WHO better?
Something that I haven't stopped finding unbelievable is the fact that Jesse Puljujarvi makes Connor McDavid even better… no joke. For example, in just over 56 minutes of TOI with Puljujarvi, McDavid had these stats improve when playing WITH Puljujarvi: GF%, XGF%, SCF%, HDCF%, CF%, and SF%. Also, McDavid's on-ice 5v5 play drastically enhanced when playing with JP. 5v5 xGoal Share went from 56.1% to 61.6%, 5v5 Goal Share went from 58.1% to 67.4%, and 5v5 Points/60 went from 2.02 to 2.96. McDavid was almost averaging an extra point per game when playing with Puljujarvi. What makes it even better is that it doesn't stop at McDavid either. Let's take a look at his stats with Draisaitl.
While it's only 12 minutes of TOI together, Draisaitl's 5v5 play improved immensely when playing with Puljujarvi. Draisaitl's 5v5 xGoal Share improved from 48.6% to 58.3%, his 5v5 Goal Share improved from 51.3% to 64.9%, and his 5v5 Points/60 improved from 2.43 to 3.10. Again, another case of Puljujarvi being a great complementary teammate. Yet again, it doesn't stop there.
Ryan Nugent-Hopkins played 48:34 with Puljujarvi this season, and again his 5v5 play took an excellent leap when playing with him. The Nuge had a 5v5 xGoal Share of 45.6% without Puljujarvi, but with him, it jumped to a much better 66.8%. The actual Goal Share was no different either, as it went from 53.7% to 63.6%. Finally, and far and away the biggest improvement of any of the three players listed, Nugent-Hopkins 5v5 points/60 jumped from 1.39 to a whopping 3.75. Just insane.
Each of the Oilers centers saw a very sizeable improvement when playing with Puljujarvi, but the offense wasn't the only area that Puljujarvi made a positive impact in. Not by any stretch.
Defense, Defense, Defense
Something that Puljujarvi has brought since re-joining the Oilers in 2020-21 is the ability to shut down other teams' offense. Whether it's having insane skill getting in the lanes to block shots/force them wide, poking the puck off his opponent's stick, stealing the puck seamlessly, or reading the play fast and deflecting passes off course, it's safe to say that Puljujarvi has got it figured out in his own zone. To the Oilers, this alone should be worth re-signing.
It's not only shown from the eye test either. His analytics also show the positive impact he has defensively. From the J-Fresh model (as shown below), one of the best parts of Puljujarvi's game is in the defense section.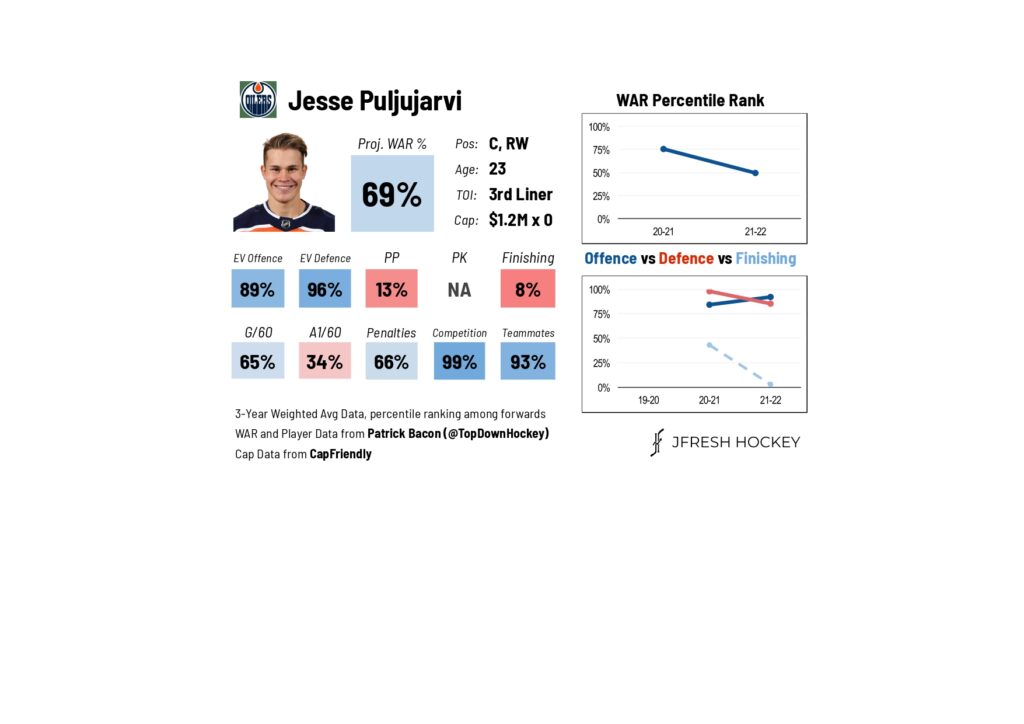 What Puljujarvi has brought defensively has been nothing short of stellar, and for doing it at a cap hit of $1.175, that is just phenomenal value, which brings us to the next reason.
A Guaranteed Bargain
One thing that is a given this off-season is that a team, whether that be the Oilers or one of the other 31 teams, will be getting Jesse Puljujarvi at a price that is guaranteed to be a steal for what he brings. Something that a lot of people bring up is his scoring ability, mainly his finishing. This was justified, as Puljujarvi only scored five goals in his last 62 games of the regular season.
While some understood it was a very rough patch and something Puljujarvi will likely never have happen again, others were quick to jump on him for it. People in media such as Jim Matheson, Mark Spector, and Terry Jones had no problem questioning Jay Woodcroft about Puljujarvi. With some questions seemingly trying to back Woodcroft into a corner to say something negative about the player. Yet something that never seems to get talked about is other players making doubled the amount of Puljujarvi, yet performing much worse.
This is to show that Puljujarvi is a misunderstood player by the media and some fans, and whoever pays the small amount will most likely be getting big value back. When July 1st hits and Jesse Puljujarvi is an RFA, his qualifying offer will be 1.4 million. He will most likely be making somewhere between 1.5-2.5 million if he goes somewhere else. To put into perspective how valuable that would be to the Oilers, look no further than Warren Foegele and Zack Kassian.
Warren Foegele joined the Oilers last season after being dealt from the Hurricanes for young RD Ethan Bear. He immediately signed a 3-year, 2.75 million dollar deal with Edmonton. Although there were high hopes he could help the Oilers depth, he had a rough season, putting up 24 points (12 goals, 14 assists) and a +/- of -9.
How about Zack Kassian? With a cap hit of $3.2 million, you are paid like a player who is definitely going to produce, right!? Right…? Nope. While he's paid like a player who should produce, he only put up 19 points and only scored six goals. This was no outlier either. Last season, Kassian struggled with an injury he sustained in a fight against former Senator Erik Gudbranson, a broken hand. Kassian would return and finish the season with 27 games played, yet only produce 5 points and two goals.
Warren Foegele and Kassian combined for 5.95 million dollars and finished this season with a combined 45 points, 18 goals, and a +/- of -7. While Jesse Puljujarvi cost $1.175 million (more than a 5th of the price), he put up 36 points, 13 goals, and a +/- of +22.

All In All
The Oilers have a player of value who will be cheap and young. Sure there will be growing pains, but it's hard to make sense of the thought that Ken Holland looks at his roster and his salary cap situation and finds a better fit or a player who is just as impactful for the same cost. It'll be interesting to see how this plays out this summer, especially with other pending RFA's. Players such as Kailer Yamamoto and Ryan McLeod will be looking at new deals this summer. Tough job, but a good GM manages to keep all three.
The boys are back after a long break but have plenty to talk about as the playoffs are in full swing. We go series by series, looking at how teams have fared so far and who will come out on top. Thanks for listening! Please rate and review our show on your favorite listening platform. Check out our partner's website at www.insidetherink.com for all your latest hockey news.