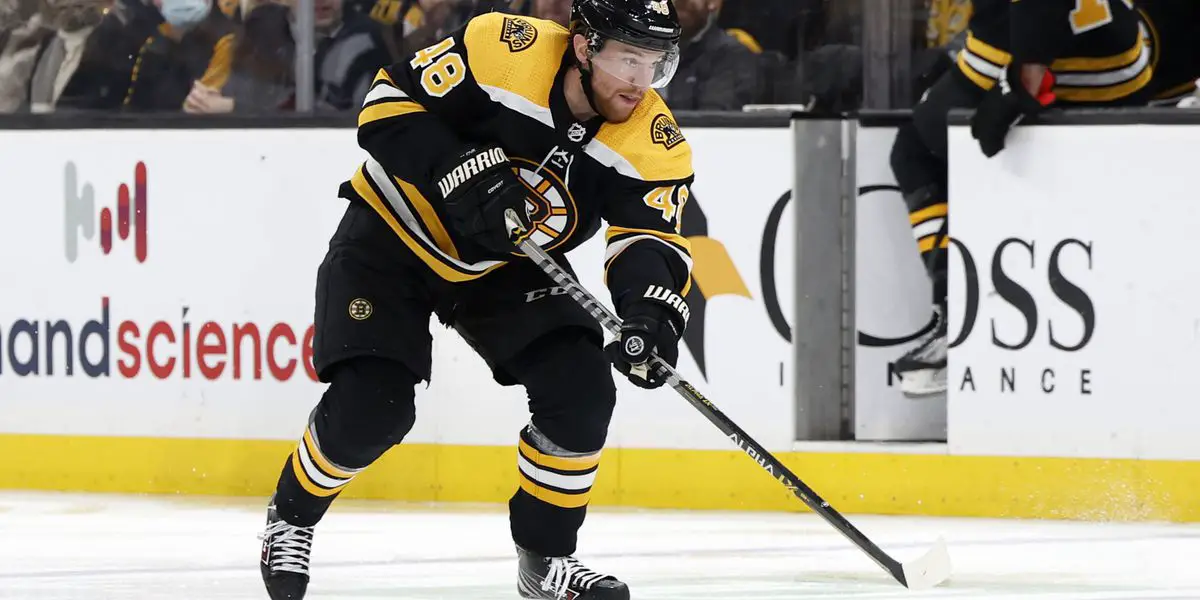 Matt Grzelcyk broke into the NHL during the '17-'18 season with the Bruins. He played in 61 games, tallied 15 points, and carried a +21 rating. Not bad for a rookie defenseman in the NHL. Grzelcyk has managed to float around the 20-point total every year of his career, although he has never played more than 73 games(this season) due to his injury history.
During the NHL regular season, players are not typically as predatory or aggressive as they would be during the playoffs. Grzelcyk spent most of this regular season with Charlie McAvoy before the Hampus Lindholm trade. He also gets plenty of chances being a part of the second power-play unit for the Bruins. However, during the postseason, Grzelcyk is an entirely different player. He loses time and space as the speed of the game picks up. He is a smaller player who takes more of a beating due to his size. No one is saying his size is the factor for his struggles, relax. It does, however, impact how the opponents play him. If he were a bigger, more physical presence, some players would refrain from coming into his corner too quickly for a puck battle, knowing a heavy check was coming. With his lack of size, there isn't much of a deterrent, and any Bruins fan can see that players always finish their checks on Grzelcyk. Always.
Grzelcyk has five goals and nine assists for 14 points in the postseason while carrying a -17. All of this being in a 58-game sample size. He no doubt has some impressive offensive abilities and can distribute the puck with the best of the league, but he just doesn't bring his game to the next level in the playoffs, and that is something that can't be overlooked. This is not ideal for a player in your top two defensive pairs.
Grzelcyk future
Here is the tricky topic for fans, a Boston native father works for the organization. It would be tough to think of him on any other team. But, we all know this is a business, and sometimes decisions have to be made. When it comes to Grzelcyk, if these Bruins are going to do some surgery on their roster to "reload" in an offseason to give it another shot for the Stanley Cup, he is my number one trade piece. This may seem like a radical idea, but in an offseason where you may see the DeBrusk departure finally take place, the Bruins don't have an overabundance of cap space. Grzelcyk is a tremendous offensive talent on the blue line, and there would be quite a few teams lining up to make offers to obtain his services. With two more years at $3.68m AAV, his contract appeals to another contending team.
This may seem radical, but trade Grzelcyk to another contender; why? If the Bruins can get significant draft capital or prospects in return for both Jake DeBrusk and Matt Grzelcyk this offseason, they will get just over $12m in cap space for next year. With an offseason approaching where players such as Malkin, Klingberg, Giordano, Rackell, etc., are on the free-agent market, the flexibility would be very welcomed for the Bruins to be able to reload for another Cup run.
Episode 51: Interview w/Jack Ahcan Episode 51 is back in action talking about the New York Paingers ITR bet, Can Buffalo Sabres make the playoffs? Is Vancouver in the wrong on the Boudreau treatment? Is Tocchet the right guy? Is Daryl Sutter the last Dinosaur in the NHL?YouTube: https://www.youtube.com/@insidetherinkTwitter: https://twitter.com/CueTheDuckBoatzFacebook: https://www.facebook.com/Cuetheduckboats/Thanks for listening! Please rate and review our show on your favorite listening platform. Check out our partner's website at www.insidetherink.com for all your latest hockey news. Also, catch all of the games in this year's NHL season by signing up for ESPN+ at Insidetherink.com/ESPN