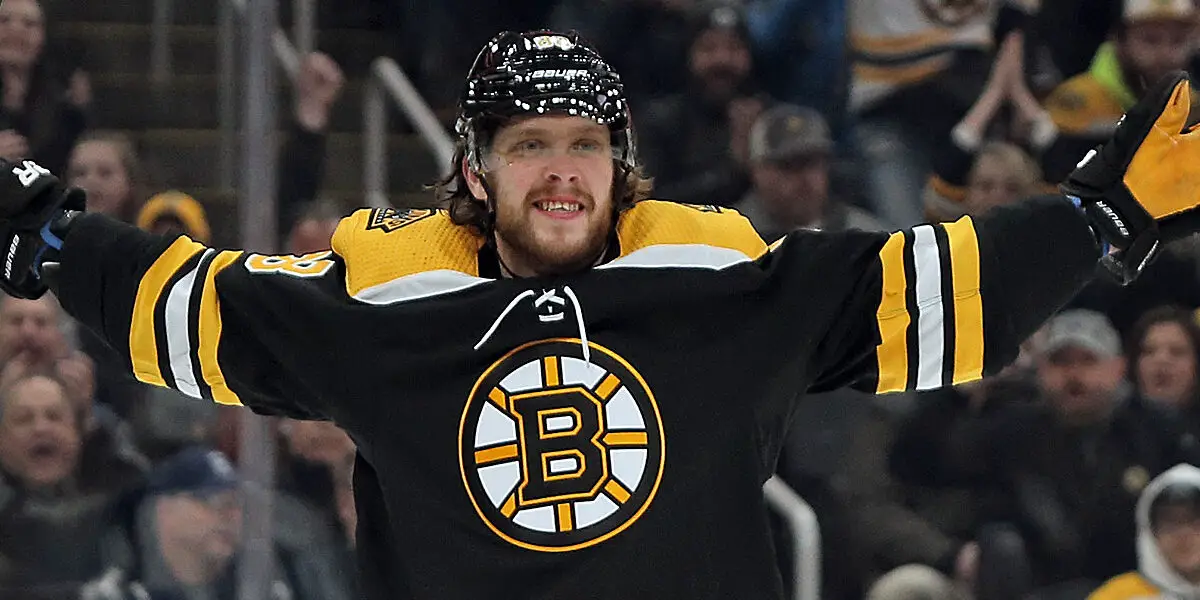 Calling David Pastrnak a good hockey player is an insult as Pasta has proven season after season that he is one of the elite goal scorers in the game. With a slow start to the 2021-2022 season, many forgot about the skill and top-end talent that Pasta possesses, allowing him to score at will when he's in his groove. Since the new year of 2022, Pasta has been in that groove, lighting up teams and propelling his team to wins, especially when scoring multiple goals in a game. Pasta has found a balance on the second line with fellow star Taylor Hall and center Erik Haula, allowing Pasta to do his things and rack up goals when relayed upon the most. Once a member of the perfection line with Brad Marchand and Patrice Bergeron, many thought the adjustment might be challenging but also a needed change of scenery for Boston as they mixed up their lines to create more balance for lines one through four which has paid off for Head Coach Bruce Cassidy. For Pasta, he lets the numbers speak for themselves as he's just a humble guy who loves to play hockey, and at an elite level, not many can match.
Since the Start of the New Year
Since January 1st, 2022, Pastrnak has been a goal-scoring machine that refuses to let up as he continues to snipe on the best of the best the NHL has to offer. Since that January 1st mark, Pasta has scored 25 goals to date, which is the most in the NHL during that time frame, showing that when Pasta heats up, goalies get burned. Pasta is sitting with 33 goals and 61 points through 60 games played as he stays hot on that second line for Boston. Pasta's 33 goals are tied for seventh-best in the league with Connor McDavid, which is not bad company to keep as he sits 12 goals behind league leader Auston Matthews who has 45.
Pasta Loves the Power Play
One of the most effective places that Pasta scores are on the power play, proven by his 81st goal last Thursday against the Chicago Blackhawks, which helped Pasta surpass Ken Hodge for sole possession of the seventh-place Bruins History. For Pastrnak to cement his legacy in Boston as the Bruin with the most power-play goals scored, he must pass some Boston legends, including Rick Middleton, Patrice Bergeron, Cam Neely, and Phil Esposito Johnny Bucyk, and the man that holds the record with 164 PPG Ray Bourque. At just 25 years old and already about halfway there, it's safe to say if Pastrnak remains a Bruin and keeps up the torrid pace he is on, it won't be long till #88 is sitting atop this Boston franchise record.
One goal is Never Enough
Another aspect of Pasta's game is his ability to have multi-goal games, as shown by his two-goal outing against Chicago in Thursday's home game. Pasta now has 43 career multi-goal games in his career, which is tied for ninth-best in Boston history with Ray Bourque. Pastrnak has a way to go to catch Phil Esposito's record of 104 as the young right-winger is 61 multi-goal games behind but with nine already this season and all coming since January 1st, Pasta's skill might make it happen sooner rather than later.
What the Future Holds
Having the pleasure of watching David Pastrnak play night in and night out is an extraordinary thing for Bruins fans, as we all know that anytime he touches the puck, a goal could be happening within seconds. At just 25 years old and already having five 30 plus goal seasons to his career and six straight 20 plus goal seasons, it's safe to say, Pasta, who isn't even in his prime yet, will be delivering more memorable games in years to come. With a career, best 48 goals, and 95 points in the 2019-2020 season, it's possible that we will see Pastrnak erupt and finish the season with 50 goals and 100 plus points at some point in the near future.