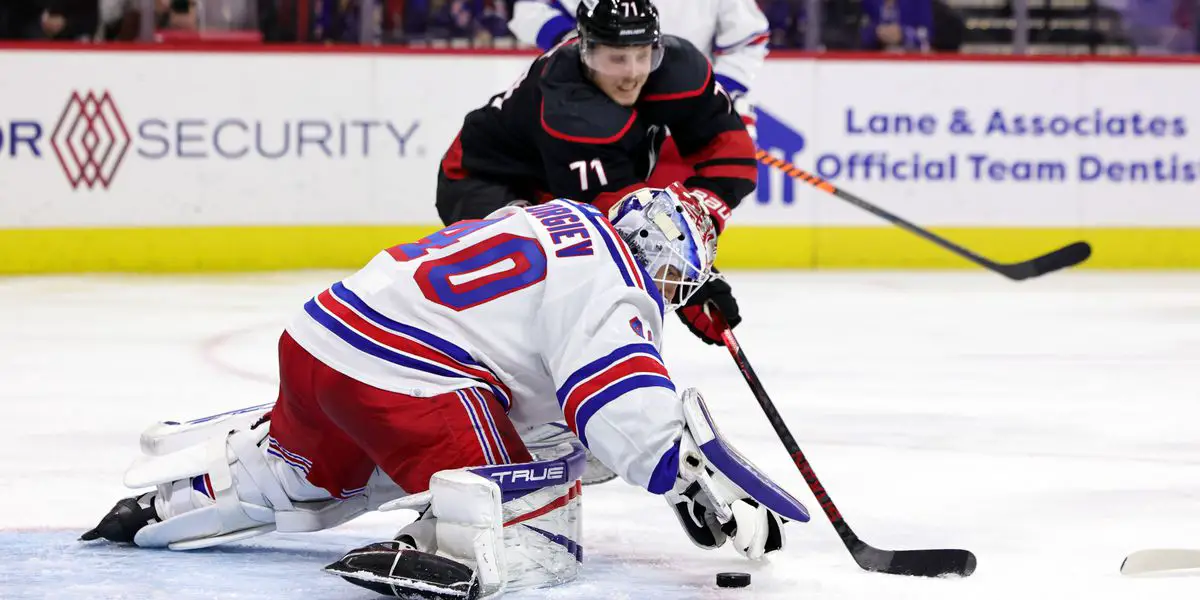 With the Monday afternoon trade deadline looming, the Rangers flew south for one of their toughest tests of the season with games against the Tampa Bay Lightning and Carolina Hurricanes in back-to-back nights. The result was two hard-fought wins that brings the Blueshirts season record to 40-18-5.

Saturday night's victory in Tampa made it a season sweep for the Rangers against the Lightning. New York went down early and had one of their patented come from behind victories. Goals were predictably hard to come by in a game that featured the two best goaltenders on Earth in Igor Shesterkin and Andrei Vasilevskiy. Both goalies gave up only one goal during the first 59 minutes, which were direct results of heavy traffic in the front of the net.

The game had a chippy playoff-type atmosphere that Tampa has perfected during their two consecutive cup championships, but New York didn't back down. Although one was from a Jon Cooper challenge that backfired with a delay of game penalty, the Lightning continually played with fire by giving the number two ranked powerplay in the NHL six opportunities. The last one that came with just over two minutes remaining in the 3rd period proved to be the equalizer.

The Rangers' powerplay was stifled all night by the Tampa penalty killers aggressively attacking the puck and negating zone entries. With about thirty seconds remaining in a tie game, Mika Zibanejad turned to head coach Gerard Gallant begging for the first powerplay to get one more opportunity after failing to capitalize on their previous five opportunities. Gallant obliged and put the game in the hands of his stars. Artemi Panarin recovered his own blocked shot and quickly shot it across the ice to Mika for a one-timer that just slipped through Vasilevskiy's arm for the game-winning goal.

Less than 24 hours later, the puck was dropped in Raleigh for another hard-fought, playoff-type game. The Hurricanes dominated for prolonged stretches and outshot the Rangers 44-18. Behind the stellar goaltending of Igor, I mean Alexandar Georgiev, the Rangers eked out a 2-0 victory in North Carolina Sunday night against a number of former Rangers. Similar to Saturday night's tilt against the Lightning, the Rangers found themselves in a physical game in which they didn't back down (New York outhit Carolina 39-16).

This year's Rangers team is just built differently than its predecessors. They are number one in the league in come-from-behind victories, and like all good teams, they seem to find ways to win even when they shouldn't. As everyone in the hockey world waits with bated breaths in anticipation of Monday afternoons trade deadline, GM Chris Drury has a lot of ammunition to help bolster this lineup. It's unsure what Drury will do. Alexandar Georgiev just played his best game as a pro with less than 24 hours to go until the deadline. Does that make it easier or harder to trade him? Does Drury stay firm and not move any of his high-end prospects? Only time will tell, but regardless of any moves, this Rangers team will be a tough out for anyone in the postseason.
In this weeks episode it's good all vibes with the Rangers being first in the NHL. We discuss Mika, Trouba, the NHL and more.Thanks for listening! Please rate and review our show on your favorite listening platform. Check out our partner's website at www.insidetherink.com for all your latest hockey news.