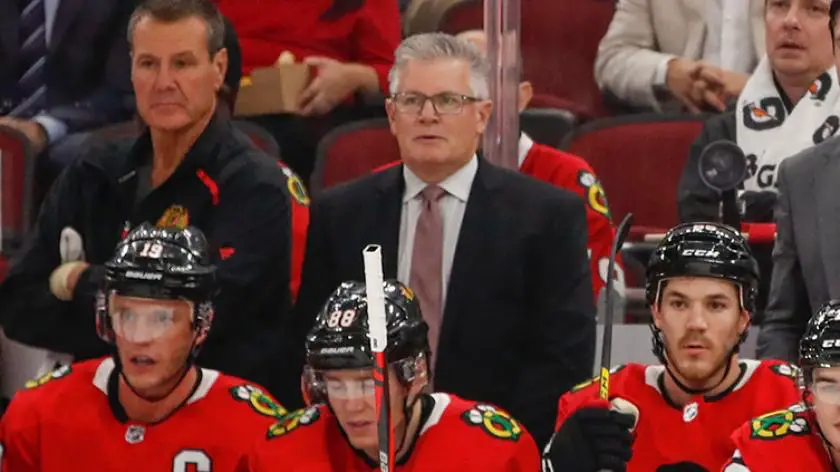 Everyone watching the Chicago Blackhawks this season can see it time for a change behind the bench. Jermey Colliton is a bum. Since becoming the Blackhawks head coach, the Blackhawks have ranked 31st, 31st, and 30th in shots against. Chicago was a little better in the goals against department, finishing 24th, 21st, and 24th. Maybe he has this team rolling on the offensive side of the puck… 8th, 18th, and 16th; so average. The system that Colliton runs stinks! Players in all ways seem lost on the ice leading to a copious amount of odd-man rushes. The reasons to fire him go on and on, but the 0-7-2 record, along with the fact that this team looks like it has quit on him already, is more than enough for Chicago to make a move.
Who would replace Colliton if the Hawks were to move on from him?
Claude Julien, Rick Tocchet, and any other serious coaches are out the window. Until Chicago names who the next GM will be, they will have to find their replacement within the organization. The good thing they have the perfect guy, Marc Crawford!
Who is Marc Crawford and why is he perfect for the job?
He's currently an assistant coach for the Chicago Blackhawks. Marc has not only been around the game for decades, but he also won a Stanley Cup as the head coach of the Colorado Avalanche in the 1995-1996 season. This was only his second season as an NHL head coach. He's also the youngest coach in NHL history to win the Jack Adams award for the best coach. Crawford is an experienced NHL coach that the Chicago Blackhawks can use. His career record is 556-431-103. He also coached in Quebec/Colorado, Vancouver, Dallas, and he even had an interim head coaching role with the Ottawa senators in 2018-2019. Marc has the pedigree, winning everywhere he coaches, including winning a championship with Auston Matthews in the Swiss A league in the 2013-2014 season.
I know what every hawks fan is thinking didn't Jermey come from Europe? Yes, But Marc's coaching style is hardnosed and demanding, unlike Colliton, who is known as a player's coach. Chicago hired Crawford as the assistant back in 2019, so he knows these players and knows this crap system they run. If anyone can fix this team, it's the guy with over 500 NHL career wins and a Stanley Cup ring. Instead, he has had to take orders from the bum, Jeremy Colliton. Crawford is a demanding coach that will drive the most out of his players. Every shift, they will play hard and fight for every puck, something Colliton-led teams lack.
The elephant in the room, Crawford, was suspended by the Blackhawks back in 2019 for bullying. The Blackhawks must believe he is a changed man because he is still on their bench, but with everything going on, would Chicago name Marc as a head coach? Yes, as there are no other options till there is a GM named, and the Blackhawks can't wait much longer to make a change behind the bench. Crawford is the guy for this team. He's the only real option they have if they want to try to turn this season around.
How long can Chicago wait till it's too late?
It very well could be too late already. Kyle Davidson, who is the interim GM, will need to make a move soon. There's only one option for him to make: fire the bum and name Marc Crawford as the interim head coach. Davidson will need to act fast, or Blackhawks fans can kiss this season good by. Marc Crawford is where all Chicago hopes lie.