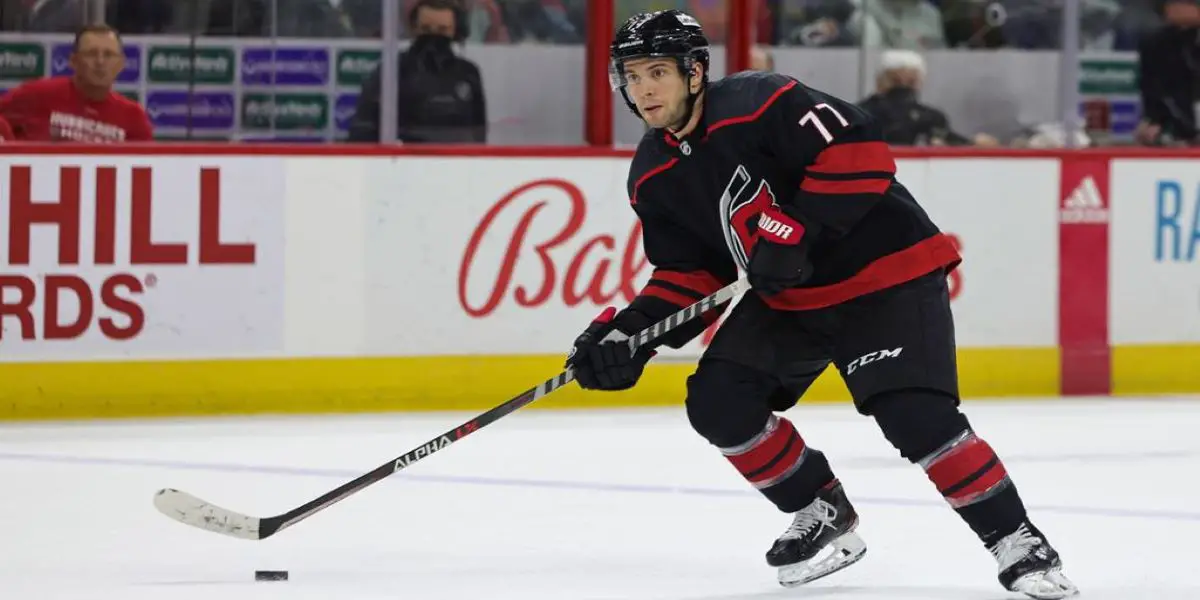 Everyone remembers Tony DeAngelo and his departure from the New York Rangers as being rather rough. He has been quite the handful, from threatening a fan outside of MSG, getting into a verbal altercation with Rangers goaltender Alexander Georgiev, or even his social media issues. But maybe people may not get the reference of Brad Marchand appearing to call DeAngelo a racist multiple times during the Sunday afternoon game. During DeAngelo's time with the Sarnia Sting, he was suspended for slurs directed at a teammate of his. The incident was very tight-lipped, but the team decided to suspend DeAngelo before the league began an investigation.
Later in the game, things started to escalate to a new level. DeAngelo cross-checked Curtis Lazar in the face and then pursued Lazar until an altercation ensued in front of Hurricanes netminder Anti Raanta. DeAngelo threw multiple jabs into the face of Curtis Lazar, who managed to keep his composure and not retaliate. The frustration from the Hurricanes was becoming evident; DeAngelo was just the most obvious.
Immediately after exiting the penalty box, DeAngelo was run hard multiple times by none other than Curtis Lazar. Eventually, that frustration came to the forefront once more. While the Hurricanes had an empty net toward the end of the game, Brad Marchand pulled away to score the 5-2 goal, and DeAngelo threw his stick across the ice toward Marchand/the puck in an apparent move of frustration.
Bruins fans that were packed into the TD Garden booed DeAngelo every time he touched the puck in the third period, a clear sign of how the fanbase feels. Jack Edwards certainly had his piece of mind to share with NESN viewers. With the physical play DeAngelo has shown so far in this series, on top of his antics in Boston Sunday afternoon. It is safe to say DeAngelo will get hit more often than not for the rest of the series. Every team has a villain, and that man is Anthony DeAngelo.
Episode 51: Interview w/Jack Ahcan Episode 51 is back in action talking about the New York Paingers ITR bet, Can Buffalo Sabres make the playoffs? Is Vancouver in the wrong on the Boudreau treatment? Is Tocchet the right guy? Is Daryl Sutter the last Dinosaur in the NHL?YouTube: https://www.youtube.com/@insidetherinkTwitter: https://twitter.com/CueTheDuckBoatzFacebook: https://www.facebook.com/Cuetheduckboats/Thanks for listening! Please rate and review our show on your favorite listening platform. Check out our partner's website at www.insidetherink.com for all your latest hockey news. Also, catch all of the games in this year's NHL season by signing up for ESPN+ at Insidetherink.com/ESPN