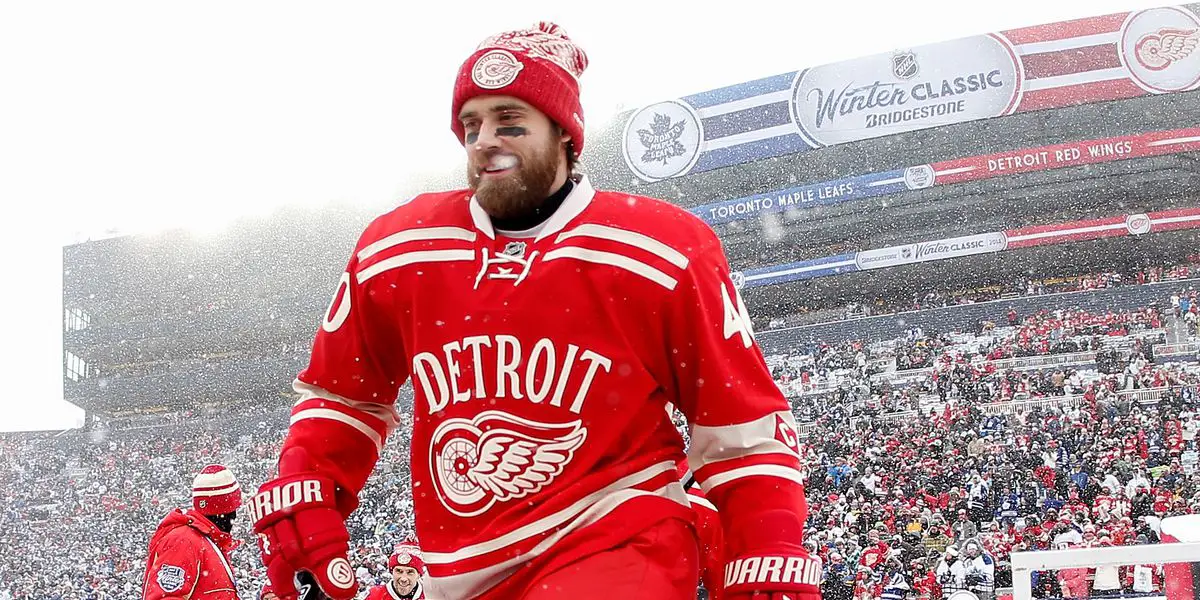 Looking back at almost every Stanley Cup champion over the past 30 years, they all have one thing in common, homegrown talent through the draft. A vital part of the Detroit Red Wings dynasty of the late '90s and early '00s was their ability to find young talent outside the first round, targeting Sweden and Russia.
The 2022 NHL Entry Draft this Thursday and Friday is yet another crucial step in the Red Wings' rebuild, and with ten selections this year, there is hope that maybe one of these picks will become the next big name in Detroit. This list is not the best Red Wings players that have been drafted but rather players who brought the most value to Detroit from their draft slot. Here are my top-ten best Red Wings draft picks and two honorable mentions.
Honorable Mentions
Johan Franzen
Drafted as a 24-year-old 97th overall in 2004, Johan Franzen is the definition of a late bloomer. Joining the Red Wings during the 2005-06 season, Franzen would play 80 games, scoring 12 goals and adding four assists. Franzen was named "Detroit Red Wings Rookie of the Year" by the Detroit Sports Broadcasters' Association and would also earn the nickname "The Mule" given by captain Steve Yzerman.
Franzen built off his 2008 performance and scored 34 goals in the 2008-09 regular season. Franzen would find his breakout during the 2008 playoffs, scoring 13 goals in only 16 games, helping the Red Wings win the Stanley Cup. Franzen repeated his playoff success during the Red Wings' run to the Stanley Cup Final in 2009, scoring 12 goals and adding 11 assists in 23 games.
Franzen would score 28 and 29 goals the following two seasons, cementing himself as one of the NHL's best power forwards of the early 2010s. Unfortunately, Franzen would struggle with concussion issues towards the back end of his career, playing over 50 games once his last four seasons.
Niklas Kronwall
Drafted 29th overall in the 2000 NHL Entry Draft, Kronwall was the perfect number two defenseman behind Nicklas Lidstrom throughout the 2000s. A bit of a late bloomer, Kronwall didn't play an entire NHL season until he was 26 in the 2006-07 campaign.
Kronwall would average over 21 minutes a game the following season and score seven goals and 28 assists. The physical style he played with put Kronwall on the map, throwing massive open ice hits onto opponents skating into open ice.
Kronwall would add 15 assists en route to Detroit's Stanley Cup victory over the Pittsburgh Penguins in 2008. Building off that campaign, Kronwall would have the best offensive season of his career, scoring six goals and 45 assists in 2008-09 and adding another two and seven assists in the 2009 run to the finals. Kronwall would enjoy many 30-plus point seasons throughout his career as he developed into an effective powerplay quarterback. Kronwall's physical game caught up to him towards the back end of his career, and he wasn't as effective as he was in years prior.
10. Vladimir Konstantinov
What could have been.
Konstantinov was drafted 221st in the 11th round of the 1989 NHL Entry Draft out of Russia. Making his NHL debut during the 1991-92 season, Konstantinov surprised everyone, scoring eight goals and adding 26 assists in 79 games, but where he truly made his mark in Detroit was the physical side of the game. 
On October 27th, 1995, versus the Calgary Flames, the "Russian Five" was deployed, which featured Sergei Fedorov, Igor Larionov, Slava Kozlov, Slava Feitsov, and Konstantinov himself, which was the first time five Russian players shared the ice in a game on the same team. The five would combine for two of the three goals the Red Wings scored in a 3-0 win.
Konstantinov would enjoy a career year during the 1996-97 season, scoring five goals and adding 33 assists, helping the Red Wings win their first Stanley Cup in 42 years. In that same year, Konstantinov was runner-up to Brian Leech for the Norris Trophy, given to the NHL's best defenseman. This would end up being Konstantinov's final season in the NHL. Following a golf outing less than one week from winning the Stanley Cup, Konstantinov, Slava Fetisov, and Red Wings' masseuse Sergei Mnatsakanov hired a limousine company to leave the golf course. Unfortunately, the driver fell asleep at the wheel, under the influence of marijuana, crashing the vehicle, and ultimately ending Konstantinov's career.
He would still be involved with the Red Wings Stanley Cup the following season as captain Steve Yzerman handed the trophy off to Konstantinov immediately after the presentation.
9. Vyacheslav Kozlov
Another member of the "Russian Five" makes a list and isn't the last. Drafted in the third round (45th overall) of the 1990 NHL Entry Draft, Kozlov spent ten seasons with the Red Wings, scoring 202 goals and 213 assists in 607 games played.
Kozlov was a reliable secondary scorer of the Red Wings' back-to-back Stanley Cup Championships, finishing third and seventh in playoff scoring in 1997 and 1998, respectively. Kozlov would end up being traded to the Buffalo Sabres in the summer of 2001 in a package for Hall of Fame goaltender Dominik Hasek.
8. John Ogrodnick
Drafted in the fourth round, 66th overall in the 1979 NHL Entry Draft, Ogrodnick is a Red Wing that sort of gets lost in the shuffle of great Red Wings players due to the era he played in. In the eight seasons Ogrodnick spent in Detroit, he only saw the postseason twice, losing in the first round in both 1984 and 1985.
Yet Ogrodnick was still able to find success, scoring 70 or more points five out of his eight seasons in the Winged Wheel, including a 55-goal and 105-point season in 1984-85, which was seventh in the entire NHL. In 558 games with Detroit, Ogrodnick scored 265 goals and added 281 assists. Ogrodnick accomplished this all under 27 before being traded to the Quebec Nordiques in 1987.
7. Tomas Holmstrom
What may be a surprise pick for some, to find a consistent top-six forward in the 10th round is quite the feat. Drafted 257th overall in the 19994 NHL Entry Draft, "Homer" made his Red Wings debut during the 1996-97 season and quickly became a fan favorite.
Whether that be his physical play or his net-front presence on the powerplay, Holmstrom was an effective scorer. The Swedish-born winger made himself known during the 1998 Stanley Cup run, where he finished only behind Steve Yzerman and Sergei Fedorov in playoff scoring with 19 points in 22 games. Holmstrom would score 20-plus goals five times in his 1,026-game career, including a 30-goal campaign in 2005-06. Holmstrom would win four Stanley Cups (1997, 1998, 2002, 2008) in his 15-year career, not too bad for a 10th-round pick.
6. Chris Osgood
A healthy amount of luck goes into drafting a goalie at any point in the draft, and the Red Wings struck gold in drafting Chris Osgood. Acquired in the third round, 54th overall in the 1991 NHL Entry Draft, it's hard to imagine finding a 401-win goalie at that stage of any draft.
Osgood spent 14 of his 17 seasons in Detroit, backstopping the 1998 and 2008 Stanley Cup runs, posting a .918 and .930 save percentage, respectively. While "Ozzie" may not be considered amongst the goaltending greats, he was a consistent starter in his career and averaged an above .900 save percentage in Detroit. While he may not be a Hockey Hall of Famer at this point, there's no denying that Osgood is one of if not the best goalie in Red Wings history, as he sits second all-time in franchise wins and owns postseason records in all-time wins and shutouts.
5. Sergei Fedorov
Fedorov was a star in Detroit, the final member of the "Russian Five" to make this list, selected in the fourth round, 74th overall in the 1989 NHL Entry Draft. In 908 games in Detroit, Fedorov scored 400 goals and 504 assists, including a 120-point season in 1993-94, which earned him the Hart Trophy.
Fedorov was a crucial part of three Stanley Cup runs (1997, 1998, and 2002), scoring nearly a point per game in each postseason. Fedorov was not only an electrifying scorer but also defensively responsible, winning the Selke Trophy for the league's best defensive forward in 1993-94 and 1995-96 seasons. Unfortunately, Fedorov's tenure in Detroit ended sourly in some eyes, signing an offer sheet with the Carolina Hurricanes in 1998 and ultimately leaving Detroit for the Anaheim Ducks in 2003. Either way, Fedorov is still one of the best Red Wings of all time and will always be remembered for his all-white Nike skates.
4. Henrik Zetterberg
Drafted in the seventh round, 210th overall in the 1999 NHL Entry Draft, Zetterberg is another Hakan Andersson success story. Making his Red Wings debut in the 2002-03 season, Zetterberg adapted quickly to the NHL, scoring 22 goals and adding the same amount of assists for 44 points in his rookie campaign, finishing second to Barrett Jackman in Calder Trophy voting.
Post-Lockout, Zetterberg became one of the best all-around players in the NHL, scoring 70-plus points a season while finishing in the top ten of Selke Trophy voting. Zetterberg's best season came during the 2007-08 campaign, scoring 43 goals and adding 49 assists in 75 games. He would also lead the Red Wings to another Stanley Cup and be awarded the Conn Smythe for his postseason performance, scoring 13 goals and 14 assists in 22 games.
Once Nicklas Lidstrom retired, Zetterberg slid perfectly into the role of Red Wings' captain, as his play in all three zones was the perfect example for players to look up to. In 1,082 career games, Zetterberg scored 337 goals and 623 assists, which is fifth in all-time points by a Red Wing. In his first year of Hockey Hall of Fame eligibility, Zetterberg was not named to the 2022 class but it shouldn't be long before Hall of Famer is added to the Swede's resume.
3. Steve Yzerman
Yzerman not only became the best player out of the 1983 NHL draft, but he also became arguably the best Red Wing. The highest draft pick on the list, Yzerman was drafted 4th overall in the 1983 NHL Entry Draft. When drafting that high in any given draft, teams are hoping for a top-of-the-lineup player who will be a crucial member of their club for years to come.
In 1,514 career games with the Red Wings, Yzerman scored 692 goals and 1,063 assists, which sits seventh all-time amongst all NHL players. From age 22 to 27, Yzerman scored over 100 points every season, including a 155-point campaign in 1988-89, where he finished third in Hart Trophy voting and won the Pearson Trophy (now known as the Ted Lindsay).
Yzerman captained the Red Wings to three Stanley Cups, even winning the Conn Smythe Trophy in 1998 as he scored six goals and added 18 assists.
2. Nicklas Lidstrom
Not only was Lidstrom the "Perfect Human," but he was arguably the best all-around defenseman in NHL history. It is rare to find an NHL player in the third round of any draft, but to find Nicklas Lidstrom 54th overall in the 1989 NHL Entry Draft was something special.
Lidstrom's hardware speaks for itself. Four Stanley Cups, Seven Norris Trophies, and a Conn Smythe Trophy. Lidstrom played 1,564 games in the Winged Wheel, scoring 264 goals and 878 assists, ranking sixth all-time among defensemen in NHL history.
Lidstrom was the backbone of the Red Wings' success from when he joined the team until he retired at age 41 in 2012. It's hard to imagine ever seeing another defenseman with the ability to shutdown plays with the efficiency of Nicklas Lidstrom ever again in the NHL.
1. Pavel Datsyuk
Finally, number one on the list is the "Magic Man" himself, Pavel Datsyuk. Drafted in the sixth round, 171st overall in the 1998 NHL Entry Draft, Datsyuk was the epitome of a late-round steal and quite possibly Red Wings' Director of European Scouting, Hakan Andersson's best work.
From 2005 to 2009, Pavel Datsyuk was arguably the most complete player in the entire NHL. In 953 career games, Datsyuk scored 314 goals and 604 assists, scoring over 60 points in eight out of his 14 seasons, including back-to-back 97-point seasons, which saw him finish third in Hart Trophy voting in 2009. While Datsyuk is famous for his highlight-reel dekes, he was also one of the best defensive forwards, winning the Selke Trophy three times. Datsyuk translated his game to the playoffs, where he helped Detroit to two Stanley Cups in 2002 and 2008 and scored 113 points in 157 postseason games.
Last Thursday, Datsyuk announced his retirement from professional hockey at 43. Datsyuk's impact is still being felt in the NHL today, where it is now common for young players in the NHL who grew up with Pavel Datsyuk highlights on YouTube to be trying the moves that he was doing ten years ago.
With five picks in the top-50 of the 2023 NHL Draft, the Red Wings are in prime position to make a trade for a top-six forward. We breakdown fits of players that are potentially on the trade market and what a potential package could look like. We also start with how Red Wings at the World Championships are performing, focusing on Dominik Kubalik, Carter Mazur, and Lucas Raymond.