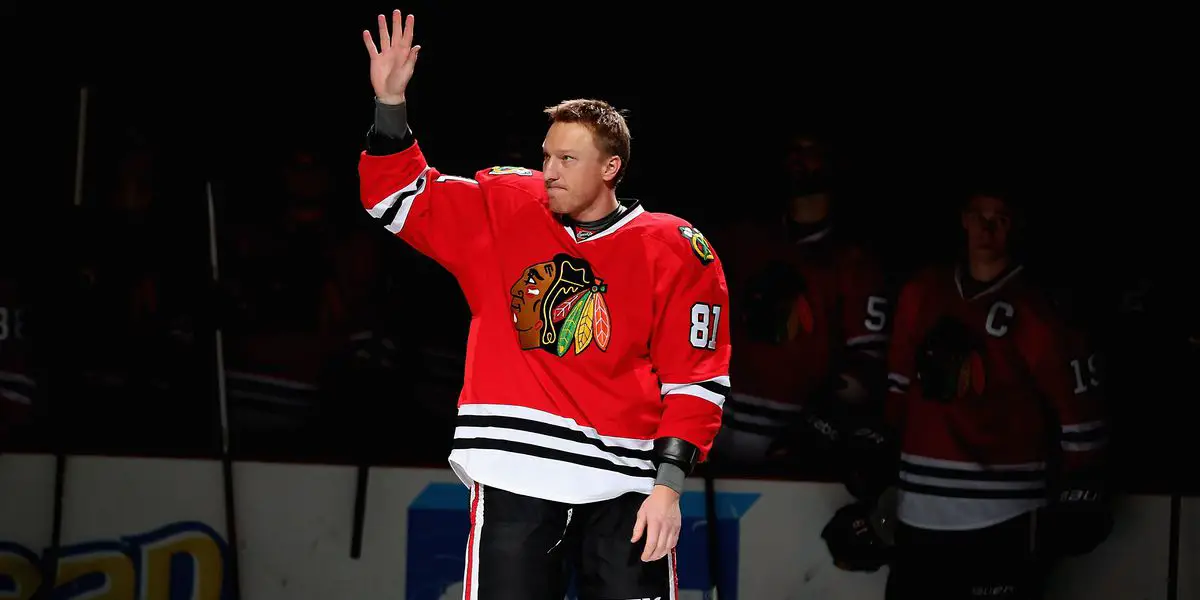 After crying on and off during the Edmonton game, Keith's return home and Hjalmarsson's legacy night all bottled in one. I gathered myself together, then I started scrolling through Twitter, and Barstool Chief put out a Tweet, Who from the 2010s should get their numbers in the rafters? This got me thinking. 
Dynasty's come along once in a lifetime. If you're lucky, and Blackhawks fans were. From 2010 to 2015, Chicago hoisted the Stanley Cup three times. These teams will live on in the memory of Chicago sports fans forever! But you can't just retire every number from those teams. Many Blackhawks fans still call for Steve Larmer's #28 to join Glenn Hall #1, Pierre Pilote #3, Keith Magnuson #3, Bobby Hull #9, Denis Savard #18, Stan Mikita #21, and the late great Tony Esposito #35. So who will join these legends?
The obvious ones:
Patrick Kane, Jonathan Toews, Duncan Keith, and Brent Seabrook: 
  Chicago will raise #2, #7, #19, and #88; it's just a matter of time. There isn't much to debate here. They were all drafted by the Hawks and brought them out of the dark days. Toews, Kane, Keith, and Seabrook are all locks to be in the rafters and maybe even get a statue outside of the United Center. 
Where the conversation starts:
Corey Crawford:
   Crawford was drafted by the Blackhawks in 2003. Crawford would grind his way through many years in the minors, and after Nemi left for San Jose, Crawford would find himself with a shot at the starting job, and he would not look back. Crawford would go on to be the starting goalie for the Cups in 2013 and 2015. His playoff run in 2013 was brilliant. In the twenty-three games played, he would post a .932 save percentage and 1.84 goals against with one shutout. Many people believe Crawford was robbed of the Conn Smyth that went to Patrick Kane that season. Crawford is third all-time for games played as a goalie for Chicago with 488 regular-season games. Over which he posted a .918 save percentage better than both Glenn Hall and Tony Esposito. His goals-against is also better than both Esposito and Hall at 2.45. He's only sixteen wins behind Hall despite playing one hundred and thirty fewer games. Crawford's playoff numbers are even more impressive! Crawford is the Blackhawk's all-time leader in playoff wins with 52. His playoff save percentage of .918 also leads the Hawks. (Must have ten plus starts in the playoffs) Don't even start with the "HiS TeAm WaS LoAdDeD" Crawford posted a save percentage of .929 and a goals-against 2.27 on a team that finished 25th out of the 31 teams in the NHL at the time. The numbers and rings say his #50 belongs in the rafters with #1 and #35. But will he? 
Final verdict:
Crawford deserves his #50 to retire, and I believe the Blackhawks will retire his number. In his 17-year career with the Blackhawks organization, Crawford accomplished more than any goalie has in the Stanley Cup Playoffs. He's arguably the best playoff goalie in franchise history.
Marian Hossa:
  Hossa is the biggest free-agent signing not only on Blackhawks history but Chicago sports history. Hossa was the player that pushed the Hawks over the top. His elite defensive game gave Chicago a weapon that they could deploy in any area of the game. Hossa came to Chicago after losing back to back in the Stanley Cup finals and brought the experience that the Blackhawks were lacking. Hossa would go on to play 534 games for the Blackhawks before being forced to retire for health reasons. The main argument against Hossa is the fact he played half of his career outside of the Blackhawks organization. Hossa only has 415 points as a Hawks while Larmer has 923, and his number has not been raised to the rafters. 
Final verdict: 
  Hossa #81 will NOT be raised to the rafters. His contribution to the Cups was massive, but the fact he spent half of his career split between five other teams will cost Hossa. How can Chicago justify retiring #81 before #28? 
Patrick Sharp:
  Sharp, like Hossa, was also acquired via trade, but unlike Hossa, Sharp spent most of his career in Chicago. Sharpy would go on to play 749 games over his two stints with the Blackhawks. He would go on to collect 532 points placing him 15th all-time in franchise points. Out of the 532 points, 249 were goals good enough for 12th on the leaderboard. Sharp would be an assistant captain for the Blackhawks from 2007-to 2015. Sharp was a true leader on and off the Ice. Sharps's ability to score goals with his wicked wrister opened up the power play for Chicago. Sharp also may be the best-looking Blackhawk of all time. Sharp did get traded to Dallas but returned to Chicago for his final season. 
Final verdict: 
  Sharp has a slightly better argument than Hossa, but ultimately Chicago has forwards who were more impactful to the franchise. I love Sharp as much as any Hawks fan; with that said, I do NOT believe #10 will be raised to the rafters. 
Niklas Hjalmarsson:
Hjalmarsson is hands down the best defensive defenseman to ever pull on a Blackhawks sweater. His ability and willingness to block shots were unmatched. He could be put on the Ice versus any style of player and shut the opponent down. What made "The Hammer" different from most defensive defensemen was his vision and soft hands to make the right pass starting the breakout. It's not advised to be battling on the boards on the PK and make a no-look backhand pass to your winger unless your name was Hjalmarsson, who made this play with ease—never turning the puck. Hjalmarsson was offensively challenged, and in his 623 games with the Blackhawks, he would only score 23 goals and 120 assists. Hjalmarsson comes 101st on the franchise points leaders list. Hjalmarsson is one of my all-time favorites. He made playing defense look fun. There is a reason the Blackhawks fell off a cliff defensively after trading him away.
Final verdict:
  He is no doubt the best Defensive defenseman to play in Chicago. Ultimately there are still two sides to the game, and Hjalmarsson's lack of offense not only kept him off the score sheet most nights but will also keep his #4 out of the rafter and on Seth Jones back. 
Final statements: 
  Getting your number retired is a prestigious honor. To maintain this level, you have to be tough on what numbers do and don't get retired. If you go and retire Sharp and or Hossa, you have to look at guys like Larmer or Doug Wilson's numbers that aren't in the rafters. 
*Also, check out my podcast "Cue The Dagger." It covers everything and anything Chicago Blackhawks-related, and follow the podcast on Twitter @CueTheDaggerPod. We are doing a giveaway at 100 followers all you have to do to enter is follow the podcast!