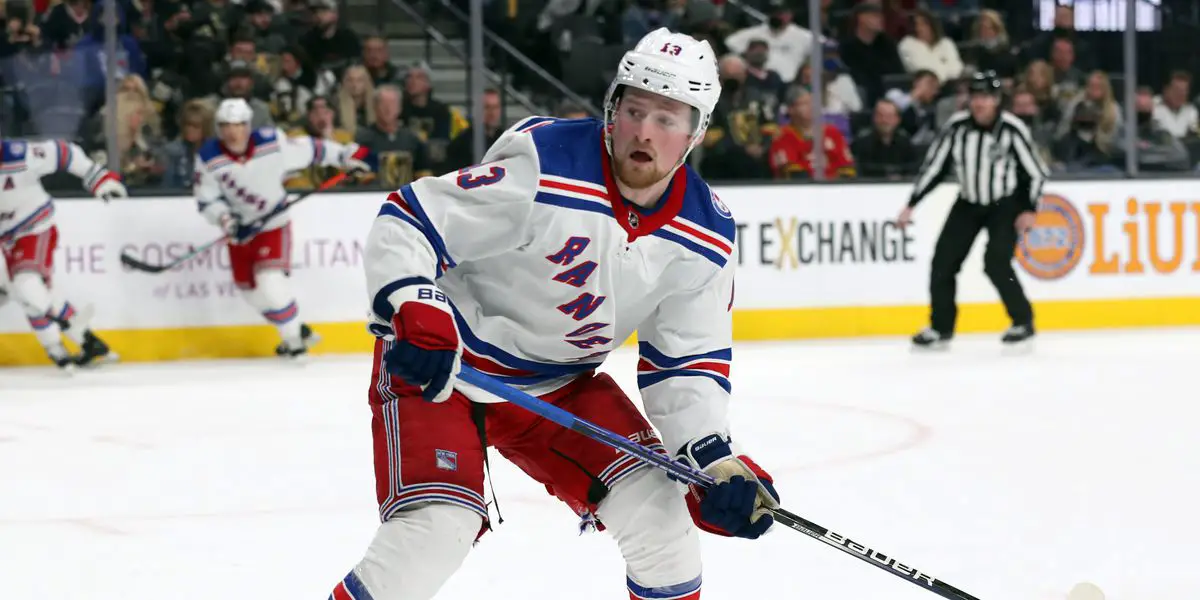 Last Wednesday, Alexis Lafreniere was scratched and relegated to street clothes for a contest against the Philadelphia Flyers. Head Coach Gerard Gallant claimed he just wanted the 20-yeard old to get some rest. While sitting and resting players before the playoffs isn't a rarity, the "Spidey senses" of Rangers fans are always tingling when a talented 1st round pick is benched, scratched, or sent to Hartford. Perhaps it's the fact that Lafreniere is the former number one overall pick, and he hasn't enshrined himself in the Garden rafters like many New Yorkers unfairly wanted him to do before stepping a foot on Garden ice. Maybe it's a little P.T.S.D from two recent first-round picks who refused demotions to Hartford and demanded a trade shortly after. It seems pretty apparent, and I shouldn't have to say it, but Alexis Lafreniere is not Vitali Kravtsov, nor is he Lias Anderson. He is an entirely different, more talented player and light years more mature than the other two. He took his minor demotion to the 4th line Saturday afternoon against the Detroit Red Wings like a professional and made the most of his next opportunity.

Like many of you, I probably overreacted to the 4th line demotion due to the many reasons stated above. A player of Lafreniere's ilk doesn't belong on the 4th line, but his head coach has the responsibility to do whatever it takes to get the best out of him. Shortly after the game ended, someone reminded me that it wasn't long ago that Pavel Buchnevich was being scratched or sent down to the 4th line. How many times did Chris Kreider wind up in Tortorella's doghouse? Those players excelled under a different coach's tutelage, so the comparison might not fit like a glove, but the tactic is as old as the game itself. Whether or not you agree with it is entirely moot because it worked! With that highlight reel backhanded goal, Lafreniere finally gave the Garden faithful something they've been begging for. Hopefully, this is the spark that gets the young man going, and it couldn't have come at a better time, right before the playoffs.

Lost in all this is hoopla is how the 3rd line has been producing the past few games. Lafreniere saw Kaapo Kakko break out of his proverbial shackles and score twice while leading the Rangers to a 4-0 victory in Philadelphia during his one-game hiatus. With the team's recent uptick in 5 on 5 play and the consistency the 3rd line has been providing, the Rangers are beginning to gel at the perfect time. If they can get a healthy Kakko and Lafreniere producing in the playoffs, the sky's the limit for this team.

The frustration surrounding Lafreniere is palpable. The NHL pumps out teenage phenoms left and right. When that lottery ball came up red, white, and blue, everyone thought he was the next one. He may or may not be that next superstar that everyone hoped for, but the Rangers don't need him to be that right now. The time for him to carry the torch will come, and I believe he'll be more than ready.
In this weeks episode we discuss the Rangers contender status, offensive problems, Gallants questionable decisions and more.Thanks for listening! Please rate and review our show on your favorite listening platform. Check out our partner's website at www.insidetherink.com for all your latest hockey news.