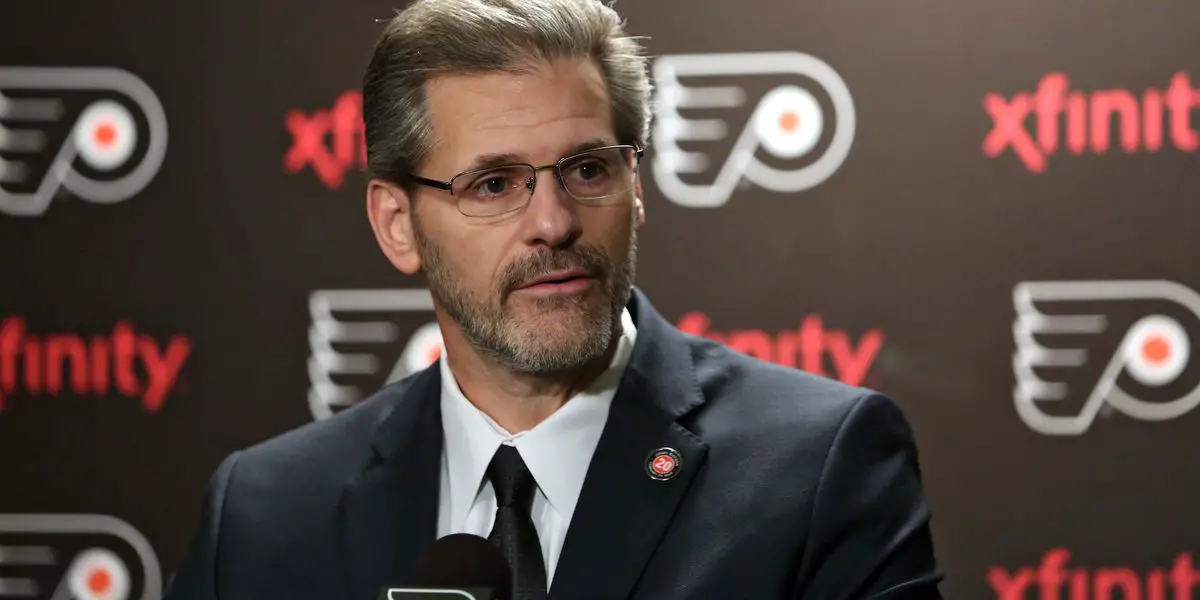 On February 9th, 2021, the Penguins announced that, at the time, most fans found it shocking. The words "Ron Hextall has been named GM" was a phrase most Penguins fans would've never expected to hear. Hextall, the hot-headed goalie who spent most of his legendary career with the arch-rival Philadelphia Flyers, still has the record for most penalty minutes by a goaltender in a career (476) and one season (113), and the goalie who tried to attack Penguins player Robbie Brown after scoring on him, really didn't seem like the man Pens fans were expecting ever to want the GM job of the team he probably hated for most of his life. Alas, he took the job and brought in Brian Burke, and the rest is history. 
The Pens last GM, Jim Rutherford, brought two Stanley Cups to the Steel City and was seen as one of the best GMs in Penguins history until around 2018, when Penguins fans started turning against him as his moves were getting more and more questionable. Either way, management would never be able to find someone who would be as loved and popular as GMJR, but getting someone who played and worked for your arch-rival team wasn't what Pens fans expected. 
However, ever since GMRH arrived, the moves he has made for the team have come under scrutiny by many media and fans. However, I don't believe he has done that bad of a job, especially if you compare it to the last three seasons of GMJR. Let's look at the most notable moves GMRH has made since he arrived in the 'Burgh. 
TRADES:
PIT Acquires Jeff Carter from LAK for a Conditional 2022 3rd-Round Pick and a Conditional 2023 4th-Round Pick
His first and only trade at his first trade deadline for the Penguins was acquiring Center Jeff Carter from the Los Angeles Kings. Hextall knew Carter very well from his time with the Kings and Flyers management, and he seemed to know what he was doing bringing on the former 46-goal scorer. 
Carter immediately had success with the Penguins, potting nine goals and 11 points with the Pens in 14 games after being acquired, and had four goals and five points in six playoff games vs. the Islanders. Last season was his first entire season in Pittsburgh, as Carter would score 19 goals and have 45 points in 76 games, his highest point and goal totals since the 2016-17 season with the Kings. Carter would also match his totals from last year's playoffs, scoring four goals and 5 points in 7 games vs. the Rangers in last season's Stanley Cup Playoffs. 
PIT acquires Filip Hällander and a 2023 7th-Round Pick from TOR for Jared McCann
His second trade for the Penguins at the time seemed like a head-scratcher. The Penguins were likely to lose McCann to the Seattle Kraken in the expansion draft, but the Penguins wanted a return for McCann, so they decided to ship him up north to Toronto for a prospect and draft pick. 
Hällander was a Penguins draft pick initially traded to Toronto in a package with players and picks to acquire Kasperi Kapanen in one of GMJR's final trades he would make for the Penguins. For a good reason, Ron Hextall would try to remove the damage by snagging him back from the Leafs. This season, Hällander played his first season in North America in the AHL last season, and would score 14 goals and 14 assists for 28 points in 61 games with the Wilkes-Barrie/Scranton Penguins, and would suit up for six playoff games, and record a goal and three assists for four points. He made his NHL debut with the Penguins last season on April 7th vs. the New York Rangers. 
McCann wouldn't even suit up for a single game with the Leafs, as the Seattle Kraken selected him in the expansion draft. With that, GM Ron Hextall re-acquired one of the Pens' most intriguing prospects, and a 7th-round pick, to make sure the Leafs could keep Alex Kerfoot on their roster. 

PIT acquires Rickard Rakell from ANA for Dominik Simon, Zach Aston-Reese, Calle Clang, and a 2022 2nd-Round Pick
Arguably his most significant trade since becoming GM, the trade seemed pretty solid for the Penguins. Getting rid of the best defensive forward on the Penguins in Aston-Reese was a tough pill to swallow for most fans, and I'm sure the team itself; however, getting a player like Rakell is definitely worth the price. 
Rakell has seemed to be a solid add and another win for GMRH. In 19 games since being acquired, Rakell scored four goals and 13 points and played in two games during the playoffs vs. the Rangers before getting injured and knocked out of the series by Ryan Lindgren. 
Simon wasn't a total loss for the Penguins as he only had three goals and nine points in 55 games last season and then put up four points in 17 games with the Ducks. 
Aston-Reese ended up putting up three goals and four points in 17 games with the Ducks after scoring two goals and 11 points in 52 games with the Pens. 
Goaltending Prospect Calle Clang isn't that big of a miss either. The Rögle BK goaltender signed an entry-level deal with the Ducks on May 5th. 
PIT acquires Ty Smith and a 2023 3rd-Round Pick from NJD for John Marino
This trade just occurred, so it's too early to judge this until we watch how both players play on their new team. As of right now, this move in itself seems like a win. A nice young prospect and a 3rd-Rounder for a young NHL defenseman seems confusing, but I'm sure GMRH made this move for a reason. 
Ty Smith has only played two NHL seasons and hasn't been bad in either. Last season, he put up five goals and 20 points in 66 games, after putting up two goals and 23 points in 48 games the year before, in what was his rookie season. The left-shot defenseman seems like he's going to be an excellent fit for the Penguins, and I'm excited to see what he can do for us.
In my opinion, Marino has only played three NHL seasons and was expected to be traded for cap reasons, so the return the Penguins got for him is pretty good. Last year, Marino scored a goal and scored 25 points in 81 games and would also put up an end in seven playoff games vs. the Rangers. Marino would score the fewest goals he has scored in a season in his whole career so far last season but came one point shy of tying his career high in points. He hit 26 points in his rookie season in 2019-20. Either way, Marino was one of my favorite players on the team, so seeing him get traded hurt me, but I'm glad we got a pretty solid return for him. 
PIT acquires Jeff Petry and Ryan Poehling from MTL for Mike Matheson and a 2023 4th-Round Pick
This trade is probably his most questionable to date since he became GM of the Penguins. I still am trying to wrap my head around this, but I think I see the potential that GMRH sees in this deal. I'm not going to talk about how terrible it is until I see how everything plays out during the season, but just looking at the deal confuses me. I don't understand how GMRH thinks that Petry could be an upgrade over Matheson, but, once again, I'm going to wait and see how everything plays out during the season; this has a possibility that it could be the first trade that GMRH has lost since joining the Penguins. 
Petry has his worst statistical season since the 2015-16 season last year, as he only scored six goals and had 27 points in 68 games with the Canadiens. However, it was only two seasons ago he hit 40+ points for the fourth consecutive season. The four-time 40+ point scorer is a solid defenseman who can get the offense going and be solid defensively. My only worry is that he is 34 years old and does not seem like the type of player to get any better. It is also possible he just had a down year, and I could see him becoming as good as we expect next season. Only time will tell with him. 
Poehling is an exciting player. The former Canadiens first-round pick split last season between the Habs and their AHL affiliate, the Laval Rocket. In seven games with the Rocket, Poehling had three goals and six points; in 57 games with the Habs, he had nine goals and 17 points. Not living up to his expectations in Montreal, GMRH seems to believe he could find his stride with the Penguins. After all, Poehling is still only 23 years old and can still see his potential while potentially playing with Sidney Crosby and Evgeni Malkin. 
Losing Matheson is a tough loss for the Penguins. After having the best season of his NHL career last season, Matheson became a solid defenseman for this Penguins team. Scoring a career-high 11 goals and 31 points in 74 games and scored a goal and six points in seven games vs. the Rangers in the playoffs. He was able to bring a physical presence and contribute offensively in a solid two-way defensive game. His ability to drive to the net even as a defenseman was noteworthy to me during the season, and I'm not 100% sure why the Penguins decided to trade him still, but I am sure GMRH is making the right decision with this move, and we don't know it yet. Just like the Marino move, only time will tell with this one.
SIGNINGS: 
Signs Bryan Rust to a six-year, $30.75M contract
Re-signing Bryan Rust was a must-do, in my opinion. Last year was Rust's best season to date, as he would score 24 goals and get 58 points in only 60 games. Signing him as cheap as a contract as he did was great for the Penguins. Rust's willingness to take a hometown deal was beneficial, as it helped GMRH to have enough cap space to resign Letang, Rakell, and Malkin. 

Signs Kris Letang to a six-year, $36.6M contract 
This deal will likely age poorly, to say the least, in the next three years or so, but getting Letang back for at least next year is good enough. Last year, Letang had the best season of his career at 34 years old. He scored ten goals and had 68 points in 78 games. He also had a goal and four points in the playoffs in seven games versus the Rangers. The term is a bit too long for me, but GMRH signed him cheaper than I expected him to sign for, which is what I like most about this deal. Convincing Letang to take a discount to keep everyone is just an excellent technique and something it seems like GMRH is good at, which can become pretty helpful when dealing with a situation like the Penguins were dealing with. Either way, this contract will likely end up bad for GMRH, but for right now, let's call it a win while it is. 
Signs Rickard Rakell to a six-year, $30M contract
Acquiring Rakell, as I mentioned, was a win in itself, but keeping him on the Pens long-term sealed the deal. Rakell can easily pot 25+ goals in an entire season here in Pittsburgh, and I am so excited to see what he does with Crosby in a whole season. I have high hopes for what Rakell will do next season, and I can't wait to see how awesome this move will work out.
Signs Evgeni Malkin to a four-year, $24.4M contract 
Getting Malkin re-signed even after it looked all but official he was heading to Washington or the Rangers was still pretty impressive for Hextall to do and something I feel Penguins fans should be thankful for. Malkin signed back only because of heavy convincing by Sidney Crosby, but Hextall eventually agreed to Geno's ask of four years. Geno had to sacrifice some money to get his ask of four years, but Hextall somehow got it done. Geno missed half the season due to injury but still scored 20 goals, put up 42 points in 41 games, and had three goals and six points in seven games in the playoffs. I think, if staying healthy, Geno could rebound and have a 75+ point season next season. 
Signs Jan Rutta to a three-year, $8.25M contract
In what is a solid addition, I think to the back end, the 2-time Stanley Cup Champion is a solid stay-at-home defenseman; and had arguably his best season last year overall and managed to have his best offensive season since his rookie season in 2017-18. Rutta would pot in three goals and 18 points in 76 games with the Bolts last year, have a goal and five points in 17 playoff games, and make his third consecutive Stanley Cup Final appearance. I think this is a solid deal of GMRH, and bringing over a solid defensive defenseman who knows what it takes to win the Cup is an excellent addition to an already experienced roster. 
DRAFT PICKS: 
Selecting Owen Pickering 21st Overall in the 2022 NHL Draft
Ron Hextall had a first-round pick for the first time since becoming GM, and he used it to select defenseman Owen Pickering from the Swift Current Broncos of the WHL. Pickering is a solid player who does magical things when he has the puck. He's excellent at leading and joining the rush and can create his own space to make solid passes to his teammates. He scored nine goals and 33 points in 62 games with Swift Current last year. I didn't have him on my list of players I expected the Pens to take, but I am not unhappy about the pick. I think he will be a solid blueliner on this Penguins team in the future. Not to mention, GMRH is mainly known for his skill in drafting good players, going back to his days in Philly, where he drafted the likes of D Travis Sanheim, D Ivan Provorov, and F Travis Konecny, and G Carter Hart.
WAIVER CLAIMS
PIT claims Mark Friedman off waivers from PHI
Claiming Friedman was probably one of the most underrated moves GMRH has made. In what was his first ever player acquisition since he became GM, he decided to claim the, at the time, a 25-year-old defenseman who he drafted for the Flyers in 2014. He ended up being a solid bottom pairing add to the defense, and his physical defensive playing style became loved. Friedman would score a goal and 5 points in 26 games with the Penguins last year and scored in Game 4 of the Pens-Rangers series for his first playoff goal. Friedman also played two games for the Wilkes-Barrie/Scranton Penguins this year. 
As you can see, GMRH has not been that bad of a GM. He has made signings, trades, and some nifty moves so far in his year-and-a-half as GM. I can't wait to see what he will do next to get this team closer to winning a Stanley Cup again. I have faith in Hextall, and I hope other fans will as well, because so far, he hasn't made that bad of moves, although time will tell to see if this article will age well. 
The boys head out west and north of the border as they cruise around the Pacific division previewing topics like Trevor Zegras, Calgary getting deeper, the Kings have a loaded prospect pool, and the NHL having some handsome coaches.Thanks for listening! Please rate and review our show on your favorite listening platform. Check out our partner's website at www.insidetherink.com for all your latest hockey news.