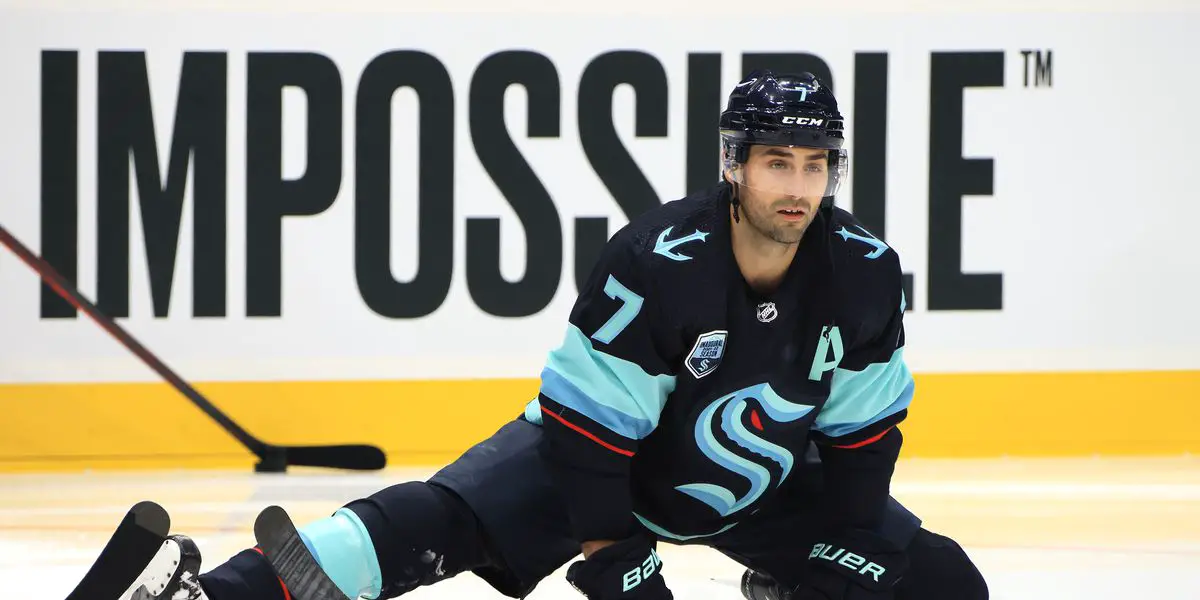 For those that have been following the 2022 NHL trade deadline, there's one common theme you may have noticed in the last 24 hours: the Seattle Kraken is having the fire sale of the century. With three trades going down on March 20th, Seattle general manager Ron Francis is leaving no stone unturned as he looks to retool the first-year franchise with draft capital. With it being a well-known fact that Seattle is having a full-on fire sale, does a trade for right-winger Jordan Eberle spark the interest of Boston GM Don Sweeney? If you're a Boston Bruins fan, then the answer is it better, as Boston looks to find a solution for their top lone right-winger position. Sweeney has already addressed the issues of a top-four left-side defenseman and has been in plenty of talks to bring in a top-six center; now the question is, will he pull the trigger on a top-six right winger to pair with the aging Patrice Bergeron and Brad Marchand?
Why Eberle Fits in Boston
There are a couple of reasons why this trade makes sense for both teams but more specifically for the Bruins as they go all-in on a Stanley Cup Playoff push this year. First of all, Jordan Eberle is a consistent goal scorer even at 32 years old as he has 15 goals and 35 points through 61 games playing on the top line of Seattle. Through 12 seasons in the NHL, Eberle has scored more than 15 goals and 30 points every season as he continues to produce. Another reason that makes Eberle a great fit is he is a Canadian Hockey guy, just like many of the leaders and veterans in the locker room, and this would be a reunion for him and Taylor Hall stemming back to their Edmonton Oiler days, ensuring there would be locker room chemistry. The third and final reason that Eberle makes sense for Boston is he would not be a one-year rental as his contract extends for two more seasons with a 5.5 AAV. This would allow Boston to run it back the next two years with the majority of their core intact as long as Bergeron does not decide to retire at the end of the season.
What it Will Cost Boston to Acquire Eberle's Services
Luckily for the Bruins, they could still keep some valuable picks even after dealing away a first-rounder and two second-rounder in the Hampus Lindholm deal. One Boston asset the Seattle Kraken have had their eyes on in the past weeks is disgruntled winger Jake Debrusk who requested a trade earlier in the season. Debrusk would be perfect in this situation as Jordan Eberle would slide right into Debrusk's current spot on the right-wing of the top line with Patrice Bergeron and Brad Marchand. A combination of Debrusk, a Bruins draft pick, and possibly a prospect will be needed for Sweeney to upgrade the right wing with an offensive savvy veteran that will give you precisely what you're looking for, goal scoring. Obtaining Eberle will have a specific price tag attached to it, and that will undoubtedly involve draft picks as Seattle GM Ron Francis continues to hoard pick after pick in his massive draft pick treasure chest.
The Clock is Ticking
Time is of the essence as the clock is ticking down and less than 24 hours to go before the deadline passes. The ball is in Don Sweeney's court as Ron Francis awaits the call and details of the trade package Boston has to offer. With the deadline getting closer and closer and available players to get traded or taken off the market, the prices will go up as the sellers hold control, waiting for the top teams of the NHL to get into a bidding war overpaying as they all scramble to the finish line.  
The boys are back after a long break but have plenty to talk about as the playoffs are in full swing. We go series by series, looking at how teams have fared so far and who will come out on top. Thanks for listening! Please rate and review our show on your favorite listening platform. Check out our partner's website at www.insidetherink.com for all your latest hockey news.