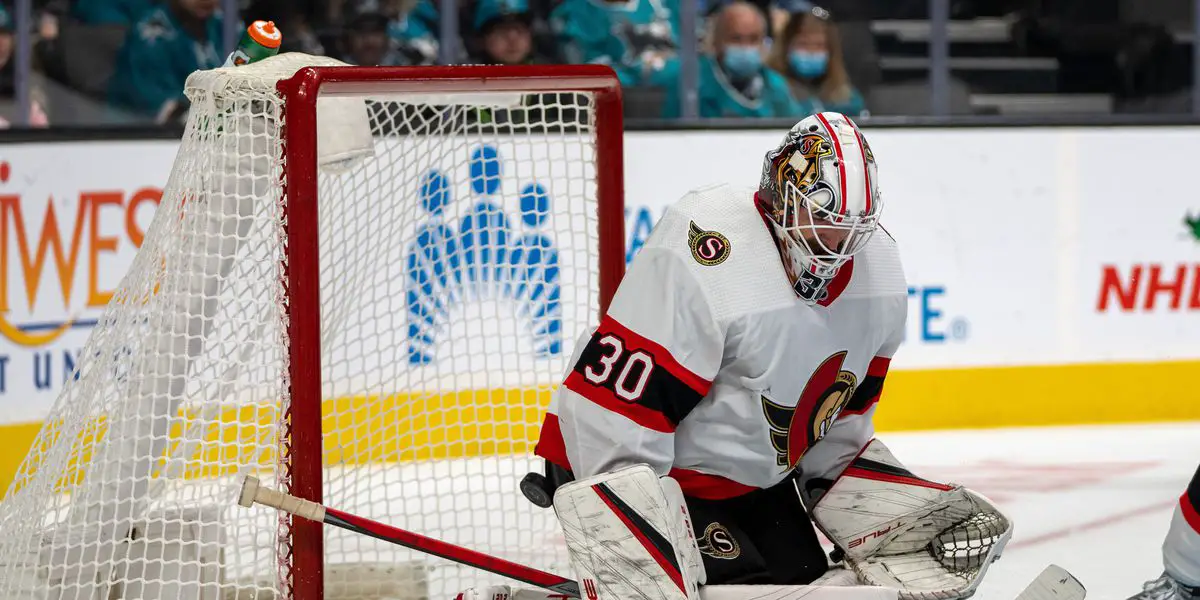 As the Stanley Cup Finals conclude, an order of business lurks for the not-yet-active Ottawa Senators. The team has a big offseason ahead of it, and many significant decisions must be made. Among those are what to do during the NHL's buyout window.
Here are four players the Senators should think long and hard about buying out this year.
Nikita Zaitsev
Nikita Zaitsev has been the subject of much scrutiny since he scored 36 points in his rookie season with the Toronto Maple Leafs in 2016-17. He was the main piece in a Battle of Ontario blockbuster trade in the 2019 offseason. Along with Connor Brown, Zaitsev was shipped to Ottawa for Cody Ceci.
Since then, Zaitsev has been a staple in the Senators' top-four defense. For better or worse, the Moscow, Russia native has placed second among Sens skaters in ice-time in two of the last three seasons, behind only Thomas Chabot.
Through 175 games in Ottawa, Zaitsev has seven goals and 40 total points. A far cry from his promising debut NHL season. He hasn't been very good at defense either, regularly getting burned by the opposing team's forwards.
Zaitsev emerges as a top buyout candidate as the Senators will aim to reinforce their defense corps. He has two years remaining on his behemoth contract, with an AAV of $4.5 million per season. Although, he is set for a $2 million signing bonus on day one of free agency this year and next. If the Sens can't trade him away, a buyout seems like the next best option.
If the Senators choose to go down the buyout route, it will cost them $2,833,333 against the cap for the first two years and $833,333 for the following two years. A buyout will cost the Senators roughly $7.3 million over four years instead of $9 million over two years.
Michael Del Zotto
The Senators' big offseason signing from the 2021 offseason split the 2021-22 season between Ottawa and Belleville (AHL). In 26 games for Ottawa, he scored three goals and 13 points, solid numbers in their own right. Through 26 games for Belleville, he went on a tear scoring 27 points in that span.
Del Zotto is a veteran defenceman with 736 games of NHL experience in his 13-season career. He has one year remaining on his two-year $4 million contract. He is a prime trade candidate and buyout candidate if that option doesn't work.
MDZ will earn $2.25 million in real money this coming season. That number is a tad high for a depth defenceman, but it's not out of the realm of possibility for a team to be interested in his services. The Senators can facilitate the trade with a 50% retention if needed.
However, if no team wants Del Zotto, a buyout will cost the Senators $500,000 against the cap in 2022-23 and $750,000 in 2023-24. So for cap considerations, it's either $2 million over one season or $1.25 million over two seasons.
Matt Murray
The Senators stole the show in the 2020 draft. They drafted Tim Stutzle, Jake Sanderson, and Ridly Grieg 3rd, 5th, and 28th, respectively. They also traded prospect Jonathan Gruden and a second-round pick (Joel Blomqvist) for two-time Stanley Cup champion Matt Murray.
Shortly after trading for RFA Murray, they signed him to a four-year $25 million contract. Simply put, he hasn't lived up to the contract so far. Over two seasons with the Ottawa Senators, Murray played 47 games with a 3.23 GAA and .899 SV%.
All has not been bad, though. Murray went on a run in the second half of the 2021-22 season, posting a .917 SV% in the process. With three goalies on one-way contracts going into the 2022-23 season and with Anton Forsberg firmly in the starter's crease, the Senators will likely try to move Murray.
A Matt Murray trade is certainly possible as many writers have noted Toronto is a potential destination. Murray's contract costs $15 million in real money and $12.5 million against the cap over the next two seasons. If a trade doesn't happen, a buyout could.
Matt Murray getting bought out would not be cheap for the Senators, but it may be the best option. A buyout would last four years, costing $1,750,000 for year one, $750,000 for year two, and $2,500,000 for the following two seasons.
Colin White
Perhaps the best and worst buyout option at the same time on this list, Colin White has three years left on his contract at $4,750,000 per year. On the one hand, White has been underwhelming throughout his contract, scoring 51 points in 130 games since signing it. A buyout would also be cheap to pull off.
On the other hand, the Senators can likely trade White for a similar player or a late pick. As the Sens don't seem keen on keeping White on the roster next year, a trade is a good idea. But like the other players on this list, it's entirely possible that the trade market won't be in the Sens' favor this year.
A buyout would cost the Senators $875,000 per season for the next six years, definitely not the end of the world.
The boys squeak in an episode before Jake heads off to Florida. They touch on the Bruins' recent milestones, especially Bergerons 1000 points. They head over to the metro to see can Pittsburgh and Washington turn things around before heading out west to take Shane Wright and the Seattle Krakheads.Thanks for listening! Please rate and review our show on your favorite listening platform. Check out our partner's website at www.insidetherink.com for all your latest hockey news.