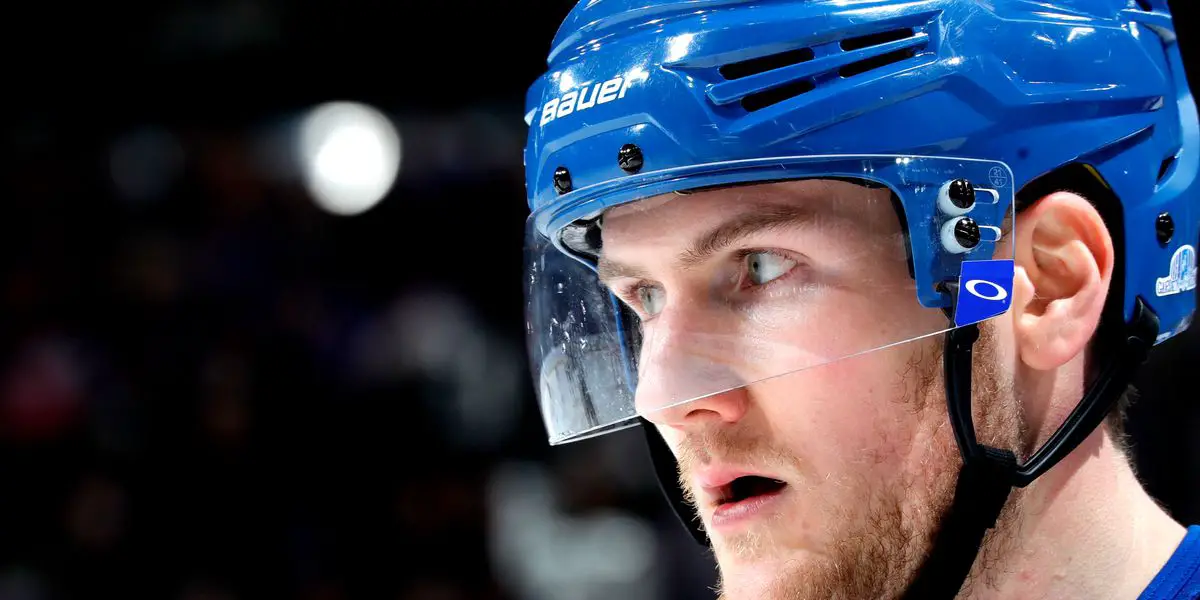 The NY Rangers beat the Minnesota Wild in a shootout last night 4-3. A game where the Blueshirts dominated for long stretches without results but eventually displayed the resilience that is starting to become their trademark again. The stars of this game were evident, so let's give them their props as we break this contest down.
THAT'S GOOD!
ADAM FOX
I'll start this by making a very bold statement. Last night might have been one of Adam Fox's best overall games as a Ranger. Of course, that declaration might seem crazy for a past Norris winner who has undoubtedly had many games that have produced more than a goal and an assist.  
However, it's not only that his goal tied the game at 2 in the second period on a sweet snipe past Fleury. Not even his incredibly savvy move towards the net led to the scramble in front for Chyti's eventual tying goal at 3 in the third period. Obviously, those are the most critical factors, but it was because Fox was in complete control of the play throughout the entire night. The calm, cool, collected quarterback of our team that can run the show in such a stealthy way the other team doesn't know what hit them.  
Adam Fox will never be the flashiest guy, which is why he can't be defined by highlight reels (though he indeed will show up there from time to time.). What he has become, though, is an absolute revelation: a rock and a rock star. We gave up two second-round picks for him, and it feels like the steal of a lifetime. There was no better example than last night in a game where we lost two forwards but were held steady due to our backbone on the back end.
K'ANDRE MILLER
Not to be outdone, it hurts less to lose two forwards when you essentially have a pseudo-forward playing for your defensive corps. To be clear, it's most important that Miller has started to regain his form on the defensive end. A few too many times in the early going, he reverted back to his bad habit of relying on his speed and his stick to defend the Rangers' zone. While he is adept at it, he became such a force last season because he learned when to do that and when to take the body and force the issue. Thankfully, that balance has begun to be restored.
Last night though, clearly, the focus had to be on another stellar highlight reel goal. Spurred by Vesey's great defensive poke check, Miller took off on a partial breakaway with a defender hovering over him and lifted one past Fleury for our first goal. What makes it so spectacular is that it's starting to become more commonplace with K'Andre's gifts.  
Despite the broadcast reminding us, we still need to remember how young Miller is and the fact that he's playing a position that wasn't in his DNA until the recent past. It's terrifying (for other teams) to think that he's only going to get better.
RESILIENCE
Maybe you'll get tired of this word by the end of the season cause I use it so much. But it will be good if you do because it means the Rangers we know and love have returned.
It showed up en masse last night as the Rangers came back from a 2-0 deficit in the 2nd period and then again in the third period after a soft goal let up by Igor.  
Perhaps in today's NHL, these comebacks aren't as rare anymore. However, when you factor in the Rangers losing two of their fastest forwards (Julien Gauthier in the first period and then Kreider in the third), it makes the grind-it-out gutty win even more impressive.
THAT'S BAD!
A PASSING FAD
I only religiously watch the Rangers, so I wonder if this is an epidemic with other teams, but this crew needs to ease down on the overpassing. While it's commendable to be unselfish and try to set up a clearer shot, the pendulum has swung too much to the other end of the spectrum and become detrimental.  
Whether forgoing a point-blank shot for a pass on a two-on-one rush or trying to make a long cross-ice pass in the offensive zone that has little chance to get through several defensive sticks, this team wastes too many opportunities.
I appreciate how Mika, Panarin, and even Kakko want to facilitate, but someone needs to drill into these players' heads to trust their shots because they have GREAT ones. For every beautiful tic-tac-toe goal, I believe this team is leaving at least one goal a night on the table because they don't just set and fire.
INJURIES
One beneficial but scary subplot to this season so far (depending on how you look at it) is that this team has been relatively healthy. Sure, we lost Chytil for a short spell, and Kravtsov had his early stumbles, but for the most part, we've been unscathed. Unfortunately, after last night, that might not be the case.
This fear may be premature till we see the next practice, but the Rangers first lost Julien Gauthier as he was crunched between two Wild players. He appeared to take a shoulder to the chin that might have him missing a few games.
As effective as Gauthier has been in his role, the more significant loss is Kreider. It's hard to say precisely what happened, but Kreider is as solid as they come and usually plays through anything. So for him to leave and not come back is alarming.  
Hopefully, both are short-term, if anything at all, but that would be a lot of speed and skill missing from a forward group that needs both those traits as much as possible.
CAN I GO NOW?
I can't see ever putting Igor in the That's Bad category, but last night was not one of his better efforts. That's okay, though. The team owes him several more games where they pick him up instead of the other way around.
On the other side of the coin, I could have put the Kreider/Mika/Kakko line in the That's Good section. They were phenomenal those first two periods and did everything but score. Kakko has been sparked playing up there, and (assuming Kreider is not out too long) that should be our top line going forward. At heart, though, I'm still about actual goals, so I will shoutout them out for their play, but I need to see them finish too.
Again, the Rangers dominated the OT and got another four-on-three power play they couldn't convert. I won't harp on this because they found a way in the shootout, but they need to be better in these situations when they get these types of advantages.
Just an embarrassing sequence as the refs called embellishment on Lafreniere after a tripping penalty on the Wild. Logically, it makes ZERO sense. All Laffy did was fall down. So, if you call a trip on the opposing player, the result is always someone hitting the ice. One hundred percent of the time. If you go to Webster's Dictionary under "tripping," I'm betting there is a picture of a person on the ground. Therefore, if you think he embellished, he wasn't tripped, and the Wild player should not have been called for a penalty. Just galaxy brain stuff there.
The next game is Thursday night against another formidable Western Conference opponent as the Dallas Stars invade MSG. They have been stout with an excellent Oettinger in the net, so the Rangers must be opportunistic with their chances.