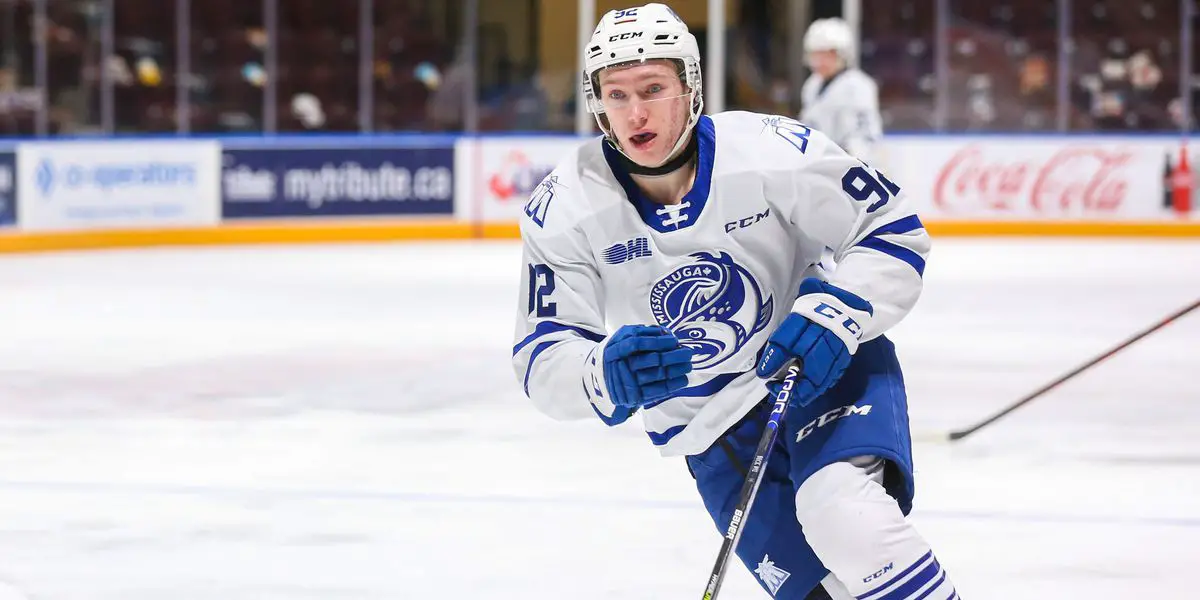 Team Canada has officially announced that forward Owen Beck will join the roster! The 18-year-old forward was initially invited to camp but was one of the cuts that didn't make the final roster. Owen is a versatile player that can play down the middle and on the wing. After being drafted in the 2nd-Round by the Montreal Canadiens, Beck looks like a promising player for the Habs long-term. Beck will officially join Team Canada for the knockout stages and look to provide a spark! 
This season Beck is playing in the OHL with the Mississauga Steelheads. Through 30 games, Beck has 17 goals and 23 assists for 40 points! The Peterborough native plays a fast game, mostly known for his speed. Owen does well in creating plays and making space for his linemates at a high pace using his quickness. One thing I also really like about Beck's play is how strong he is on breakouts. As a long-term outlook on the player, he's a prospect I really think will find success. His ability as a possession player, Beck doesn't necessarily give up pucks and has that speed to drive play. Owen is always giving his linemates an option to pass too, which makes me see a lot of Brayden Point in his play. Obviously not an exact comparison, but the two do similar things well. Beck was a player that shot up most draft boards as we got closer to the draft. I wasn't shocked at his early selection in the 2nd round. 
Overall this move was made because of an injury to forward Colton Dach. Colton left Team Canada's 5-1 win over Sweden last night with what appeared to be a shoulder injury. It has been confirmed that Dach will be out for the remainder of the tournament. Obviously, this is a bit of mixed emotions, heartbroken for Colton while being excited for Beck and his opportunity. In terms of the lineup aspect, I'd expect to see Owen perhaps on a line with Caedan Bankier and Adam Fantill, but I wouldn't be surprised if they play him with Nathan Gaucher and Zack Dean. Team Canada will take on Team Slovakia on January 2nd in the quarterfinal of this year's tournament!
Thanks for reading! For more hockey content, follow me on Twitter at ITR_Anselmo!
WELCOME BACK TO LEAFS LATE NIGHT! Presented by Inside The RinkRoscoe / Galaxy Biehn – Dubas Out?!?- Remember All The Good Times We Shared- I Don't Love Our Options- Matthews Next Deal?- Keefe's Fate- AI MascotsSPORTS! IS FUNMERCH IS AVAILABLE!JOIN OUR DISCORD!Remember to follow us on Twitter @LeafsLateNight & IG @LeafsLateNightCheck out Mike, Josh, and Nathan's articles on the Leafs + many more! insidetherink.com