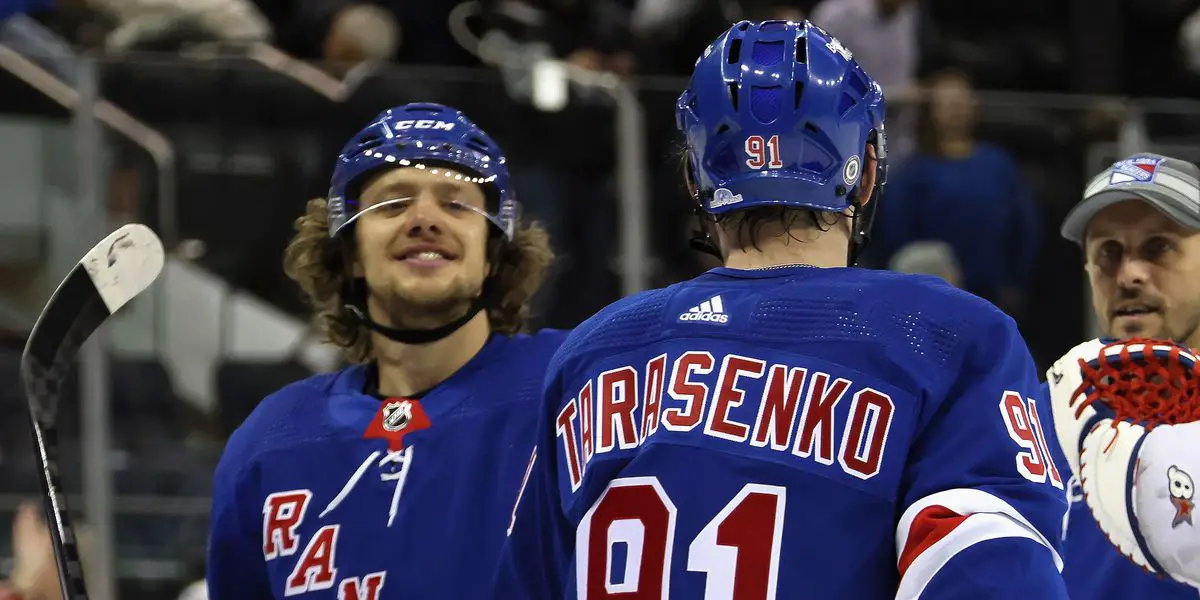 Since signing with the New York Rangers as an unrestricted free agent in the summer of 2019, Artemi Panarin has been an offensive monster.
Panarin, 31, led the team with 95 points (32 goals and 63 assists) in 69 games in his first season with the club. In the following COVID-shortened season, he had 58 points (17 goals and 41 assists), and he led the team in points again last year with 96 (22 goals and 74 assists) in 75 games.
The theme has continued this season as Panarin (As of Tuesday, March 28) leads the Rangers in scoring with 84 points on 25 goals and 59 assists. He is three points ahead of the team's second-leading scorer, linemate Mika Zibanejad, who has 38 and 43 assists for 81 points.
One thing that obviously stands out is the number of assists that Panarin has this season. He is ninth in the league in that category and is the team's top playmaker on offense.
Game in and game out, Panarin knows how to find an open linemate to either create a scoring opportunity or put the puck in the net. He knows how to create space for himself with his great puckhandling skills while also having an unbelievable vision when he has the puck.
With that said, Panarin is starting to shoot the puck more. Luckily for the Rangers, it has led to him scoring more goals, and after picking up a goal in his team's 6-2 victory over the Columbus Blue Jackets on Tuesday night, March 28, he now has 25 on the season.
This is extremely important for the Rangers. Yes, players like Zibanejad (38), Chris Kreider (32), Filip Chytil (21), Patrick Kane (21), Vincent Trocheck (20), and Vladimir Tarasenko (16 goals) will be relied on to score in the playoffs, but if Panarin can become the goal-scorer that everyone around him knows he can be, the Rangers offense can end up being lethal in the Stanley Cup Playoffs.
For starters, Panarin has a great shot. His shot is quick, accurate, deceptive, and one that he should be using more often.
Secondly, because Panarin's shot is so quick, it often creates rebounds. Considering the fact that he plays on a line with Tarasenko and Zibanejad, he has two guys that can bang those rebounds in for him.
Lastly, more often than not, Panarin is an unselfish player. While that is obviously not a bad thing, he is going to need to be a bit selfish come playoff time because scoring opportunities will be far and between.
With the way Panarin is playing right now, one would expect him to carry it into the most important time of the year.
In this week's episode we discuss the new rumors regarding the Rangers coaching situation. Then go on to the fun stuff discussing the impact Tkachuck's play will make on the game, Rangers players and more. Thanks for listening! Please rate and review our show on your favorite listening platform. Check out our partner's website at www.insidetherink.com for all your latest hockey news.