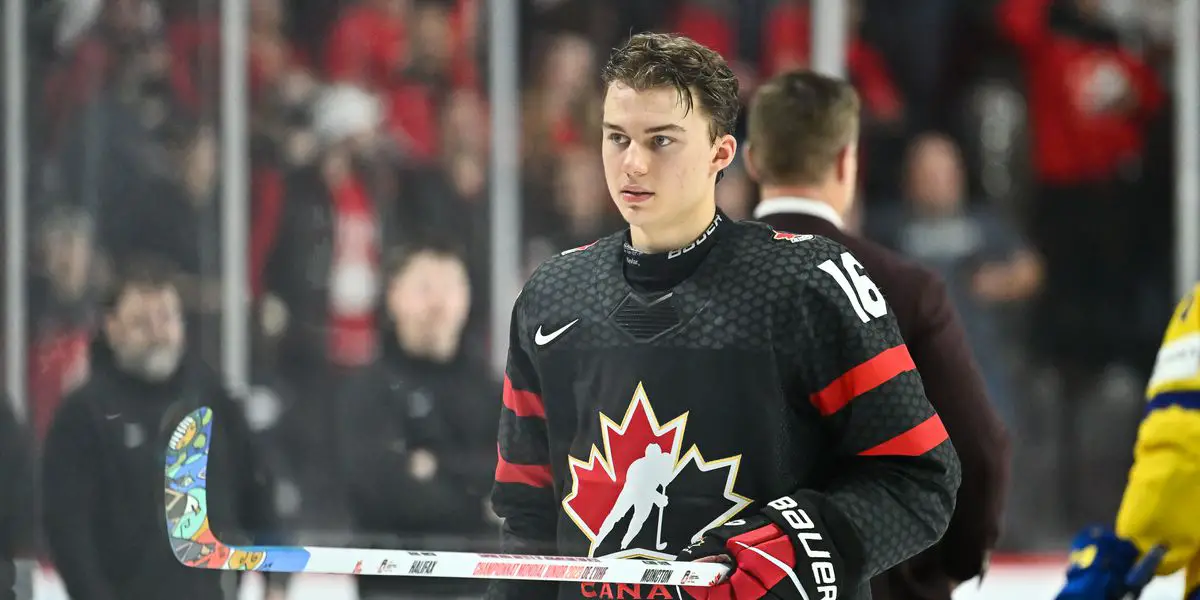 There's just something about an elimination game at the world juniors in a smaller rink. When I was a kid, this tournament was always played in smaller rinks, so it was fantastic seeing the tournament go back to that this year. Growing up, some of my favorite memories as a kid watching these tournaments were just how electric the crowd would be before Canada even took to the ice. It would be so loud that the glass would literally shake. It doesn't get much better than that. 
Slovakia absolutely came to play tonight, as they controlled most of the play during the first five minutes. In fact, Slovakia didn't allow a single shot from team Canada until 5:49 into the period. We all knew it was a matter of time before Connor Bedard made his presence felt in this game. Shortly after Canada got their first shot on goal, Bedard found himself all alone, and he made absolutely no mistake, ripping home his seventh goal of the tournament and giving Canada a 1-0 lead. With that goal, Bedard set a new record for most points as well as goals by a Canadian at the world juniors with 32 points and 15 goals. Eric Lindros held the previous points record with 31, and Jordan Eberle held the goals record with 14. While this will absolutely be Bedard's final world junior tournament, he is eligible to play in the next two tournaments. However, I have a feeling he might be too busy dominating the NHL next year and beyond. The Slovaks let it be known that they would make Bedard's life miserable in this game, and they followed through with that game plan. They were cross-checking someone on team Canada after every single whistle. In one scrum, Stankoven took a cross-check from behind and to the face simultaneously. During that same scrum, 2 Slovaks mauled Bedard as well. After all, was said and done, Canada did come out of it all with a man advantage, but Bedard found himself in the box. Coming into this game, Canada's power play was sitting at a 57% success rate, which is absolutely remarkable. Canada could not add to their lead with the first-man advantage of the game, but they did manage to generate a couple of good chances. The Slovaks made sure Canada wasn't going to push them around as they were physical with Canada every chance they got; during play, after the whistle, it didn't matter. Slovakia's aggressive, physical play came back to bite them once again as they were called for slashing with 4:12 remaining in the opening frame. A minute into the power play Thomas Milic was forced to come up with his best save so far in this one as Peter Repcik generated a short-handed breakaway. Credit to the Slovakia penalty kill as they once again kept the Canadian power play off the score sheet. Canada would take a 1-0 lead to the dressing room as a very physical opening 20 minutes came to a close. Shots on goal in the first were 16-8 in favor of Canada. 
The fantastic pace of the first period carried over to the second as both teams traded chances in the opening minutes of the period. Canada was given their third power play of the game as Natny was called for delay of game 3:43 into the frame. This time Canada's power play breaks through as Brennan Othmann goes across the crease to find Dylan Guenther for his fifth goal of the tournament giving Canada a 2-0 lead. As Slovakia entered the Canadian zone, Guenther was forced to take down a Slovak who was going to the net, giving Slovakia their first power play of the game. They wasted very little time as Simon Nemec fired a shot on goal from the point that found its way past Milic due to a deflection from Libor Nemec, making it a 2-1 game. With exactly 11 minutes remaining in the second period, Ostapchuk made absolutely no mistake with a rocket of a shot blocker side, restoring Canada's two goal lead. With 6:42 to go, the Slovaks struck again as Robert Baco was alone in the slot, and he buried his second of the tournament, making it a one goal game yet again. Just a minute after Slovakia made it a 3-2 game, Simon Nemec was called for delay of game, Slovakia's second delay of game penalty of the game, giving Canada their fourth power play of the night. As the Slovakia penalty expired, Brandt Clarke was absolutely flattened by Baco. He was hit so hard that his helmet went flying, and Clarke was supposed to leave the ice immediately after losing his helmet. Still, he didn't, which resulted in a Canadian penalty giving Slovakia their second power play of the game. A terrible decision and penalty for Clarke. Luckily for him, Canada was able to kill off the man advantage and keep their one goal lead intact. After getting out of the box, Clarke flattened Misiak in the Canada zone. The second period would come to an end, with Canada carrying a 3-2 lead into the third period. Shots on goal after 40 minutes of fantastic hockey from both teams were 34-15 in favor of Canada. 
As the third period started, you could feel the tension in the building, even through the TV. You could feel how anxious the crowd was and how high the tension was between both teams. In the first five minutes of the third period, both teams had a lot of back and forth but no true high-danger scoring chances from either side. Groch absolutely manhandled Shane Wright as he flattened Wright with ease. Shortly after that sequence, Zach Dean found himself all alone, and he had Gajan at his mercy, but he failed to capitalize. With 12:30 remaining in regulation, Bankier found time and space, but he rang the puck off the post. As the seconds ticked away off the clock, the intensity and volume of the crowd significantly increased.
Seconds after Bankier hit the post, Slovakia went the other way, and they generated a mad scramble in front of the Canadian goal, where they had several great chances to tie the game. Still, somehow the puck stayed out, thanks to Milic and the Canadian defense. With 8:35 to go, Slovakia finally broke through and tied the game as Libor Nemec scored his second of the game off of a gorgeous feed from Mesar, leaving the Canadian crowd absolutely stunned. As a Slovakian defender lost his footing, it looked like Dylan Guenther had an open lane to the net. Unfortunately for him, the lane was quickly closed off, and his shot was blocked. With less than five minutes to go, Connor Bedard had a great chance with a wide-open net, but it was blocked. With only a few minutes remaining in regulation, it was really starting to get into the next goal wins territory. With 34 seconds remaining in regulation, Connor Bedard was cross-checked in the neck area, which resulted in a penalty to Nemec. The play would be under review to determine if it was just a two minute minor or a five minute major. It was determined to only be a minor. Off the insinuating face off, a Slovakian player fell on the puck and elected to just stay there, and the refs refused to blow the whistle as a solid eight to ten seconds ticked off the clock. Regulation would end with this one still tied 3-3; what action! While shots on goal were heavily in Canada's favor, 49-24, that was absolutely no indication of how close this game truly was. Canada would have 1:26 of power play time that would carry over into overtime. 
Somehow Slovakia managed to kill off yet another Canadian power play that looked dangerous once again. Their best chance came off a Shane Wright chance that went off the bar and somehow stayed out. After the penalty kill, Slovakia elected to use their timeout to rest their top guys, as they were just used during that crucial penalty kill. Gajan stopped not only Bedard but also made a spectacular point-blank save on Olen Zellweger, who was all alone and had the game on his stick. Not to be outdone, Milic came up with an unbelievable glove save on Petrovsky. Connor Bedard has scored many goals in his lifetime, and he will score many more in the years to come, but holy smokes, did that guy just score the goal of his life. He deked out the entire Slovakia team to end the game and their tournament. Words seriously do not do justice to how amazing that goal truly was. Just check it out for yourself if you missed it:
Nothing but respect for team Slovakia. They said they would throw everything at team Canada, and they did just that. They have absolutely nothing to be ashamed of whatsoever. 
Player of the game for team Slovakia was Libor Nemec, while the player of the game for team Canada was none other than Connor Bedard … again. This was Bedard's third time being named player of the game in the tournament, and let's be honest. He should have won it every game thus far. 
The victory sets up a clash of the titans in the semi-finals as Canada will move on to take on their forever rivals, Team USA. You won't want to miss that one on Wednesday!
Intermission Episode – Brand New Team
–
Leafs Late Night
WELCOME BACK TO LEAFS LATE NIGHT! Presented by Inside The RinkRoscoe  / FanalystSteph  Oiled Up by McJesus New Faces, Old Faces Calgary 2nd Period Moves This Week MERCH IS AVAILABLE!Remember to follow us on Twitter @LeafsLateNight & IG @LeafsLateNightCheck out Mike, Josh, and Nathan's articles on the Leafs + many more! insidetherink.com