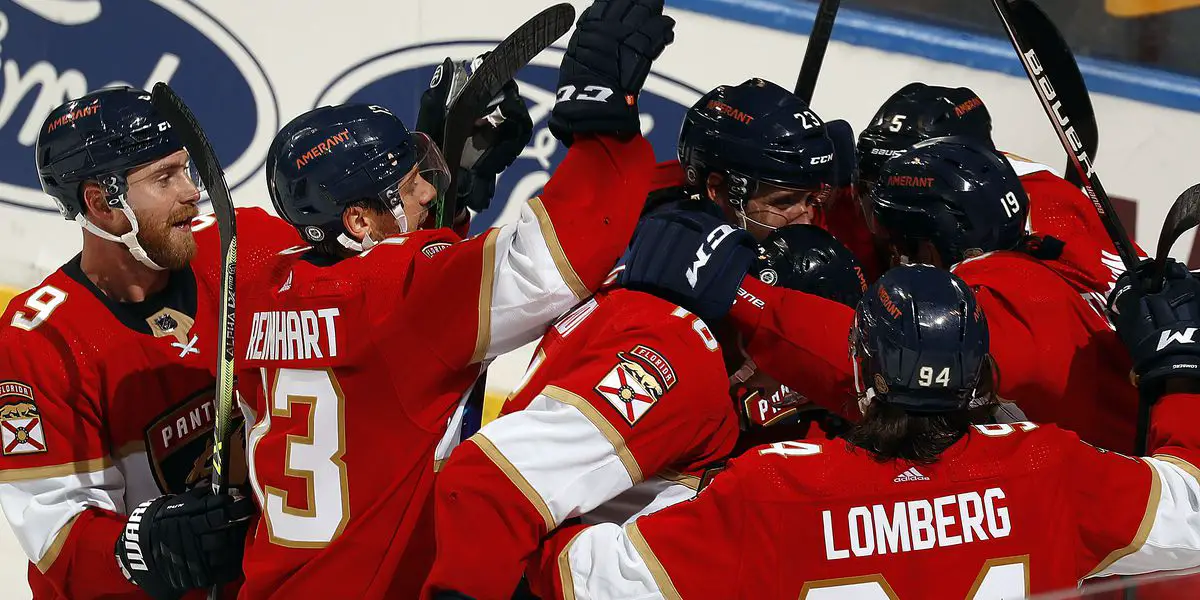 One of the NHL's top teams in 2021-22, the Florida Panthers look like an organization destined for a deep postseason run. A glance at the standings and statistics, Florida appears utterly dominant in all aspects. However, one issue hovers over the Panthers, which may damper their Stanley Cup aspirations.
At home, Florida is essentially unbeatable. With a 21-3-0 record at the FLA Live Arena, the Panthers are by far the league's best team when performing at their home barn. Florida's 42 points in front of their fans are eight more points than the next best team, the St. Louis Blues. At an extreme level, they outscore opponents, averaging 4.75 goals a contest while visiting teams manage just 2.71. Even the special teams look solid, recording a 23.1% success rate on the powerplay and posting a PK% of 85.3.
However, when the Panthers take to the road, they look like a very different team. In 15 road games, Florida is just 5-5-5, producing a slightly different vibe than the nearly-perfect team demolishing opponents in south Florida. 15 points in 15 road games does not seem like a significant problem at first. Unfortunately, when you record 42 points in 24 games at home, the drastic difference causes some red flags.
A high-scoring franchise playing in Sunrise, the Panthers continuously fail to replicate that level of offensive production away from home. Compared to averaging 4.75 goals each home game, Florida manages 2.93 per road game. The highest-scoring franchise at home ranks 14th in the league when sleeping in hotels and living out of suitcases. The Panthers are allowing more goals, too, averaging 3.20 goals against a contest.
In terms of special teams, Florida's powerplay and penalty kill also take a dip. The powerplay is rolling at just a 12.8% success rate, while the penalty kill prevents 73.1% of the opposition's powerplay opportunities from resulting in a goal.
Is a dip in performance on the road typical for most NHL teams? The answer is yes. Generally, teams perform better in front of their home crowd in their building. The fact that Florida struggles to replicate its home-ice performance else would not be alarming if it were not so drastic. Unfortunately, an unbeatable home team morphs into an average one when playing anywhere else. If this keeps up, the Panthers may struggle to go too far in the postseason, where you need to be able to register road victories from time to time.
Thirty-nine games into their 2021-22 campaign, the Florida Panthers have more than half a season's worth of games to correct their away game misfortunes. The adversities faced on the road do not take away from how talented the team is. On the flip side, their home success provides optimism for what could occur during road games.
One game into a five-game road trip, there is no better time for the Panthers to erase their away game blunders. Not off to the best start, with a 5-1 loss to Calgary Tuesday, Florida still has the Edmonton Oilers, Vancouver Canucks, Seattle Kraken, and Winnipeg Jets on the docket. Although anything is possible, all of these games fall under the "winnable" category for the Panthers.