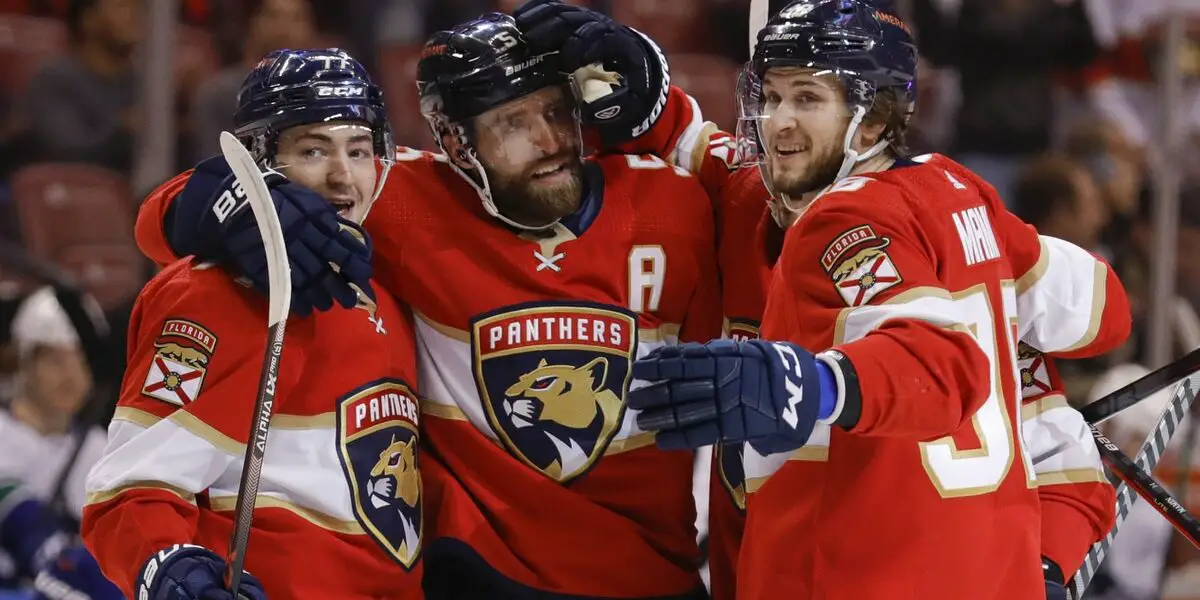 The Florida Panthers are becoming impossible to beat at home. Winning 21 of the team's 26 victories at FLA Live Arena, it's becoming commonplace for the Panthers to put on a show in front of their ever-growing fanbase. Still, no one expected the complete offensive tear Florida demonstrated in their recent three-game home stint.
Taking on the Vancouver Canucks, Dallas Stars, and Columbus Blue Jackets, Florida made absolute mince-meat of each opponent, outscoring them 21-5. As the home stretch progressed, the Panthers' production improved, increasing their goal total from five to seven to nine. By Saturday's contest against Columbus, the second game of a back-to-back, fans were on their feet in jubilation, cheering, "we want ten."
Thirty-eight games into the regular season, Florida leads all NHL teams in goals with 158. Colorado is the next closest team, posting six fewer tallies. The Avalanche, however, leads Florida slightly in goals per game. Colorado is scoring 4.29 goals per contest, while the Panthers are behind them with 4.13. The next closest team is the Minnesota Wild averaging 3.68 goals each tilt.
One of the more incredible aspects of Florida's offensive production is its success in all situations. While leading the league in even-strength goals with 111, the Panthers have also recorded 24 while 5-on-4, six on the penalty, and five during three-on-three overtime. Add their two tallies during six-on-five situations, and you have a team that can beat you in all circumstances.
Although Jonathan Huberdeau is the team's most productive player with 53 points, the Panthers spread the wealth throughout the roster. Huberdeau is one of three players with 15 goals, while Anthony Duclair leads the organization with 16. Additionally possesses three more players over the ten-goal mark, and Anton Lundell is just one away from joining the double-digit club. Huberdeau, Duclair, Alexander Barkov, and Sam Bennett all look like 20-plus goal-scorers this season. Forwards Carter Verhaeghe and Sam Reinhart also possess a realistic chance of reaching 20 goals in this campaign. Throw in defenseman Aaron Ekblad, the least likely of the group, and the Panthers boast seven potential 20 goal-scorers. Some teams would sacrifice a ton to have one on their roster.
Sometimes, people tend to wrongfully associate high-scoring franchises with lackluster defensive play. They assume such an offensive-minded team to let up many goals the other way. In truth, Florida's best strength lies in its ability to possess the puck for a majority of a game. They allow opposing teams few chances to maintain pressure by consistently applying it themselves. Although it happens occasionally, Florida is not winning most of their games in 6-5 or 7-5 fashion. Boasting a goal-differential of plus-47, the offensive is very much one-sided.
Over the next two weeks, the Panthers look to bring their offensive domination on the road, playing the next five games away from home. Just 5-4-5 away from South Florida, the Panthers have some work to do if they want to maintain their title as the league's best team. Especially with the Tampa Bay Lightning breathing down their necks.