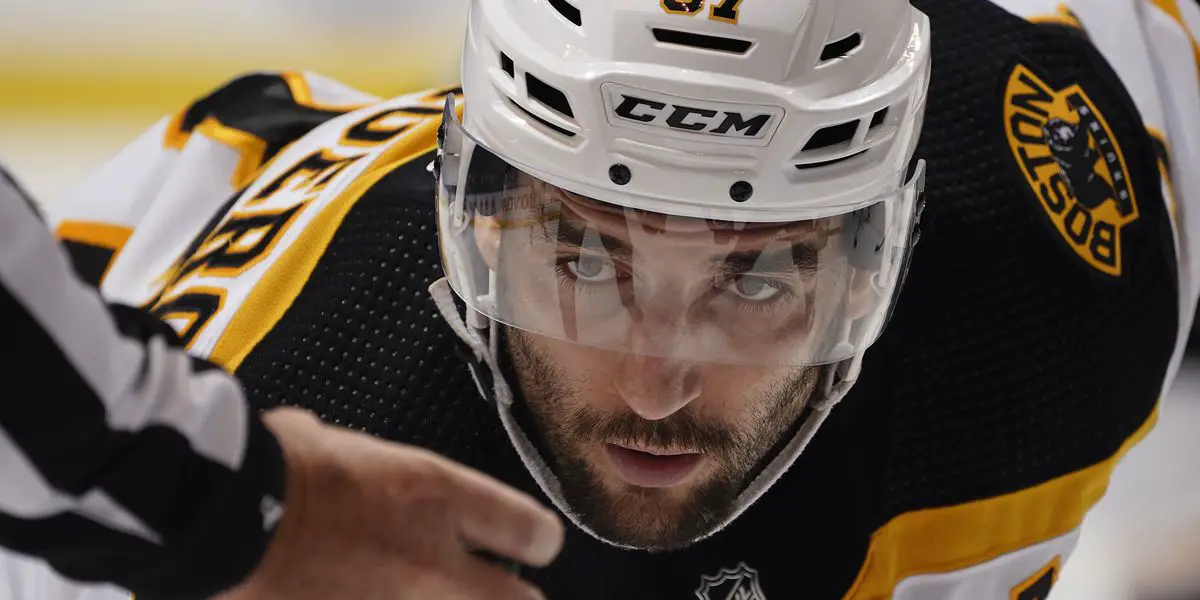 Now that the Bruins have clinched a playoff berth thanks to their 2-1 win over the Pittsburgh Penguins, it's time for the Boston Bruins and their most veteran skater and captain, Patrice Bergeron, to shift focus to the playoffs, where Bergeron looks to rise up the Franchise record books further. Since Patrice Bergeron began his career with the Boston Bruins during the 2003-2004 season, he has been nothing but consistent and a leader. The 13-time 20-goal scorer is playing in his 18th season in the NHL, all with Boston as he gears up for another playoff push looking to win his second Stanley Cup.
Bergeron currently ranks very high on the franchise record boards as he looks to move up a couple of spots with an impressive postseason this year. Bergeron is no stranger to playing games in the NHL as the 18-year veteran has skated in 1,210 games, where he has amassed 395 goals and 578 for a total of 973 points as he eyes point 1,000 that will have to wait until next year. On top of his impressive regular-season success, Bergeron has played 160 playoff games tallying 46 goals and 74 assists for 120 points, along with one Stanley Cup in 2011. Heading into this year's playoffs, Bergeron ranks second in games played and ranks third in goals, assists, and points as he has the chance to move into second place in all three categories.
For Bergeron to reach second place, he needs one goal to overtake Phil Esposito, eight assists, and five assists to tie former teammate David Krejci in both categories. This year, Bergeron most likely needs to play in multiple playoff series to get the eight assists unless he catches fire in the first round.
For Bergeron to work his way into first place in these four categories, it will take a deep run this year, along with another run next year and even another one after that, as he has some ground to cover. The leaders of these categories are none other than Ray Bourque and Cam Neely, two of the greatest players ever to wear the black and gold and play in Boston. Ray Bourque leads three of these categories as he is number one in games played (180), assists (125), and points (161). Cam Neely is the number one goal scorer in postseason franchise history as he tallied 55 goals during his career.
For Patrice Bergeron, his number one focus and ultimate goal will be to raise the Stanley Cup in Boston one more time before his hall of fame career ends. While being the franchise record book leader is an impressive achievement in one's career, being a two-time Stanley Cup champion has its glory. Bergeron is a free agent at the end of the season, and while he hasn't shown any signs of slowing down, only Bergeron himself knows what his plans will be regarding next season. If the Bruins win the Stanley Cup this season, he may hang up his skates on a high note, but if they fall short once again, there is an excellent chance he runs it back alongside Brad Marchand as they look to remake 2011 magic.
The boys are back after a long break but have plenty to talk about as the playoffs are in full swing. We go series by series, looking at how teams have fared so far and who will come out on top. Thanks for listening! Please rate and review our show on your favorite listening platform. Check out our partner's website at www.insidetherink.com for all your latest hockey news.