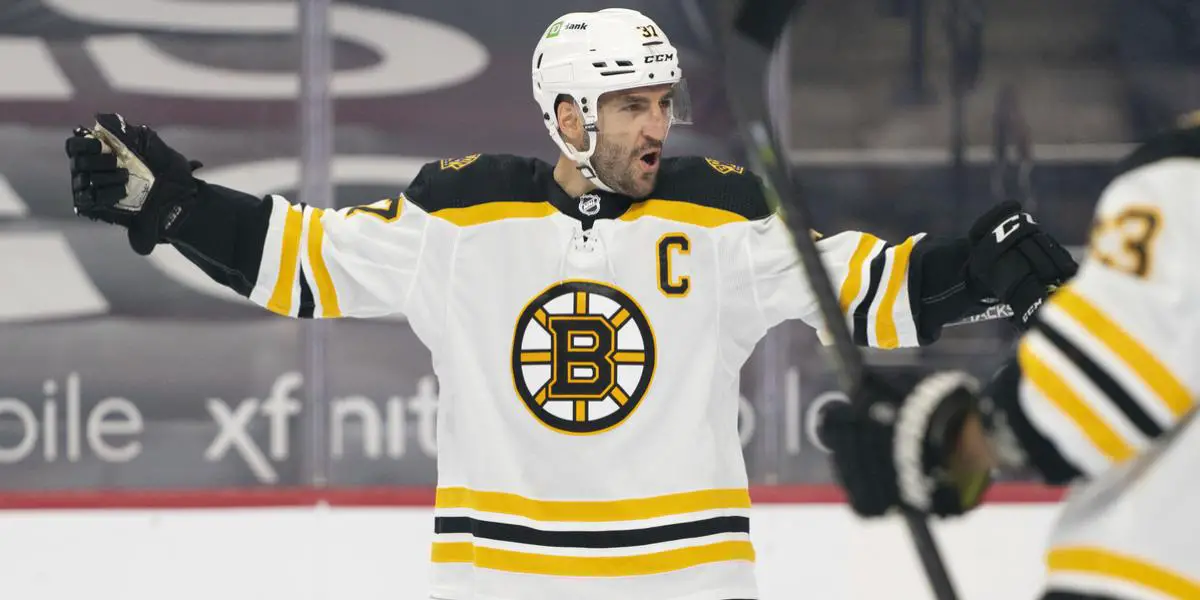 In what was already a hall-of-fame career before the start of the season, Patrice Bergeron returned for his 19th season in the NHL. Since the beginning of the 2022-23 season, Bergeron once again has shown no signs of slowing down as he continues to dominate every game as one of the best two-way forwards in the league.
Bergeron entered this season with a few personal milestones in his reach, and tonight on November 21st, he reached a special one. With the Bruins up 3-1 in the second period over the Tampa Bay Lightning, Bergeron recorded his 1,000 career point with an assist to long-time friend and linemate Brad Marchand. It was a special moment to watch as every player on the Boston team knew what was just accomplished as they all rushed to the corner boards to celebrate with their captain.
Bergeron is the fourth player in Boston Bruins history to record 1,000 career points. He trails Ray Bourque (1506), John Bucyk (1339), and Phil Esposito (1012). If Bergeron can continue his playmaking abilities the rest of the season, he can move into third all-time, further cementing himself as a Boston Bruins legend.
On the season, Bergeron now has nine goals and nine assists for 18 points while also being a top Selke Trophy nominee once again. The Bruins captain is now nine assists away from his 600th career assist. He is also on pace to record his 10th consecutive season of 20 or more goals.
For a player that was considering hanging up his skates this past offseason, Bergeron looks like he's playing in his prime as father time certainly has not caught up to him.
Stay tuned to see what other milestones the captain can cross off his list during the Bruins pursuit of the Stanley Cup.
Episode 51: Interview w/Jack Ahcan Episode 51 is back in action talking about the New York Paingers ITR bet, Can Buffalo Sabres make the playoffs? Is Vancouver in the wrong on the Boudreau treatment? Is Tocchet the right guy? Is Daryl Sutter the last Dinosaur in the NHL?YouTube: https://www.youtube.com/@insidetherinkTwitter: https://twitter.com/CueTheDuckBoatzFacebook: https://www.facebook.com/Cuetheduckboats/Thanks for listening! Please rate and review our show on your favorite listening platform. Check out our partner's website at www.insidetherink.com for all your latest hockey news. Also, catch all of the games in this year's NHL season by signing up for ESPN+ at Insidetherink.com/ESPN