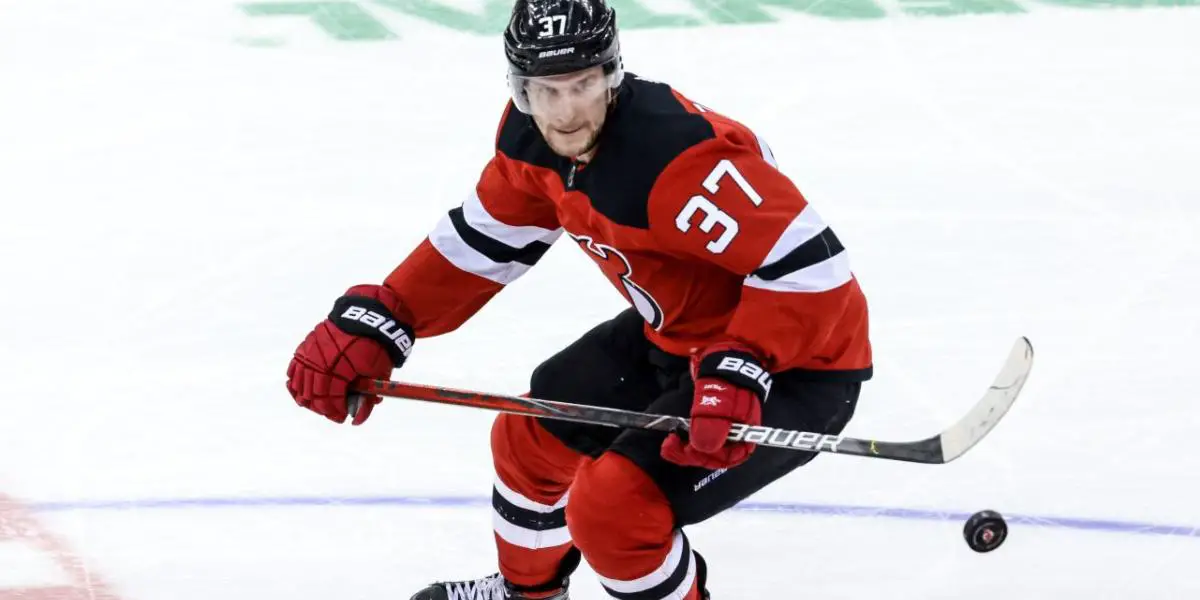 With the Bruins needing to get younger and bigger while finding a potential top-six center of the future, general manager Don Sweeney hit the phones to find his guy. The Bruins completed a one-for-one trade with the New Jersey Devils shipping out 31-year-old Erik Haula while bringing in 25-year-old Pavel Zacha in return. In one swoop, the Bruins turned an aging veteran with one year left on his contract into a young, up-and-coming versatile forward who hasn't hit his prime yet. While Zacha's career numbers don't pop off the board, the talent is there, and hopefully, with a new team, Zacha can become 20 goals and 50 points a season player while offering up a solid defense.
Zacha will be right at home in Boston
Fans have been calling for the Bruins to add size, and that's exactly what Zacha offers with his 6'3″ and 210-pound frame. The big-bodied Czechia native is set to make a smooth transition as he already owns a house in Massachusetts and trains in Boston during the summers. Zacha has also played with fellow countrymen David Pastrnak on their national team, where they were linemates. Zacha was also childhood friends with Bruins defenseman Jakub Zboril, and now they are reunited. Transitioning to a new team and city sometimes messes with a player mentally as they take it all in, but it seems Zacha will be right at home as the Bruins will need him to produce from day one.
"It's great. I know a lot of guys. I train here in Boston in the summer and stay here during the summer, so I know a lot of players," Zacha said on Thursday afternoon following a tour of Warrior Ice Arena. "The Czech players who are on the team here, too. Every time I play against them, it's a tough team to play against. Being a part of it is really exciting for me.
"Mentally, it helps me that people are excited to have me on the team. I know how excited I am to be here…it's been, so far, easier than I expected."
Zacha knows he needs to improve as a player
Being the 6th overall pick in the 2015 draft carries a lot of expectations for an 18-year-old player. It's safe to say that Zacha hasn't lived up to the expectations associated with being that high of a draft pick, but he knows he needs to improve and believes Boston is the place for that to happen.
"There's big room for improvement for me," said Zacha. "This is going to be a great opportunity and restart for me being on this team. A lot of players who can help me reach where I want to be as a player…the last couple years I played better than I did before but it wasn't even close to where I can be. I'm excited to restart a little bit of my career and be better than I was last year."
He will undoubtedly have the right players to learn from, especially if Patrice Bergeron and David Krejci both return to the team, as it's been reported. Both would be great mentors for the 25-year-old to learn how to transform his game and become an elite center in the NHL. If Zacha can take that next step offensively, Don Sweeney can chalk this one up as his third successful trade in the past two seasons, with the other two being the additions of Taylor Hall and Hampus Lindholm. Fans will continue to call him a bust when it comes to drafting, but there is no denying that he knows how to get a trade done.
Where does Zacha fit into the lineup?
He is a versatile forward that has the ability to play both center and wing. Where he will slot into the lineup to open the season will be determined by what Bergeron and Krejci decide to do. If both come back, Zacha will most likely slide to a wing spot as the Bruins will not stick him on the fourth line. If Just one of the two returns for another season, Zacha will take over the second-line center spot vacated by Erik Haula in the trade.
"I suppose a little of it depends on Patrice and David [Krejci] both in that sense," Bruins GM Don Sweeney said on Wednesday when asked where Zacha might fit in the lineup. "He's more than comfortable playing all three positions and being productive. And again, we can always move other people around.
"I think he sees himself as a center and he's excited to be joining the Boston Bruins. We're excited to have him. Not really worried about the position, I think down the road he's definably a center. I think that helps us if we're able to find the term and agreement."
One thing is for sure Zacha will get plenty of offensive opportunity with Brad Marchand being sidelined with off-season hip surgery. Getting Zacha going early on the power-play will be needed as the Bruins' power-play was lackluster to end the regular season and in the playoffs.
"Obviously, that's what you hope for when you make a trade of this nature and a player that was drafted and has the skill set that he has," said Sweeney. "He's had opportunity in situations, playing with better players for periods of time – albeit in a younger environment. So, he'll have a chance to hopefully play in a top-nine scenario with us."
"And with March being out, a significant opportunity early on with power play and situational play that he can benefit from. But we do believe there's more potential there, and that's up to Pavel to take advantage of the opportunities he's presented with."
It will be up to the young left-shot forward to rise up and take full advantage of every opportunity thrown his way. Those in the Bruins organization seem very excited to see what Zacha can add to this team as they look to retool and gear up for next season. Zacha is a restricted free agent, so it's still a wait-and-see situation for his next contract. It does seem Don Sweeney will need to clear more cap space if he intends to sign Zacha, Bergeron, and Krejci while also adding others.
The boys are back after a long break but have plenty to talk about as the playoffs are in full swing. We go series by series, looking at how teams have fared so far and who will come out on top. Thanks for listening! Please rate and review our show on your favorite listening platform. Check out our partner's website at www.insidetherink.com for all your latest hockey news.