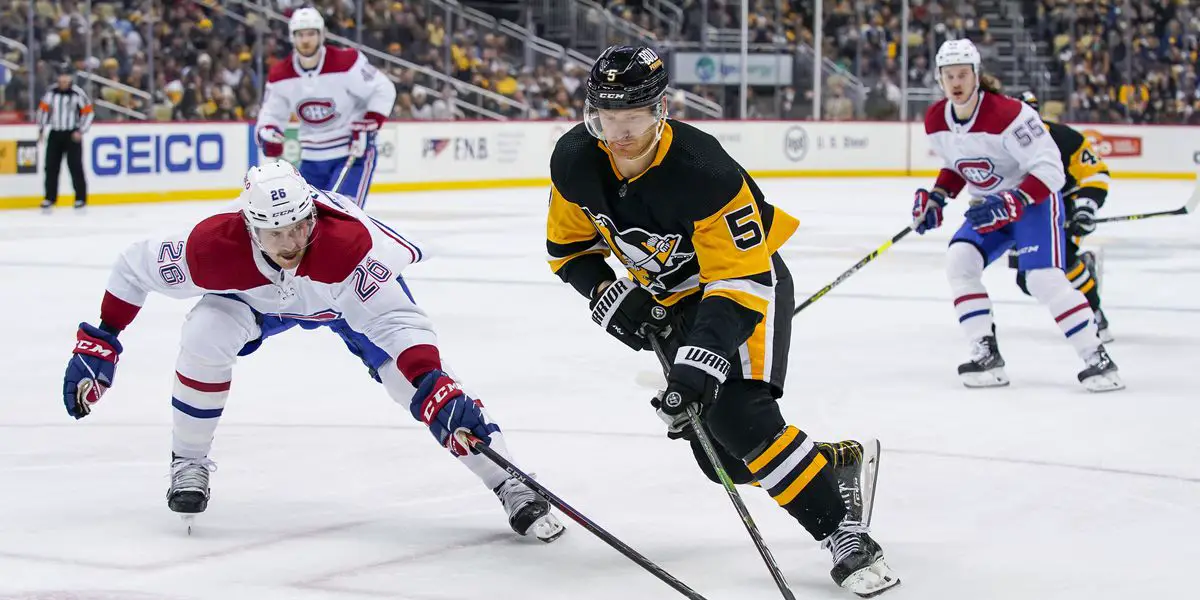 If anything from this off-season is guaranteed, the excuse of "The Penguins are running the same team back again" can not be used. Using Free Agency and making a couple of trades, the Penguins have made several changes to their team while keeping the core and all the star players. 
KEY DEPARTURES:
F Evan Rodrigues
The Penguins did not re-sign E-Rod, even after a career season, where he put up 19 goals and 24 assists for 43 points in 82 games and finished 6th on the Pens in scoring. Rodrigues, 28, came up huge at the beginning of the season, where he became an unlikely star as he helped the Penguins have a great start of the season while both Sidney Crosby and Evgeni Malkin were out with injuries. He is looking for a pay raise, and the Penguins don't have the cap space for him. He remains unsigned for now, but I don't see him returning to the Penguins unless they make a trade to free up a decent amount of cap space. 
D Mike Matheson 
The Penguins dealt Matheson and a 2023 4th-Round Pick to the Montreal Canadiens for D Jeff Petry and F Ryan Poehling. This move was GM Ron Hextall's biggest off-season roster shakeup and one of the more questionable moves he's made. Matheson had 11 goals and 31 points in the best season of his career, and losing him will likely hurt this defense. His physical play and solid two-way game were unlike any other defenseman on the Pens roster, and he will be a huge hole to fill on the blue line. 

D John Marino
The Pens sent Marino to the New Jersey Devils in the most expected move in the off-season. The Penguins needed to move someone for cap space, and Marino was the expected casualty. Marino scored a goal and 25 points last season in only his 3rd full-time NHL season. He was a fan favorite on the back end and will be a big miss this upcoming season. 
KEY ADDITIONS:
F Ryan Poehling 
Poehling was acquired from the Habs along with D Jeff Petry for Matheson and a 2023 4th-Round Pick. Ryan struggled and did not live up to his expectation of the Habs. Ryan had high expectations for getting drafted 25th overall by the Habs in 2017, and in his NHL debut, it seemed like he was going to live up to that expectation as he scored a hat trick (and a shootout goal) against the Toronto Maple Leafs in the Habs last game of the 2018-19 season. However, in the following two seasons, Poehling would score 10 goals and 19 points in 84 games. Poehling would have his first full NHL season last year, putting up nine goals and 17 points in 57 games last season. He is still young at 23 and has potential that I believe he can hit, especially with stars like Sidney Crosby and Evgeni Malkin around to help him grow as a player. 

D Jeff Petry
The second player acquired in the PIT-MTL trade is an unexpected addition to the Penguins. He is a solid puck-moving defenseman who can play a ton of minutes for the Pens. He, however, had his worst season statistically since 2015-16, when he put up six goals and 27 points in 68 games last season. The 34-year-old is looking to rebound back to the 40+ point form that he managed to hit four seasons ago. A rebound season is possible for Petry and could fit nicely into the Penguins' defense. 

D Jan Rutta
The stay-at-home defenseman was a huge part of why the Tampa Bay Lightning went to three straight Stanley Cup Finals. The two-time Stanley Cup Champion had his best offensive season since his rookie season playing alongside Norris-winning defenseman Victor Hedman, where he scored three goals and 18 points in 76 games. In the three trips to the Stanley Cup Finals, Rutta had three goals and nine points in 45 games in the playoffs. He is a solid player to add to the back end, and he knows what it takes to win the Stanley Cup in today's game. 

With the Penguins losing a few more pieces and gaining a few others, the Penguins have a much different team going into next season. The Penguins added some players that I think can help improve this team and make it better than last year. I can see this team realistically finishing second in the Metropolitan Division next year, and I think this team can make one last run to the cup before the 87, 71, and 58 hang them up. 
The boys are back after a long break but have plenty to talk about as the playoffs are in full swing. We go series by series, looking at how teams have fared so far and who will come out on top. Thanks for listening! Please rate and review our show on your favorite listening platform. Check out our partner's website at www.insidetherink.com for all your latest hockey news.