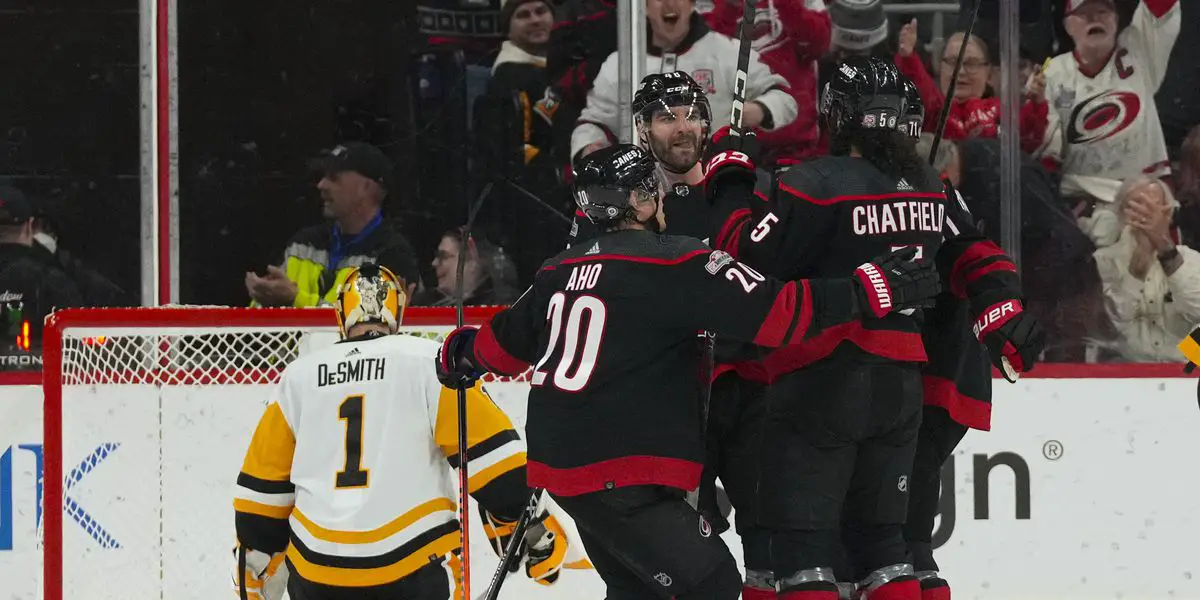 The Carolina Hurricanes defeated the Pittsburgh Penguins 2-1 last night at PNC Arena. 
Hurricanes goaltender Frederik Andersen made 34 saves. It was his second straight win for the Canes after missing 29 games with a lower-body injury. Defensemen Brady Skjei and Jalen Chatfield scored for the Canes, who improved to 27-9-7 on the season. 
Forward Rickard Rakell scored, and goalie Casey DeSmith made 34 saves for the Penguins, who fell to 21-15-6 and have lost their last eight out of 10 games. 
At 17:02 in the first, Skjei would give the Canes the 1-0 lead, firing a shot from the left face-off circle and beating DeSmith's glove. It would be Skjei's ninth goal of the season, which ties his career-high. 
Just over nine minutes into the second period, Chatfield would give the Canes the 2-0 lead, firing home a one-timer from the slot to get his fourth goal in his past 11 games after failing to score in his first 66 career games. Forward Sebastian Aho would record an assist to extend his point streak to four games. Toward the end of the second period, the Penguins had a five-on-three powerplay but failed to score. Frederik Andersen made two saves on Penguins forward Evgeni Malkin. 
Less than eight minutes into the third period, Rakell would cut the Canes lead in half after batting home Frederik Andersen's failed attempt at clearing the puck for his 15th goal of the season. Andersen would rob Malkin again with just over a minute remaining in the game to keep the Canes lead. Andersen would make 23 saves in the final two periods, including 16 in the third period. 
Penguins defenseman Marcus Pettersson would miss his second straight game with an illness. The Canes have scored eight goals in their past two games, and seven of their eight goals have been scored by defensemen. Carolina would also sweep the series against the Penguins for the season, going 4-0-0 against them. 
https://share.transistor.fm/s/162ca0bf