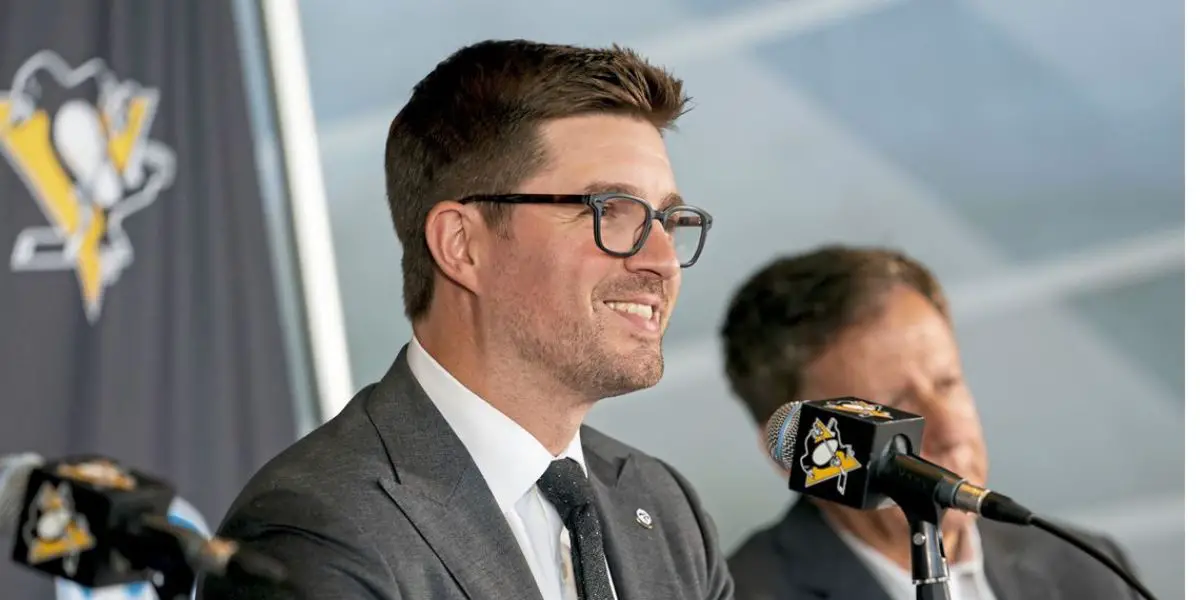 Penguins training camp starts very soon, and this off-season will officially end. 
The Penguins made a bit of a surprising move yesterday, signing forward Colin White to a professional tryout offer. He is the second player (fourth overall) to be signed to a PTO for camp. 
Dubas has made it known this off-season that he wants speed. The third and fourth lines have been pretty slow the past few years, but this year, they look fast, and Sullivan has a decent amount of players to choose from as well. 
Dubas has caused this to become one of the most competitive Penguins training camps of all time. I'm going in expecting the unexpected and prepared for whatever craziness comes out. 
With all being said, the Penguins lines could look a bit like this to start the season against Chicago.
Reilly Smith-Sidney Crosby-Rickard Rakell
Drew O'Connor-Evgeni Malkin-Bryan Rust
Noel Acciari-Lars Eller-Rem Pitlick
Andreas Johnsson-Colin White-Jeff Carter
Ryan Graves-Erik Karlsson
Marcus Pettersson-Kris Letang
P.O. Joseph-Mark Pysyk 
Tristan Jarry
Alex Nedeljkovic 
Healthy Scratch: D Libor Hajek
Now, keep in mind Jake Guentzel won't be ready for the start of the season, but I expected Johnsson to be the odd man out when he does come back. 

The Penguins are currently $80K over the cap limit, so one NHL-caliber forward will likely be sent down, which I project will end up being Matt Nieto. I do believe there is also a possibility it could end up being Rem Pitlick as well, but Nieto seems more likely, in my opinion. I think White will get signed and make the team as the fourth-line center. 
First, on Pitlick, he has been a solid goal scorer in every league he has played in so far. From the USHL to the AHL, Pitlick has put up some solid numbers. He's looking to transfer that scoring touch to the NHL. Secondly, putting DOC in the AHL would also put the Pens below the cap space, and I do think he will need a solid training camp to stay on the main team, but I believe he will do it. 
Pitlick, along with Andreas Johnsson, are going to be two of the players I watch closest in camp, as well as O'Connor. I'm high on Pitlick and believe O'Connor knows his role isn't secure, and that's why I believe he will show out at camp. As for Johnsson, I think he would make a solid fourth-line winger while Guentzel is hurt and then end up in the minors once Guentzel is back. 
As for Alex Nylander, I don't see him fitting into this roster at the moment. Nylander only had two points in nine games last season and will need to provide a lot more if he wants to start the season in Pittsburgh. The same goes for Austin Wagner. He's a speedy player but will need to put up some points if he wants a spot, but I believe he won't get the opportunity here. 
Another thing to note is Jeff Carter reportedly struggled with an agility drill at one of the informal workouts last week. A simple stop-and-go drill seemed to be more trouble than it was worth. However, I'm sure Carter will be fine and will be on the team to start the season. 
Now, onto the defense. I think it is possible POJ will lose his spot to either Hajek, Ty Smith or Will Butcher. However, I think he has himself a good camp and makes the roster. As for the PTO signing of Pysyk, I can see him being a solid third-pairing defenseman alongside Joseph come opening night. I think Hajek ends up outperforming Smith and Butcher for the seventh defenseman role, and the latter two players end up back in the minors. 
I also think Valtteri Puustinen and Sam Poulin will spend another year in the AHL to get some more development. As for the rest of the cuts, forwards Joona Koppanen, Radim Zohorna, and Vinnie Hinostroza, as well as defensemen Chad Ruhwedel, will all start the season in the AHL. 
This training camp will be very competitive and fun to watch. Absolutely nothing is guaranteed (ok, maybe SOME things are), and it'll be a fun September on the ice here in the Steel City.