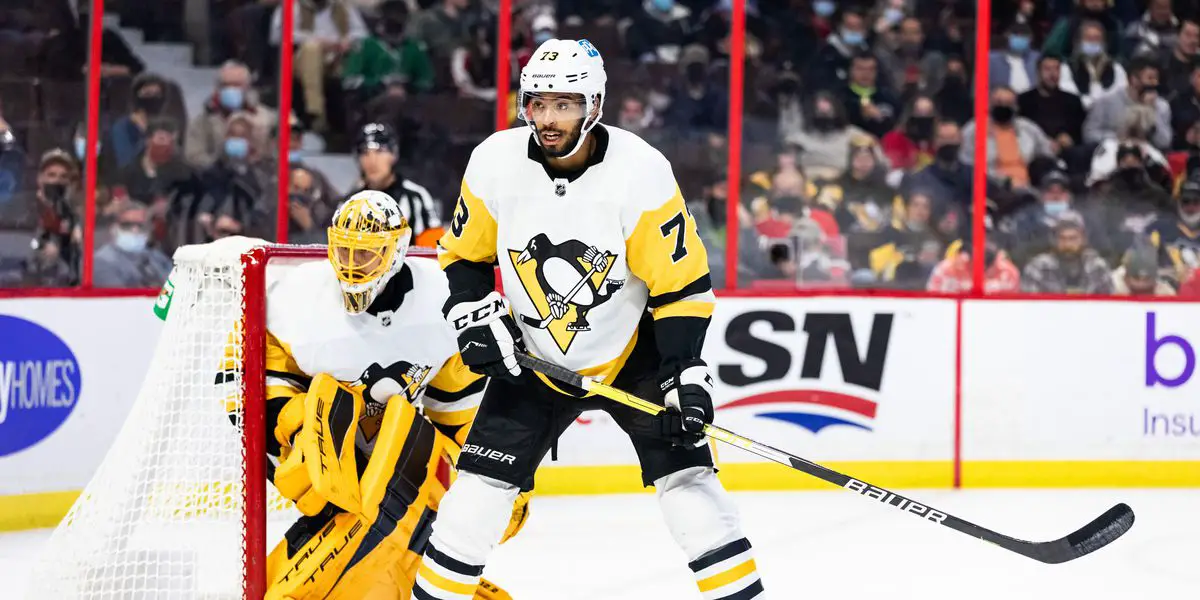 The Penguins may not have the best prospect pool in the NHL, but they still have some talent that can compete for an NHL spot. There are three of the likeliest players, in my opinion, who have the highest chance of making the opening night roster for the Pittsburgh Penguins this October. 
D Pierre-Olivier Joesph
The 23-year-old defenseman is by far the most NHL-ready prospect the Penguins have, and it would be more surprising for him not to make the team this season. The Penguins acquired P.O Joesph from the Arizona Coyotes and a 4th and F Alex Galchenyuk in exchange for F Phil Kessel. He has played 20 NHL games between 2020-21 and 2021-22, recording a goal and five points. The fact that the Penguins have always had a lot of left-shot defensemen is to blame for why Joesph has not gotten a full-time NHL opportunity yet. Last season, Joesph put up ten goals and 33 points in 61 AHL games and one goal and five points in six playoff games. He was the Wilkes-Barrie/Scranton Penguins' top defenseman last year and helped run the power-play. With the Penguins' moves that they made this off-season, there's still a chance Joseph doesn't get that much playing time. However, the only new left-shot defenseman is Ty Smith. The other two defensemen are both right-shot. 

F Valtteri Puustinen
Since Kasper Bjorkqvist, unfortunately, decided to head back to Finland this off-season, I decided to go with a different Finnish player for my second player. Puustinen is a player who, a few years ago, I never thought would be on any lists about making the team. Puustinen was selected in the seventh round of the 2019 NHL draft. In his draft year, he put up ten goals and 13 points in 47 games with HPK in the Finnish Liiga. The season after, he drastically improved, to a solid 17 goals and 40 points in 54 games with HPK, then a 21-goal, 41-point campaign in 2020-21. He transferred to North America for the 2021-22 season, continuing his unlikely and impressive play. In 73 games, he put up 20 goals and 42 points and had three assists in six playoff games. He even made his NHL debut on March 11th versus the Vegas Golden Knights and recorded his first assist on a Jeff Carter goal in a 5-2 win. With the Penguins' current offense, it is likely he will spend another year with the Baby Pens; however, if the Pens need a forward to be called up, more than likely, Puustinen will be one of the first players they grab. 

F Alex Nylander
One of Ron Hextall's most minor trades since becoming GM could become a steal this season. The Penguins acquired Nylander from the Chicago Blackhawks on January 5th in exchange for forward Sam Lafferty. Nylander was drafted eighth overall in 2016 by the Buffalo Sabres. Nylander put up 14 goals and 30 points in 44 games with the Wilkes-Barrie/Scranton Penguins in the AHL and had a total of 22 goals and 42 points in 67 AHL games between the Baby Pens and the Rockford IceHogs. Nylander is the likeliest forward to make the opening night roster, and he could find his stride with the Penguins being surrounded by the star power of Crosby and Malkin. 

HONORABLE MENTION
F Samuel Poulin

The Penguins may not have the elite prospects like a team like the Detroit Red Wings and Los Angeles Kings have, but they still have some NHL-ready players who could help the team still contend for the Stanley Cup while Crosby and Malkin are still on the team. 
Bruins prospect tournament standouts, Metro Division Preview, Blake Wheeler loses the "C", Nic Hague contract dispute, and Evander Kane gets another bag.Thanks for listening! Please rate and review our show on your favorite listening platform. Check out our partner's website at www.insidetherink.com for all your latest hockey news.