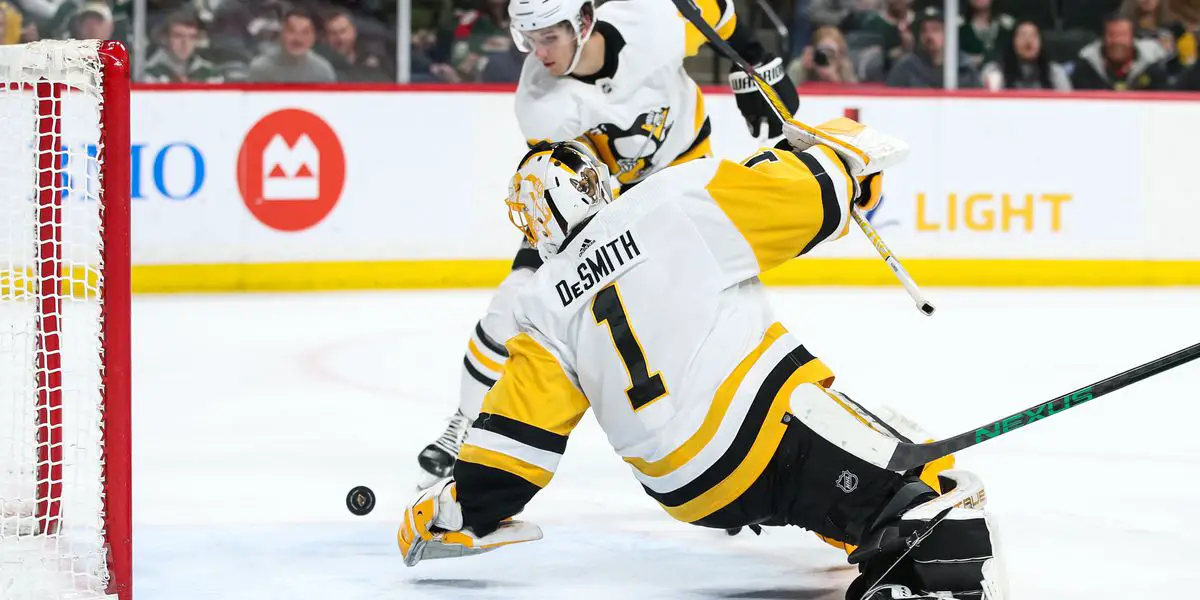 The Penguins have announced today that they have re-signed goaltender Casey DeSmith to a 2-year, $3.6M contract extension, with an AAV of $1.8M.
DeSmith went 11-6-5 with a 2.79 GAA and a .914 SV% in 26 games played last season, with three shutouts, which is the most of his career. DeSmith, 30, has played 96 games with the Penguins since he made his debut during the 2017-18 season, posting a 43-28-11 record with a 2.67 GAA and a .915 SV%
He made his playoff debut in game 1 of the Stanley Cup Playoffs this season and made 48 saves before leaving the game in the second overtime. 
He also broke the Penguins franchise record this season for most saves in a shutout win, with 52 saves in a 3-0 win on April 21st against the Bruins. 
The New Hampshire native spent two seasons in the USHL with the Indiana Ice from 2009-2011 and had a record of 33-24-3 in 64 career games, with a 2.86 GAA and a .909 SV%
He then would spend three seasons from 2011-2014 with the University of New Hampshire with a 48-36-8 record in 97 games, with a 2.32 GAA and a .923 SV%
He also has played 105 games for the Wilkes-Barrie/Scranton Penguins from 2015-2020, with a 57-33-8 record, a 2.56 GAA, and a .913 SV%. In 2017, he was named to the AHL All-Rookie Team and won the AHL's Harry "Hap" Holmes Award for the team that surrenders the fewest goals on the season with current goaltending partner Tristian Jarry. 
The boys squeak in an episode before Jake heads off to Florida. They touch on the Bruins' recent milestones, especially Bergerons 1000 points. They head over to the metro to see can Pittsburgh and Washington turn things around before heading out west to take Shane Wright and the Seattle Krakheads.Thanks for listening! Please rate and review our show on your favorite listening platform. Check out our partner's website at www.insidetherink.com for all your latest hockey news.