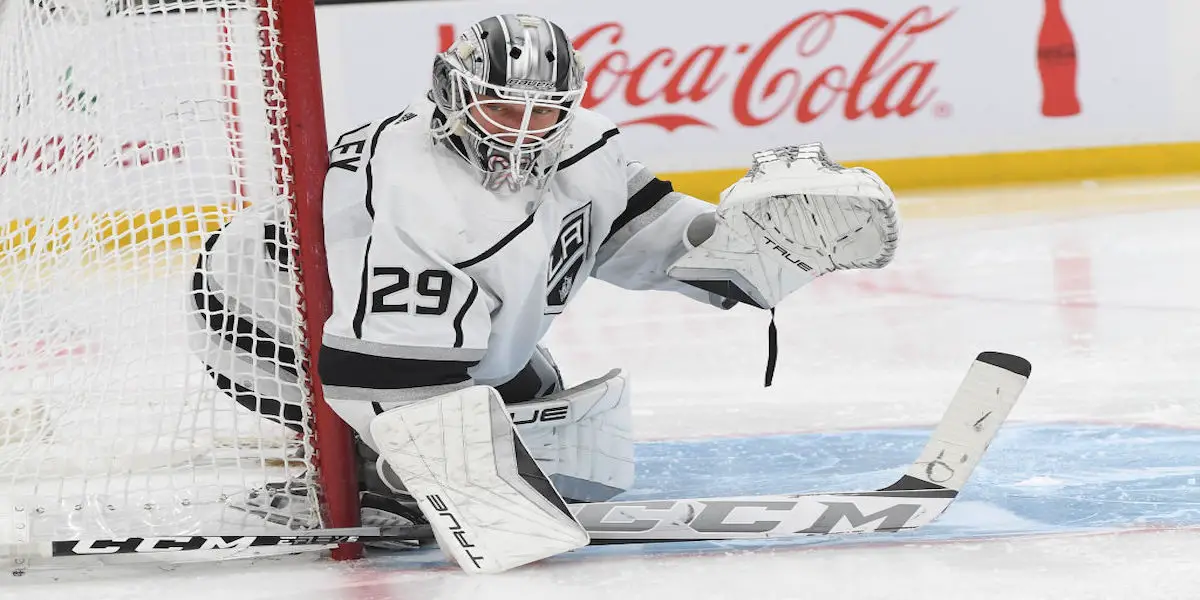 After making a surprise visit to the playoffs last year and dealing some damage, the Kings were poised to make more noise this season. The icon goaltender Jonathan Quick and the heir apparent Cal Peterson were the Kings goalie rotation to start 2022-23. Quick finished his year with the Kings before being traded to the Columbus Blue Jackets. In 31 games, he went 11-13-4, 3.50 GAA, .876 Sv %, with 1 Shutout. Cal Peterson did not last nearly as long, being sent down to the AHL after a disastrous 9-8 OTL to Seattle back in November. Cal played in a total of 10 games, going 5-3-2, 3.75 GAA, and a .868 Sv %.
The Seattle game became the turning point for the team. The Kings were and are a tightly structured defensive group. This team did not look the part whatsoever.
Was Fiala the best offseason signing?
Rob Blake made one of the biggest splashes in the NHL during the offseason by trading for and signing star forward Kevin Fiala to a seven-year contract. In July, however, Rob Blake made an indirectly massive move: he signed free agent Pheonix Copley to a one-year contract (as a goalie destined to play in the AHL).
The Kings goalie tandem proved to derail the Kings season early on. The tandem was consistently giving up back-breaking goals while the Kings offense proved to be better than ever and kept them from having games be close.
After the identity crisis game in November against Seattle, Copley was on his way up and has not looked back. He's played in 37 games, 35 as a starter going 24-6-3, 2.64 GAA, .903 Sv %, and one shutout. His save percentage is nothing to cry home about, but it is needed to win games in this league: average to above-average goaltending on a nightly basis. Without his record, they are lowly 16-16-6 under Quick and Peterson.
The Journeyman
Copley has played five seasons in the NHL, and before this season, he had not played more than two games in the NHL (outside of his 27 games in a Capitals uniform in 2018-19). He is one of the league's best feel-good stories, and the Kings are no strangers to journeyman goalies coming in and securing a win with this club. The interview with Garret Sparks shows the raw emotions last year of the difficulties of being a goalie in this league and the ebbs and flows of the position.
Copley's play has been nothing short of phenomenal and purely unexpected. His play was rewarded with an extension to play with the team on a cap friendly deal through next season. His record, extended over the course of a regular season, puts him in some of the same categories as a Linus Ullmark in Boston.
The Bill Masterton trophy goes to a player that "best exemplifies the qualities of perseverance, sportsmanship, and dedication to hockey." I can't imagine a better player in the NHL who has overcome and stayed the course late in their career to win the number of games he's won and take the reins from a future Hall of Famer in Jonathan Quick. It should be his to lose.
The boys are back after a long break but have plenty to talk about as the playoffs are in full swing. We go series by series, looking at how teams have fared so far and who will come out on top. Thanks for listening! Please rate and review our show on your favorite listening platform. Check out our partner's website at www.insidetherink.com for all your latest hockey news.