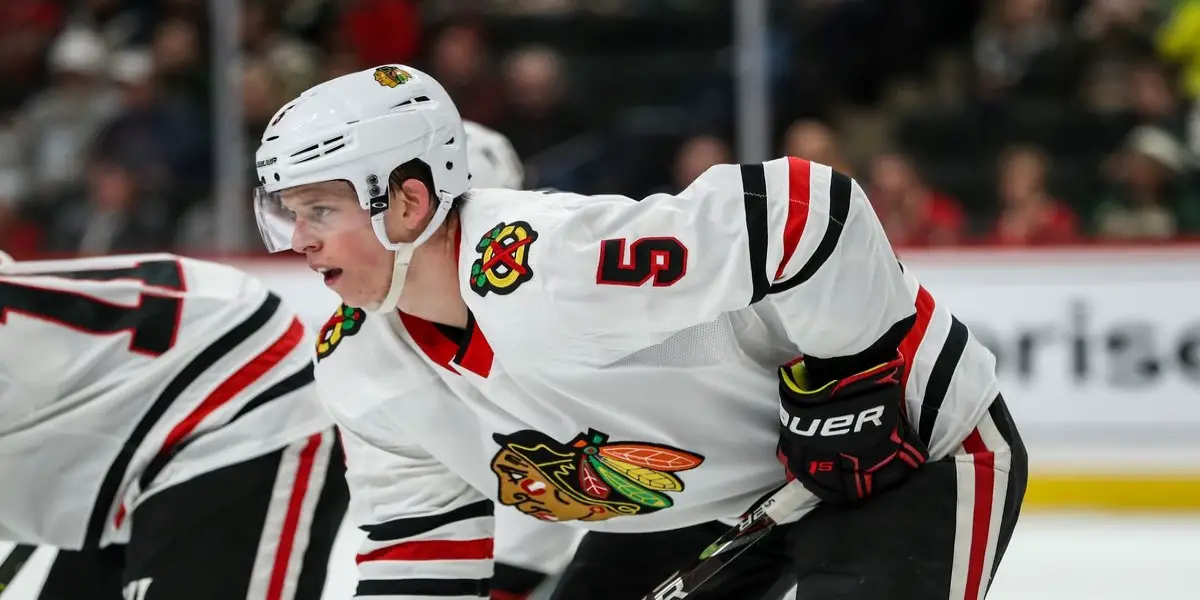 Connor Murphy is coming off his ninth season and is currently playing for the Chicago Blackhawks. Murphy has been the definition of a stay-at-home defensive defenseman throughout his career. Connor Murphy was selected by the then Phoenix Coyotes, now Arizona Coyotes, twentieth overall in the 2011 NHL draft held in Saint Paul, Minnesota.
Connor Murphy's path to the NHL
He was born on March 26th, 1993, in Boston, Massachusetts. Murphys is the son of ex-NHLer Gord Murphy. Gord Murphy was a fourteen-year NHL veteran who played for the Philadelphia Flyers, Boston Bruins, Florida Panthers, and Atlanta Thrashers and is currently on the New York Rangers coaching staff as an assistant coach. Connor Murphy would start to shine playing for the AAA Ohio Blue Jackets, and Murphy would impress enough to get a few looks with the USNTDP team and play for the United States National junior team. Murphy is a dual citizen meaning he can represent either the united states or Canada in international events, even though Murphy would go on to commit to Miami University (The one in Ohio, not sunny Florida).
The NHL Draft and a change on his path to the NHL
The 2011 NHL draft would take place, and with the Coyotes selecting Murphy 20th, he would retract his commitment to the University of Miami. Instead, Connor Murphy would change paths and take the road that led him to the OHL and the Sarnia Sting. Murphy would be a dominating force for the Sting during his two seasons. Murphy would go on to collect 44 points in 68 games. Murphy's leadership would also be rewarded, and he was named an alternate captain for the Sting in his second and final season with them. Murphy would join the NHL club the following season playing in his NHL debut on November 16th, 2013, versus the Tampa Bay Lightning. Remarkably Murphy would also score his first NHL goal in that game. Murphy's first season would be split between the AHL and NHL, playing around thirty games. This is the only time Connor Murphy would see the AHL. Murphy would sign a six-year deal with the coyotes during the offseason of 2016.
The trade that would change it all
One season later, Murphy would be traded to the Windy City and Laurent Dauphin for Niklas Hjalmarsson at the NHL draft. Murphy would come to Chicago and immediately become a staple on the back end. Murphy would be named an alternate captain during the 2020-2021 NHL season, a role that he still holds with the Chicago Blackhawks. The only issue with Connor Murphy isn't his game on the ice but his health. Over his nine-year career, Murphy has never played an entire eighty-two game season. This didn't stop ex Blackhawks General Manager Stan Bowman from extending him with a four-year deal with a cap hit of 4.4M, which includes a modified no-trade clause (10 teams no-trade list).
Murphy may not produce impressive numbers on the stat sheet ( 551 GP, 32G, 88A, and 120 P), but he brings intangible. Murphy is willing to sacrifice his body. Before his injury last season, he was in the league lead for blocked shots. Murphy is the type of defenseman any NHL team would want.
Season 2 Episode 2: Top 10 NHL jerseys, Patrick Kane's future and more!
–
Cue The Dagger
Check out season 2, episode: 2; we have special guest Connor Green on and discuss Kane and Toews, Top 10 NHL jerseys, NHL predictions, Hossa Night, some Boston Bruins talk, and more! Also, please follow the Pod on Twitter #NHL #Blackhawks #HockeyTwitter @CueTheDaggerPod and follow @Inside_The_Rink And @TheConnorGreen @TheRameyRunDown @LJRosengard