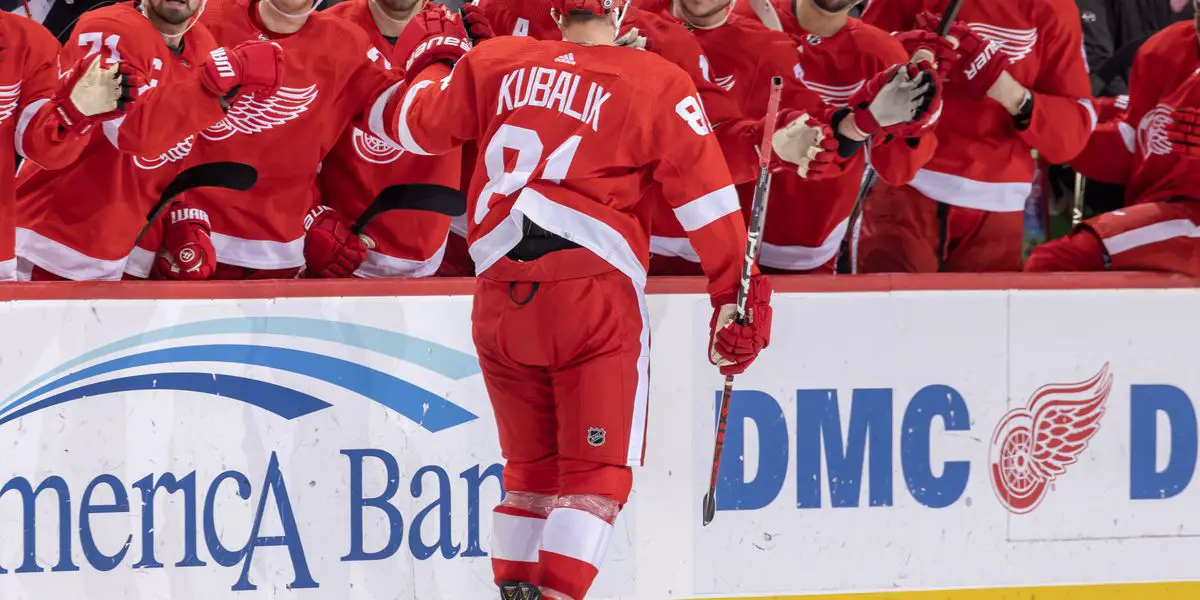 Detroit Red Wings GM Steve Yzerman would not say what his intentions were for the 2022-23 Red Wings before the season started. Instead, Yzerman let his actions speak for themself. The offseason additions of Andrew Copp, David Perron, Oskar Sundqvist, Ben Chiarot, Olli Matta, and  Dominik Kubalik have improved the Red Wings. Kubalik may be the best free agent signing Yzerman has made since his return to the Red Wings organization.
Kubalik's NHL Career
January 24, 2019, the Chicago Blackhawks traded for the rights to Dominik Kubalik, who was in the Los Angeles Kings organization after being drafted 191st overall in the 2013 NHL Draft. Kubalik shunned the Kings and stayed in Switzerland to finish his contract. Kubalik would never suit up for the Kings. Media outlets in L.A. called Kubalik the one that got away.
On May 29, 2019, the Blackhawks and Kubalik agreed on a one year $925,000 contract. On October 9, 2020, the Blackhawks extended Kubalik to the tune of 2 years and $7.4 million. This after the LW scored 30-goals, 16 assists, and 46 points in the 2019-'20 NHL season. Kubalik would stay in Chicago through the last season. It was reported longtime Blackhawks Jonathan Toews, and Patrick Kane were pushing for the Blackhawks to resign the LW, to no avail.
Enter Steve Yzerman and his eagerness to make the Red Wings a tougher team and to add scoring. Yzerman signed Kubalik to a 2-year $5 million free agent deal on July 13, 2022. The signing was viewed as a low-risk, high-reward move. Kubalik's numbers had dipped in Chicago as the Blackhawks were moving to a rebuild which they are currently under. It looks as though players Chicago traded away as they moved towards a rebuild led to the dip in numbers when a team's window is closing.
With nine goals, 13 assists, and 22 points in 22 games played for the Red Wings, Kubalik looks to be back on track. Playing on the Detroit top line with C- Dylan Larkin and RW- Lucas Raymond, the LW- Kubalik has looked rejuvenated and is on the first line power play, which he has helped to stabilize. This is the player who showed well in his first season in Chicago.
Dominik Kubalík has always been viewed as a bit of a hidden gem. Sure, he made a name for himself scoring goals, but in Detroit, Kubalik has shown that he can also help out in the defensive end. It took very little time for Kubalik-Larkin-Raymond to build chemistry, so much so that it forced Tyler Bertuzzi to the Red Wings second line and helped the top line become a formidable one. Detroit finished November 7-3-3, and Kubalik is a big reason why.
For an organization looking to add to the roster post-rebuild, Dominik Kubalik could be a long-term player for Detroit. At just 27 years old, it seems like he is just scratching the surface of what he can be as a complete hockey player. If this is the case, the Red Wings top line can only get better the more games they play.
With five picks in the top-50 of the 2023 NHL Draft, the Red Wings are in prime position to make a trade for a top-six forward. We breakdown fits of players that are potentially on the trade market and what a potential package could look like. We also start with how Red Wings at the World Championships are performing, focusing on Dominik Kubalik, Carter Mazur, and Lucas Raymond.