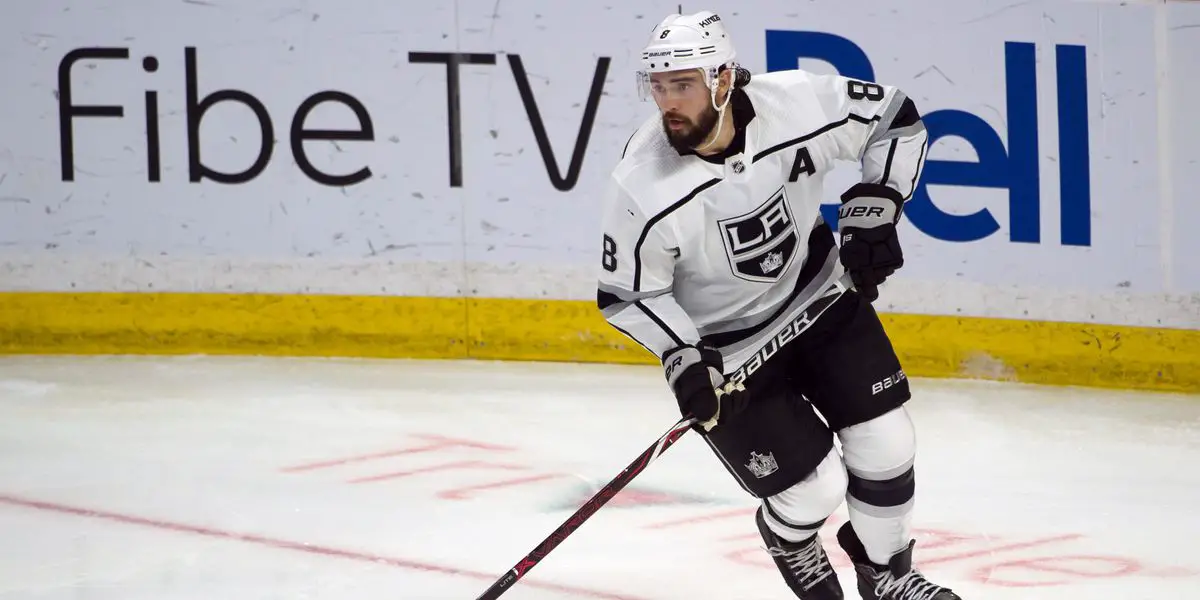 The Los Angeles Kings could be considered a contender for the title of "dynasty" in the 2010s, as they won the Stanley Cup in 2011-12 and 2013-14. With guys like Jonathan Quick, Anze Kopitar, and Dustin Brown on their roster, they have been a force in the NHL for over a decade. But, one member of that group has seemingly stood above the rest, Drew Doughty.
Doughty's Journey
Doughty was drafted by the Kings with the second overall pick in the 2008 NHL Entry Draft. The London, Ontario native has spent 14 NHL seasons with the franchise that drafted him, appearing in 1014 games. His accolades include lifting the Stanley Cup twice, being a four-time All-Star, and winning the 2015-16 Norris Trophy.
In his sophomore season of 2009-10, he exploded onto the scene with an impressive stat line of 16 goals and 39 assists. This remains his career-high in goals scored in a season, but he has hit the 10-goal plateau six more times.
His best season would arguably be between that sophomore year of 2009-10 or the 2017-18 season in which he eclipsed the 60-point mark for the first time. Playing all 82 games that season, Doughty lit the lamp ten times and was credited with 50 assists, the most of his career in a single season. Defensively, he has been dependable. For his career, he has blocked 1326 shots and laid the body 1770 times. Getting a bit more advanced, he has helped keep the puck on his team's stick rather than the opposition with a CorsiFor% of 55.1.
Over his 14-season career, he has a stat line of 134 goals and 435 assists for 567 points. All of which have come with the Kings. The blue-liner added 16 goals and 35 assists in 84 career playoff games.
Drew Doughty: Comeback King?
The offensive defensemen has been a staple for the Kings over the past 14 seasons. This past season, the iron-man-like player only appeared in 39 games before going out to a wrist injury. He is usually a guy that suits up for every game, which is exemplified as he has only missed 74 games in his entire career since being drafted. Even with the lock-out year of 2012-13 and the Covid-19 shortened season, he has only missed 74 games.
All eyes are on him to be the come-back king of the NHL next season. His team, who made the playoffs this past season even with his absence, were certainly missing him in their first-round exit to the Edmonton Oilers. They sure could have used him against the first line of Connor McDavid, Leon Draisaitl, and Evander Kane.
After going through this injury and in the middle of his 8-year, $88 million contract, expect a big season from Doughty in 2022-23. The Kings have established themselves as a threat in the Western Conference. They have a good mix with a pool of young talent and a good reminder of past "Stanley Cup" teams. Doughty should be at the forefront of that next season.
The boys squeak in an episode before Jake heads off to Florida. They touch on the Bruins' recent milestones, especially Bergerons 1000 points. They head over to the metro to see can Pittsburgh and Washington turn things around before heading out west to take Shane Wright and the Seattle Krakheads.Thanks for listening! Please rate and review our show on your favorite listening platform. Check out our partner's website at www.insidetherink.com for all your latest hockey news.