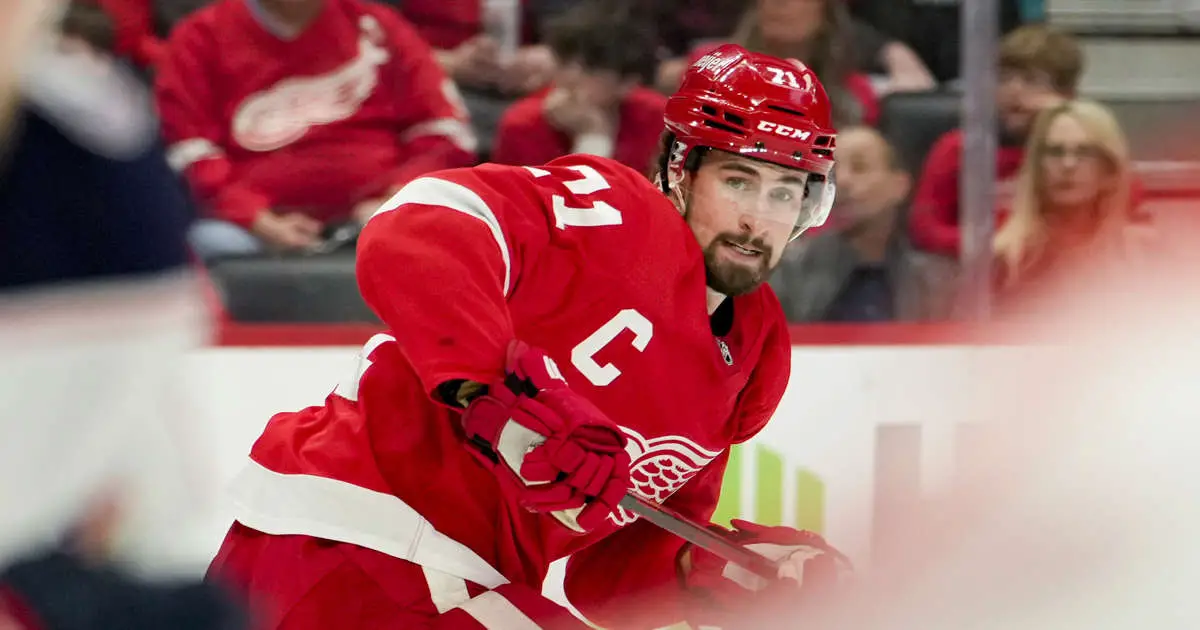 With the 15th pick in the 2014 NHL Draft, the Detroit Red Wings selected Dylan Larkin for the University of Michigan. Having grown up in nearby Waterford, Michigan, Larkin would become a hometown kid who stared and stars for the team he grew up cheering for. In his time in Detroit, Larkin transformed his game into a 1C. That is something that many scouts missed pre-draft, as they had him more of a second-line player.
Larkin's NHL Career
On May 21, 2015, Dylan Larkin signed his ELC, a 3-year, $4,275,00 deal. Larkin was assigned to the Grand Rapids Griffins of the AHL. On October 5, 2015, Larkin made his Red Wings debut at 19 years old, and he scored his first NHL point and goal in his debut. Larkin would go on to score goals in four consecutive games, becoming the first Detroit teenage player to do so since Steve Yzerman in 1984-'85. After his rookie season, Larking finished with 23 goals, 22 assists, and 45 points.
On August 10, 2018, The Red Wings and Larkin agreed on a new 5-year, $30.5 million extension. During that time, Larkin has become a more complete player. Larking has always had an elite first step and is very good on the forecheck. His good balance makes it hard to knock him off the puck. Early in his career, Larkin shot the puck, and he has learned the art of when to shoot and when to pass, allowing his offensive game to elevate.
Playing at the University of Michigan allowed Larkin to become a very strong, reliable defender. Michigan has always been big about teaching student-athletes the importance of being a solid two-way player.
Again, widely viewed as a second-line center pre-draft, Dylan Larkin has taken his game to the next level and become a 1C, displaying his grit and determination. Detroit had been in need of a top-line center for some time. On January 13, 2021, the Red Wings announced Larkin would be the 37th captain in franchise history.
In the final year of his five-year extension, the Red Wings and Larkin are not quite at the crossroads. There is still time to get a deal done. It is said that Larkin's agent wants a deal similar to the contract extension Matthew Barzal signed with the New York Islanders, 8-year, $73.2 million. For a top-line center, that is market value.
Steve Yzerman has a history of keeping things like contract extensions close to the vest. Yzerman also has a history of working out team-friendly deals that both player and team are satisfied with. There is also a possibility Yzerman could move Larkin at or before the deadline. However, that would be surprising since both sides have said they would like to get a deal done, not to mention, as noted, the Red Wings have needed a 1C for some time, and they now have one, and one that came from within the organization, which also happens to be homegrown.
Dylan Larkin is the face of the Detroit hockey team. He has taken the next steps in his career and looks to be a fixture for the Red Wings return to the playoffs.
Steve Yzerman has entered the NHL Trade Deadline. To start, we give our thoughts on the Filip Hronek trade to Vancouver and what this means for the Red Wings defense and the roster construction moving forward. We then discuss the extensions of Dylan Larkin and Jake Walman. We wrap up with the insanity that has been the week ahead of the trade deadline and whether or not Steve Yzerman and the Detroit Red Wings are done yet, whether that be selling Tyler Bertuzzi and/or Jakub Vrana or potentially buying.Please rate and review our show on your favorite listening platform. Check out our partner's website at www.insidetherink.com for all your latest hockey news.