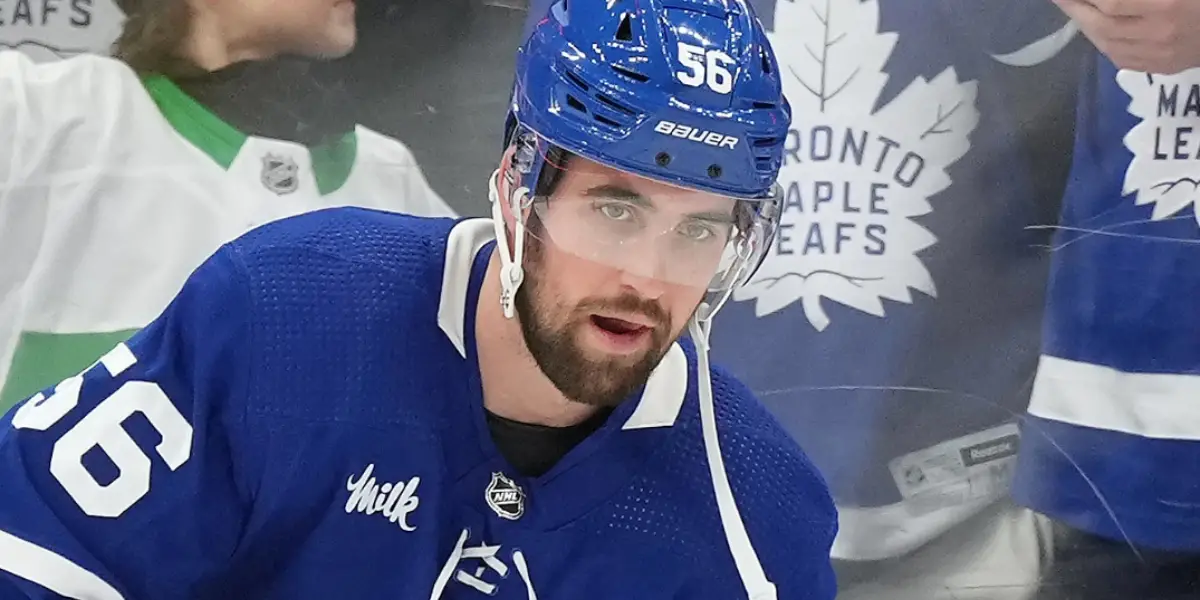 The end of February was busy for the Toronto Maple Leafs. They added a handful of new teammates to their roster during that time. On February 28th, 2023, the Maple Leafs announced a trade deal with the Washington Capitals. From the Capitals, the Maple Leafs would receive Boston's first-round pick in the 2023 NHL draft and acquire Erik Gustafsson in exchange for defenseman Rasmus Sandin.
Who Is Erik Gustafsson?
Eric was born on March 14th, 1992, in Sweden. Erik has a younger brother, Glenn, who also plays hockey professionally for the SHL.
Erik has been with his wife Hannah, a Swedish model and actress, since 2011. They married in 2020 and have three daughters together.
The Swede Life
Erik began playing with different organizations around different parts of Sweden and also represented team Stockholm in 2008 for a national junior tournament, where he scored four assists. In the following season, he played with a J20 team. The team ended up in third place in the playoffs.
Gustafsson was soon called up to debut in the Swedish Hockey League. He made his first on-ice appearance on September 27th, 2011. He played six minutes in that game. Erik scored his first goal in the SHL on December 26th, 2011.
During the 2012 NHL Entry Draft, the Edmonton Oilers selected Gustafsson in the fourth round, the 93rd overall pick. However, despite being selected from an NHL team, Gustafsson left to sign a contract with an SHL club.
Professional Journey
He would have two successful seasons preparing himself to return to NHL status. The Oilers did not retain his rights; therefore, on April 30th, 2015, Erik signed a two-year contract with the Chicago Blackhawks. Erik joined Chicago's American Hockey League affiliate, the Rockford IceHogs. Soon, he would be called to the NHL on January 9th, 2018. On January 20th, in a game against the New York Islanders, he would record his first NHL goal and an assist in a 7-3 loss. In March of the same year, Erik signed a two-year extension with the Blackhawks. The 2019-2020 season would see Erik unable to maintain his scoring pace from previous seasons. This would also be the final season on his contract. At the trade deadline in 2020, Gustafsson was dealt from the Blackhawks to the Calgary Flames in exchange for a 2020 third-round pick. He only played seven games for the Calgary Flames and recorded three assists. As a free agent, Eric left Calgary and agreed to a one-year $3 million contract with the Philadelphia Flyers in October 2020. He would appear in 24 games as a Flyer, recording one goal and 10 points during that delayed 2020-2021 pandemic season. Erik was dealt to the Montreal Canadiens on April 12th, 2021, in exchange for a seventh-round pick in 2022. He played five games as a Montreal Canadiens and recorded two assists.
At the end of training camp season in September 2021, Erik signed a professional tryout contract with the New York Islanders. A month later, he was released from that contract and signed a one-year $800,000 contract to return to the Chicago Blackhawks. At the conclusion time of that contract, Eric laughed as a free agent inside a one-year contract at $800,000 with the Washington Capitals on July 13th, 2022. As a Capital, he scored his very first career hat trick in a win over the visiting Toronto Maple Leafs on December 17th, 2022. All in all, Erik collected 38 points in 61 regular season games, with their Capitals equaling seven goals and 31 assists.
That brings us back to the beginning of this article. Gustafson was traded three days before the trade deadline on February 28th, 2023, to the Toronto Maple Leafs for fellow Swedish defenseman Rasmus Sandin. At the time this article is written, Eric has played eight games with his new team and has recorded one assist thus far. It was announced by head coach Sheldon Keefe Saturday morning that Erik is not with the team right now. He has headed home to Washington to attend to some family matters. At this time, it is unclear when he will return.
WELCOME BACK TO LEAFS LATE NIGHT! Presented by Inside The RinkRoscoe / Galaxy Biehn – Dubas Out?!?- Remember All The Good Times We Shared- I Don't Love Our Options- Matthews Next Deal?- Keefe's Fate- AI MascotsSPORTS! IS FUNMERCH IS AVAILABLE!JOIN OUR DISCORD!Remember to follow us on Twitter @LeafsLateNight & IG @LeafsLateNightCheck out Mike, Josh, and Nathan's articles on the Leafs + many more! insidetherink.com