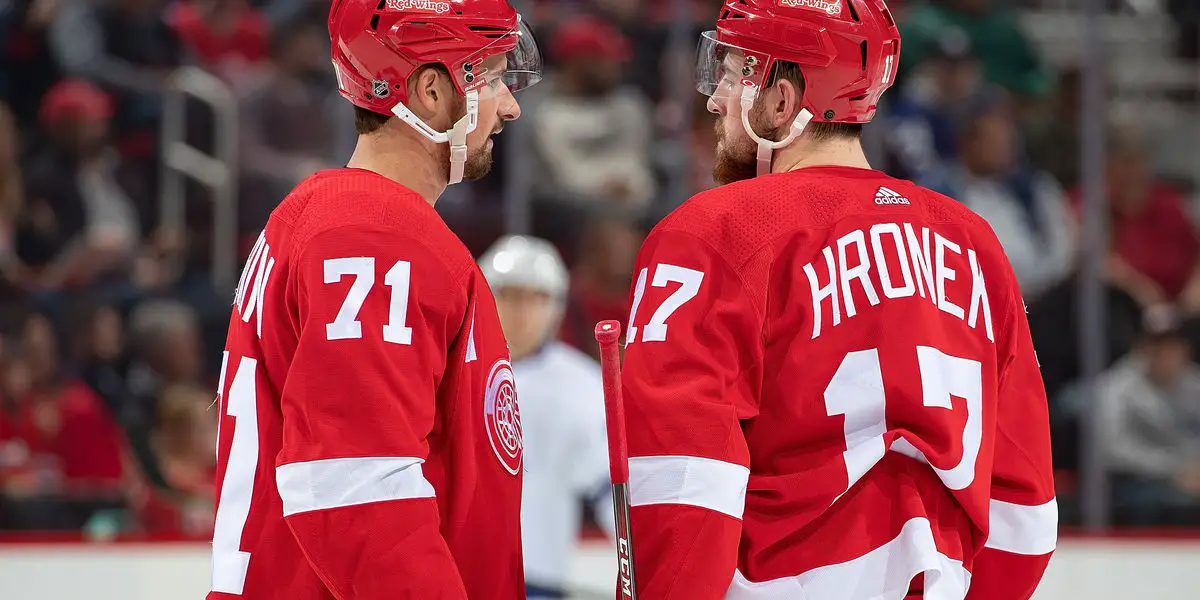 At just 24 years old, it feels like Filip Hronek has been a Detroit Red Wing for more than just five years. Cemented on the Red Wings second line, Hronek has become a consistent player who still feels like his best days are ahead of him. Where did Hronek get his start? Are his best days indeed ahead of him? For the Detroit Red Wings, they are happy to have his services.
In 2016 the Arizona Coyotes sent a package to Detroit for Pavel Datsyuk and a first round draft pick that the team used to draft Jakob Chychrun. The Red Wings received center Joe Vitale and a first round draft pick that had been from the New York Rangers. Already selected defensive player Dennis Cholowski, the Red Wings used the next first round pick on Filip Hronek.
Born November 2, 1997, the Czech-born Hronek would bring his playing career to Mountfield HK during the 2014-'15 season. During the 2015-'16 season, Hronek played 40 games and scored zero goals. Selected 53rd overall by the Detroit Red Wings in the 2016 NHL Draft, Hronek would report to the Saginaw Spirit of the OHL, where in 59 games played, Hronek scored 14 goals and 47 assists with 61 points.
Hronek's NHL Debut to Date
On July 14, 2016, Hronek signed his entry-level contract with the Red Wings, a 3-year $13,200,00 deal. Filip Hronek would continue his development for three years with the Grand Rapids Griffins of the AHL. During his time in Grand Rapids, Hronek has become a dependable defensive player. He moves the puck very well with very good instincts and passing skills. Hronek can quarterback the power play and is very good in transition.
A couple of aspects of Hronek's game stand out. His agility and footwork allow him to be in position. Because of his footwork, Hronek is tough to beat one-on-one. His lack of size (6′ 0″) was once a bit of an issue. Hard work has helped him become a complete hockey player.
Hronek is not much of a goal scorer. His assists and points have gone up. What needs to be pointed out is that Hronek has become an outstanding defensive player. He boxes his player out and is unafraid to join in the mix. His forecheck has gotten stronger as well.
On September 3, 2021, Hronek and the Red Wings agreed on a 3-year $13.2 million contract extension. The Detroit Red Wings placed Hronek on the top-line defense in the past, partly due to injury and partly because the team was in a long rebuild, and Hronek was the best option. What they learned about the defensive player who was once projected as a top-six pairing player is Hronek could handle the top line.
As the rebuild in Detroit is nearing its climactic ending, the team, under GM Steve Yzerman, has drafted better and signed solid free agents allowing Hronek to nestle in on the second line, where he has become a real asset. Hronek has not missed much time due to injury, and his durability has helped the Red Wings defense find more consistency.
With five picks in the top-50 of the 2023 NHL Draft, the Red Wings are in prime position to make a trade for a top-six forward. We breakdown fits of players that are potentially on the trade market and what a potential package could look like. We also start with how Red Wings at the World Championships are performing, focusing on Dominik Kubalik, Carter Mazur, and Lucas Raymond.