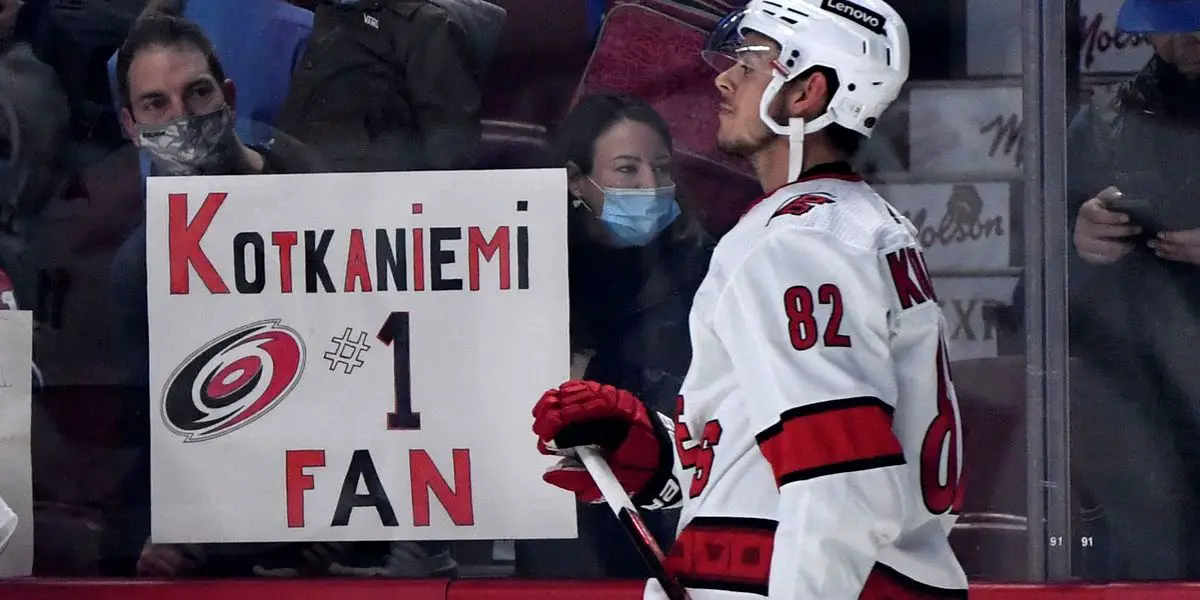 Jesperi Kotkaniemi was born in Pori, Finland, on July 6th, 2000. The name Kotkaniemi has deep roots in the Finnish Elite League. Jesperi's father, Mikael, has a playing/coaching career totaling over 20 years. Kasperi, his brother, is also playing in Liiga as well. Kotkaniemi played in the Assat program from age 14 to 17 before being drafted by the Montreal Canadiens in 2018, which led to him signing a three-year entry-level contract.
Jesperi Kotkaniemi Drafted 3rd Overall
In 2018, the Canadiens drafted the 6'2″ 198lbs center third overall. Kotkaniemi was being drafted during a time that Montreal desperately needed depth at center. He was looked at as the franchise's future at the position. While many saw this as a slight reach, causing an immense amount of debate, letting Brady Tkachuk fall to the Ottawa Senators. Regardless, Montreal drafted their need.
Kotkaniemi's Debut until now
Kotkaniemi broke into the NHL in the '18-'19 season with Montreal after signing a three-year $925k AAV contract, playing 79 games. He tallied 11 goals and 23 assists for 34 points during his rookie campaign. This was thought to be a good year for the rookie, and things were looking good for his future. During his sophomore campaign and the COVID season, Kotkaniemi struggled to find consistency and ended up playing some games in Laval. Ultimately he was on the postseason roster and produced four points in 10 games. During his last season with Montreal, he was solidified in Canadiens lore when he scored the Game 6 Overtime winner to force a Game 7 with the Maple Leafs.
In his third year, there was an eventual rift between Kotkaniemi and the organization, which led us directly to the infamous moment—signing a one-year $6.1m AAV offer sheet with the Carolina Hurricanes. The offer sheet was the most publicized thing in the hockey circuit at the time, with the Hurricane's Twitter account shooting jabs at the Canadiens during the process. All of this is coming in blatant retaliation for trying to sign Sebastian Aho to an offer sheet previously. Montreal eventually balked at matching the offer sheet, and Kotkaniemi became a Hurricane. Marking the first offer sheet in the NHL since 2013.
During his first season with Carolina, Kotkaniemi primarily played a bottom-six role. Playing in 66 games, producing 12 goals, and 17 assists for 29 points. He hasn't lived up to his $6.1m contract this season, but everyone recognizes that was just to make the offer sheet successful. The hopes in Carolina are for Kotkaniemi to make his way into a top-six role and be a point producer. Halfway through the season, his new contract extension finally came. In March 2022, he signed an eight-year $38.56m contract extension with the Hurricanes.
Kotkaniemi's contract status
Fresh off signing his eight-year extension, paying him $4.82m annually, Kotkaniemi has a 10-team no-trade clause in years four through eight. This contract takes him to the '29-'30 season and is only a year longer than Andrei Svechnikov. All signs point to Kotkaniemi being a key part of the Hurricanes core moving forward.