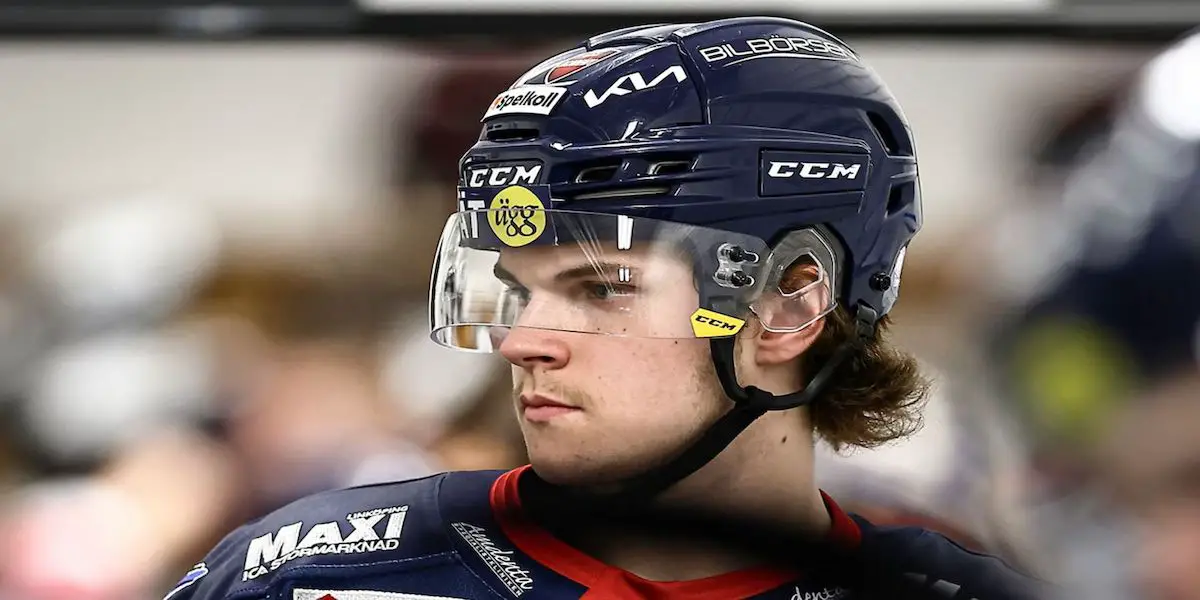 Jonathan Myrenberg was born on April 11, 2003, in Taby, Sweden. Myrenberg's bother Jesper is a 23-year-old goaltender in the Swedish Hockey League. Jonathan played five games for the Sweden Selects U-12 team in 2014-15 and six more games for the U-13 team the following season with one assist. The defenseman played for IFK Taby J18 in 2017-18 and had one goal and two assists in 31 games. With the U-16 team, Myrenberg shined in seven games with a goal and three assists and then two goals and two assists in five playoff games.
The 6-foot-2 defenseman played in the Junior Elite U-18 league and posted 12 points in 23 games in 2018-19. The next season, Myrenberg joined Linkoping and continued to show offensive improvement while becoming a viable NHL draft prospect.
Jonathan Myrenberg Drafted 140th Overall by the Vancouver Canucks in the 2021 NHL Draft
The Vancouver Canucks selected Jonathan Myrenberg in the fifth round of the 2021 NHL Draft. Myrenberg was the 50th blue liner taken in that draft. As of April 2023, only seven from the 2021 draft have played an NHL game. The scout on Myrenberg by Canucks Army was that the big defenseman "has an active stick and is quick to pounce on anyone around the net when he senses a scoring chance developing. He is constantly scanning for danger in the defensive zone and has good awareness of where the opposition is. It's not just his eyes/head that is moving, his feet match what he sees when he's engaged in stationary defense.
He needs to get more physical around his own crease, but for now, he is very cerebral with how he defends. He often anticipates passes and has the ability to use his long reach to disrupt a possession.
Jonathan Myrenberg Traded to Boston Bruins
As a right-shot defenseman climbing the prospect ranks within a week defensive group in the Canucks system, it was somewhat of a surprise that Myrenberg was included in a trade with goaltender Michael DiPietro to Boston for center Jack Studnicka on October 22, 2022. Myrenberg played for Mora on loan in the Allvenskan League and registered four goals and eight assists in 43 games.
Upon the conclusion of Mora's season, reports are that Myrenberg will sign an Amateur Tryout Offer with the Bruins' American Hockey League affiliate Providence Bruins soon. The 20-year-old could get a shot to play in the AHL playoffs and will certainly participate in this summer's Bruins Rookie Development Camp.
Season 2. Episode 37. It's Going To Be A Long Off-Season
–
Bruins Benders Podcast
The Bruins off-season will be longer than expected. We like some CHL rules changes. The Bruins defense needs to be nastier, not just bigger. Can this core going forward win a Cup? Plus Beauties and Benders and Rod Brind'Amour whines.