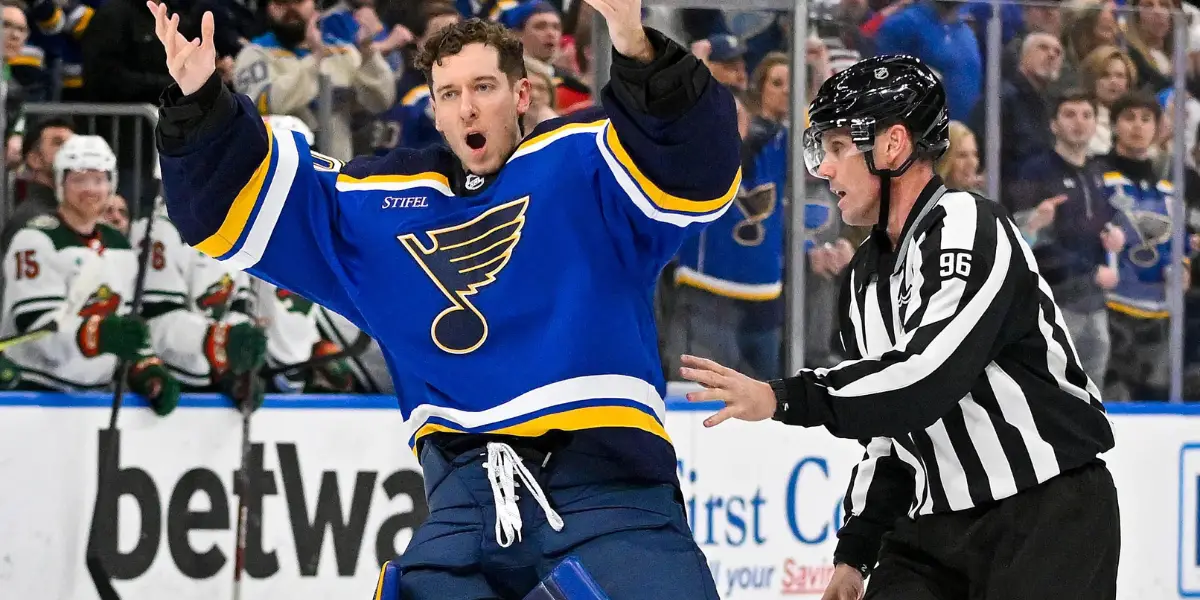 St. Louis Blues goaltender Jordan Binnington isn't everyone's cup of tea. Binnington has lovers, haters, fans, and non-fans. But, no matter your opinion, he's a competitive and fiery goaltender — and you can't deny it. If that makes him the NHL's biggest villain, so be it.

Jordan was born on July 11, 1993, to parents John Binnington and Lindsay McGeachie, in Richmond Hill, Ontario, Canada. John was a team leader at Rogers, while Lindsay worked as a teacher at the York Region District School Board. Lindsay graduated from York University.

Jordan's siblings are Sydney and Callie Binnington. Sydney owns Canalien & Co. and works as a freelancer and a social media content creator. Callie doesn't have a massive social media presence.

Although Jordan's parents are divorced for undisclosed reasons, it's safe to say he and his siblings weren't heavily impacted as they've grown up to live seemingly fulfilling lives. Jordan has described his parents as "even-keeled" and learned not to be nervous because of them.

Jordan was raised in Richmond Hill and Toronto. He began his hockey career by playing major junior hockey for the OHL's Owen Sound Attack. He shined in the 2010-11 OHL season when he posted a 27-12-5 record through 46 regular season games and a 4-2 record in seven postseason games. He helped the Owen Sound win the J. Ross Robertson Cup in 2011. He was subsequently named to the 2011 CHL Memorial All-Star Team. In addition, he won the Dave Pinkey Trophy and was named the First-Team All-Star and Goaltender of the Year — all in 2012-13.

Jordan continued his hockey career by playing in the ECHL and AHL. He played for the AHL's Peoria Riverman, Chicago Wolves, Providence Bruins and San Antonio Rampage, and the ECHL's Kalamazoo Wings. He was recalled by the Blues under emergency conditions after then-goaltender Brian Elliott suffered a lower-body injury in 2014. He was drafted by the Blues 88th overall in the third round of the 2011 NHL Draft.

As a St. Louis Blue, Jordan signed quite a few contracts. He started with an entry-level contract for three years and $2,775,000 in 2012 before signing a one-year, two-way contract for $600,000 in 2016, a one-year, two-way contract for $660,000 in 2017, a one-year, two-way contract for $650,000 in 2018, and a two-year contract extension for $8,800,000 in 2019. He eventually became a mainstay in the Blues' net when the team re-signed him to a six-year contract extension for $36,000,000 in 2021. So, whether or not you agree with his childish antics, you can concur that he worked hard for every penny.

Don't get me wrong, I'm not saying that Jordan should be excused for his on-ice antics, but he's not the only NHL player that can be described as a villain. There are NHL players like Brad Marchand, Tom Wilson, etc., who are considered villains. He's not the only one.

However, there's a chance that Jordan face some challenges in the next few years if he doesn't stop with his antics, as he should stick to playing goalie, blocking shots, and making saves. His behavior, including his punch to the Minnesota Wild forward Ryan Hartman that led to his two-game suspension on March 15, 2023, doesn't necessarily need to make the news cycle.

Since I'm talking about punches, Jordan would be a UFC fighter if he didn't play in the NHL. He said, "I'd be a UFC fighter. I think I have the body and the mind for it."

Jordan already dropped the gloves and picked fights on the ice numerous times. I wouldn't be surprised if he retired from the NHL and entered the UFC. The NFL's a different sport, but if former NFL running back Frank Gore could shift from a professional football player to a professional boxer, so can Jordan.

Jordan is a fan of The Fresh Prince of Bel Air. And, by fan, I mean a massive fan of the 1990s TV sitcom. As a Kalamazoo Wing, he sported the main character Will Smith on the left side of his helmet. When asked about the unusual helmet choice, he replied, "I couldn't name one movie I haven't enjoyed with him in it. Every movie or show has some purpose. The TV show is so creative. I'm laughing out loud every episode. So, to sum it all up, I just feel we'd be best friends."

How do you feel about Jordan Binnington now?
The boys are back after a long break but have plenty to talk about as the playoffs are in full swing. We go series by series, looking at how teams have fared so far and who will come out on top. Thanks for listening! Please rate and review our show on your favorite listening platform. Check out our partner's website at www.insidetherink.com for all your latest hockey news.