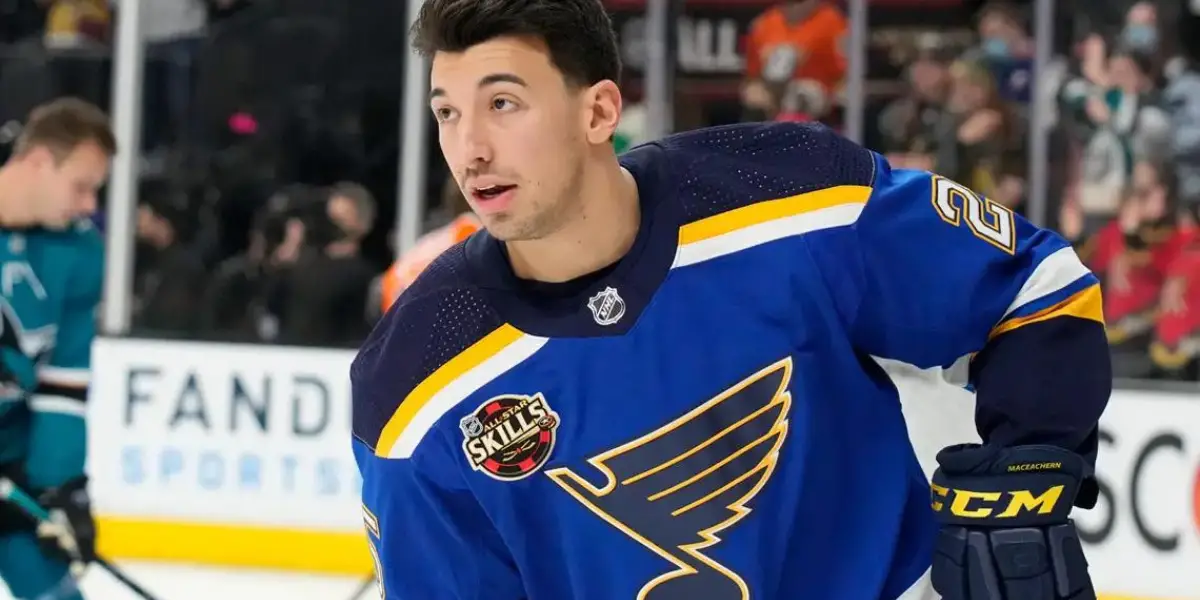 St. Louis Blues forward Jordan Kyrou is an underrated player that you need to know.

Jordan Kyrou was born on May 5, 1998, to Aki and Roula Kyrou (née Economou). He's of Greek descent as his paternal grandparents, Iordanis "John" and Maria "Mary" Kyrou (née Broumas), were Greek immigrants.

Jordan has two younger siblings, Christian and Matina. Christian was born on September 16, 2003. He also plays professional hockey. He was drafted 50th overall in the second round by the Dallas Stars in the 2022 NHL Draft. Meanwhile, Matina's a TikTok star and an accomplished artist.

Kyrou was drafted 35th overall in the second round by the St. Louis Blues in the 2016 NHL Draft. As a right winger, Kyrou's a strong skater that moves with natural ease and accelerates with purpose and ambition. He defensively looks to battle for puck possession and blocks passing lanes. Overall, he's a dynamic forward with a distinctive talent who took his skating — and scoring — to an NHL All-Star level. He won the 2022 NHL All-Star Game's Fastest Skater competition on that account.

The St. Louis Blues' 2022-23 NHL season was disappointing, to put it mildly. But Kyrou's numbers spoke for themselves. Kyrou led the Blues in goals (37) and points (73) in 79 games in 2022-23. Although his assists decreased from 48 to 36, he still came out on top. In my personal opinion, he deserves the eight-year, $65 million contract extension signed on September 13, 2022.

Kyrou was born in Toronto and raised in Mississauga. When he played for the Mississauga Senators, he was selected 38th overall by the Sarnia Sting in the 2014 OHL Priority Selection Draft. He was named the captain of the Sting in his fourth and final season with the Sting. He has represented Canada on three occasions: the 2014 World U-17 Hockey Challenge, the 2016 Ivan Hlinka Memorial Tournament, and the 2018 World Junior Ice Hockey Championships.

Kyrou's a fan favorite who has earned the fans' and the Blues' trust. His on-ice success didn't happen overnight, but because of his family. His grandfather, John, wasn't a hockey fan and was better known for making donuts at the original Tim Horton's location before it became a popular chain. But his father, Aki, had a natural Canadian passion for hockey and enjoyed watching Wayne Gretzky dominate on the ice.

Jordan once said that he — and everyone else in his family — have the Kyrou work ethic. However, he said that he got his competitive mindset from Aki. Jordan told KSDK: "Definitely my dad … He can never lose anything. It's insane."

Kyrou added: "Yeah, but it's not only hockey … I feel like everything, I always compete. I'm a really competitive kid, I think, and a lot of things I do, I'm always competing at it. I always want to be the best at whatever I do, and I think I kind of get that from my dad as well."

Kyrou's good, if not great, at video games. Kyrou, and Vince Dunn, competed in a charitable Fortnite tournament on Twitch in 2020. The NHL duo finished in second place and lost to the NFL duo of Mike Evans and JuJu Smith-Schuster but won $100,000 for a charity.

Are you a fan of Kyrou now?
The boys are back after a long break but have plenty to talk about as the playoffs are in full swing. We go series by series, looking at how teams have fared so far and who will come out on top. Thanks for listening! Please rate and review our show on your favorite listening platform. Check out our partner's website at www.insidetherink.com for all your latest hockey news.