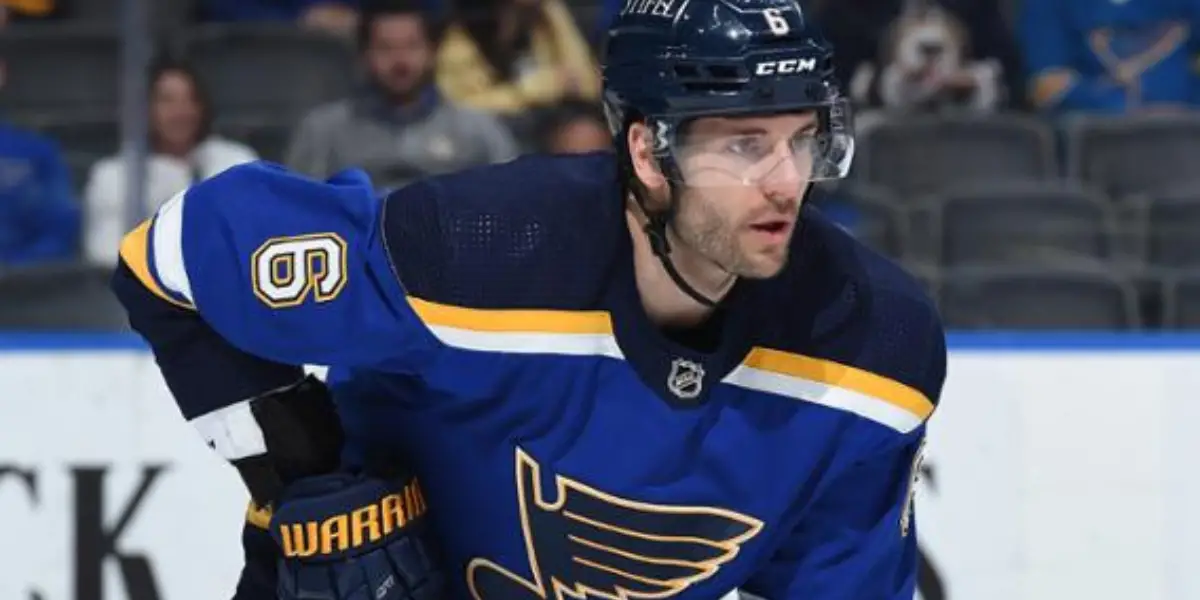 Love him or hate him, Marco Scandella is a part of the St. Louis Blues' defense.

Marco Scandella, a Blues defenseman, was born to parents Francesco and Sandra Scandella in Montreal, Quebec, Canada, on February 23, 1990. The 33-year-old comes from a hockey family, as his older brother, Giulio Scandella, is a professional hockey player who went undrafted in the 2004 NHL Draft. Giulio is a free agent who most recently played for the Ligue Nord-Américaine de Hockey's Les Pétroliers du Nord in 2018-19. His uncle, Sergio Momesso, is a former NHL player drafted 27th overall in the 1983 NHL Draft by the Montreal Canadiens. Momesso played 13 seasons in the NHL from 1983 to 1997 for the Canadiens, Vancouver Canucks, Toronto Maple Leafs, New York Rangers, and St. Louis Blues.

As you might have guessed, Marco is a Canadian of Italian descent. His father, Francesco, is an Italian immigrant. His older brother, Giulio, competed in the 2010 International IIHF World Championship as a member of the Italian national men's ice hockey team. Giulio was later named to the Italian national men's ice hockey team for the 2014 IIHF World Championship. Going back to the point, Marco is trilingual and is fluent in English, Italian, and French.

Like his uncle, Scandella was drafted in the second round but as a 55th overall pick in the 2008 NHL Draft by the Minnesota Wild. He made his NHL debut with the Wild on November 12, 2010, and scored his first NHL goal against the Columbus Blue Jackets on October 8, 2011. He was traded to the Buffalo Sabres on June 30, 2017, in exchange for Tyler Ennis, Marcus Foligno, and a third-round draft pick. He was traded to the Montreal Canadiens for a fourth-round draft pick on January 3, 2020. But his stint in his hometown as a Montreal Canadien was short-lived, as he just spent one month before being traded to the Blues for a second-round draft pick and a conditional fourth-round draft pick on February 18, 2020.

As a St. Louis Blue, Scandella signed a four-year, $13.1 million contract extension on April 16, 2020. His tenure in St. Louis has had its ups and downs. Fast forward to 2022-23, where he played in just 20 regular season games and collected only two points (one goal and one assist) before suffering a season-ending hip injury on April 4, 2023. Previously, he was out due to a hip injury but was cleared to play on February 20, 2023.

The Blues were Scandella's third NHL team in 2020. But, in my opinion, Scandella filled in the defensive role fairly well that year. After all, St. Louis needed a defenseman to step into Jay Bouwmeester's shoes at the time. Bouwmeester, a former defenseman and Edmonton, Alberta, Canada, native, suffered a cardiac arrest on February 11, 2020, collapsed on the Blues' bench during a television timeout at the Blues' game at the Anaheim Ducks, and retired 11 months later.

Scandella previously played for the Quebec Major Junior Hockey League's Val d'Or Foreurs. And, as a member of the Val d'Or Foreurs, he was suspended for 15 games for elbowing the Rimouski Océanic's Alexandre Durette in the head. He finished his junior hockey career with 82 points (23 goals and 59 assists) in 154 regular season games and seven points (two goals, five assists) in ten postseason games.

Scandella represented his home country, Canada, on two separate occasions. He won gold at the 2008 IIHF World U18 Championships in Kazan, Russia, and silver at the 2010 World Junior Ice Hockey Championships in Saskatoon and Regina, Saskatchewan, Canada.

Maybe you think the Blues should trade Scandella. Or perhaps you're like me — and you don't believe the Blues should do that. Either way, you can't deny he's very consistent in his defensive impact when he's healthy.
The boys are back after a long break but have plenty to talk about as the playoffs are in full swing. We go series by series, looking at how teams have fared so far and who will come out on top. Thanks for listening! Please rate and review our show on your favorite listening platform. Check out our partner's website at www.insidetherink.com for all your latest hockey news.