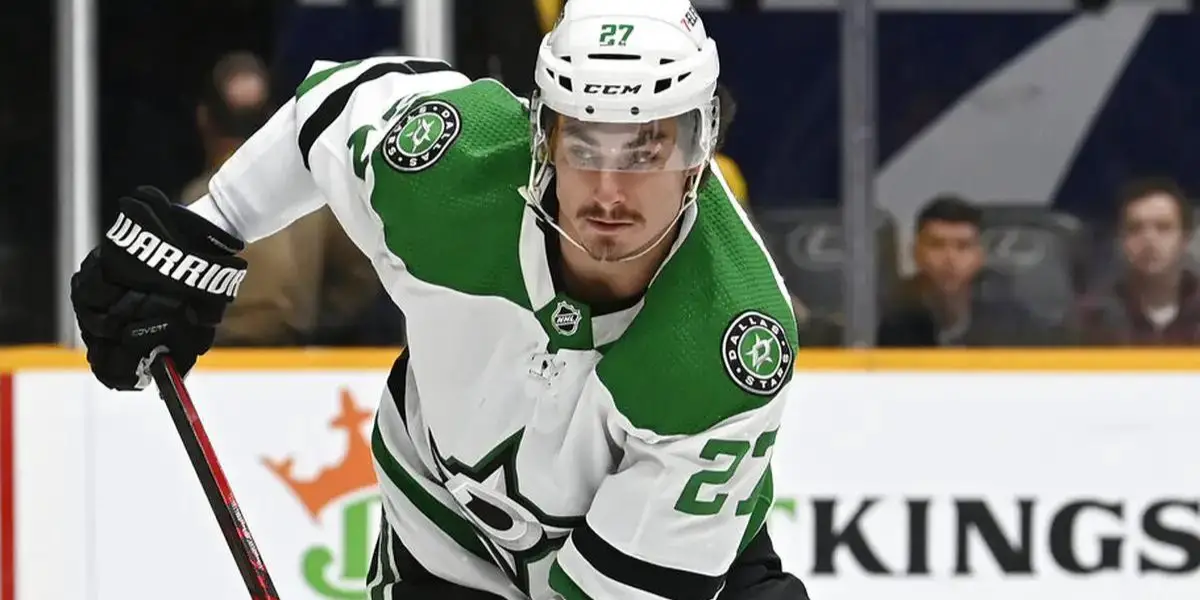 Dallas Stars forward Mason Marchment has contributed to the team's success since joining the team during the 2022 offseason. So, what do you need to know about Marchment? Read on for more information about the Canadian NHL star!

Mason was born on June 18, 1995, in Uxbridge, Ontario, Canada, to Bryan (1969-2022) and Kim Marchment. Kim was reportedly a big part of Mason's career in professional hockey as she drove him to practices and games since Bryan constantly traveled. Mason's sister, Logan, works as an elementary school teacher at the Ottawa-Carleton District School Board, per LinkedIn.

Mason, a 28-year-old forward whose height is 6'4″ and weight is 220 lbs, hails from a hockey family. Bryan was a longtime NHL defenseman that the Winnipeg Jets drafted 16th overall in the first round of the 1987 NHL Draft. Bryan played for the Jets, Chicago Blackhawks, Hartford Whalers, Edmonton Oilers, Tampa Bay Lightning, San Jose Sharks, Colorado Avalanche, Toronto Maple Leafs, and Calgary Flames. Mason's cousin, Kennedy Marchment, plays with the PHF's Connecticut Whale. Kennedy was selected second overall in the first round of the 2017 NWHL Draft by the Buffalo Beauts.

Marchment's professional hockey journey is quite interesting. Marchment went undrafted in 2015 and signed an AHL contract with the Toronto Maple Leafs in 2016 despite not playing major junior hockey until age 19. He eventually signed a two-year, entry-level contract worth $1.85 million with the Maple Leafs on March 18, 2018, just days before becoming a 2018 Calder Cup champion. The Maple Leafs traded him to the Florida Panthers for Denis Malgin on February 19, 2020. He signed a one-year, two-way contract worth $700,000 and then a one-year contract extension worth $800,000.

As a Florida Panther, Marchment recorded a six-point (two goals, four assists) game, tying Olli Jokinen's franchise record for most points in a single game, in the Panthers' 8-4 win over the Columbus Blue Jackets on January 31, 2022. Marchment scored his first career hat trick in the Panthers' 6-2 win over the Minnesota Wild on February 18, 2022. He finished 2021-22 with 47 points (18 goals, 29 assists) in 54 regular-season games and one point (one goal) in four postseason games.

As a free agent, Marchment signed a four-year, $18 million contract with the Dallas Stars on July 13, 2022. And, in his first game as a Dallas Star, he scored two goals and led his new team to a 4-1 win over the Nashville Predators on October 14, 2022.

Like in his breakthrough final season at South Florida, Marchment achieved continued success in Dallas with 31 points (12 goals, 19 assists) in 28 regular-season games and six points (four goals, two assists) in 18 postseason games. Marchment's two-way talent has bolstered the Stars' lineup so far.

Marchment surprised his longtime girlfriend, Alexis Durham, and proposed on a scenic walk with their dog, Milo, on August 23, 2023. He kneeled behind her, and she turned around before running back to him with her hands covering her mouth. The couple kissed after she put on her stunning engagement ring.

Off the ice, Marchment seems like a chill guy. When asked if he prefers Slap Shot or Mighty Ducks in hockey movies, Marchment answered Mighty Ducks because he loves the way they rollerbladed to the mall. And, when asked to name a meal he can cook like a professional, Marchment answered salmon, rice, and potatoes. In addition, Marchment mentioned that Joe Sakic is his favorite NHL player, and the Toronto Raptors are his favorite NBA team.

Do you think Marchment will continue his success in 2023-24? Let me know in the comments!