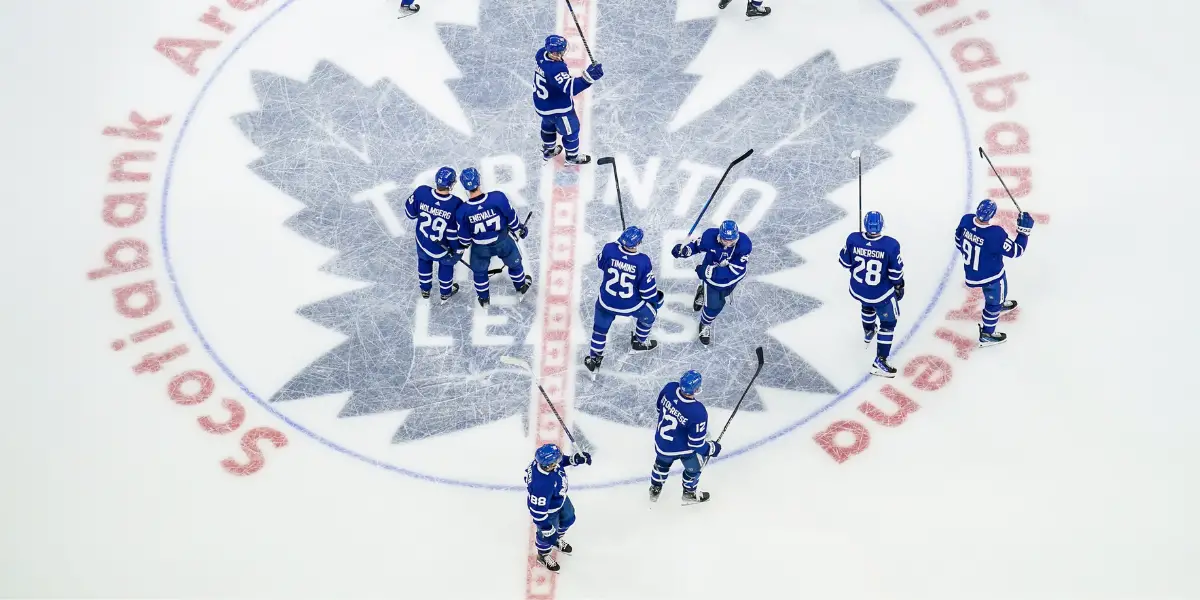 On February 17th, 2023, the Toronto Maple Leafs acquired Ryan O'Reilly and Noel Acciari From the St. Louis Blues, In a three-way trade, including the Minnesota Wild. In exchange, the Blues received a 2023 first and third round pick and a 2024 second round pick, as well as players Mikhail Abramov and Adam Gaudette.
In the hype of the trade news, everything was focused on the homecoming of Ryan O'Reilly, and rightfully so. However, what about the teammate who joined him on the trip to Toronto?
FAMILY FIRST
Noel Acciari was born in Johnston, Rhode Island, on December 1st, 1991. He was the middle child of three boys born to Michael and Edna Acciari. Fast forward to the present day, and he is married to his Providence College sweetheart Kaitlyn Chisholm. They have two children, a boy, Greyson, and a girl Sutton.
Let's take a deeper dive into how his career in the NHL all started.
FROM THE BEGINNING
Before the big leagues, Acciari played for Bishop Hendricken school, where he was team captain in 2009; he played a significant role in helping the team to bring home the 2007 state title. Acciari later played for Kent school from 2009 to 2011. He was named captain of the team for the 2010-2011 season. He led his team in points with 31 goals and 22 assists. He earned Most Valuable Player honors in 2011. Upon graduation, Acciari attended Providence College and played three seasons of NCAA Division I hockey. While there, he accumulated 65 points, which was equal to 32 goals and 33 assists. In 2015, he won the national NCAA championship with his team.
A CALL FROM THE BRUINS
The Boston Bruins signed Acciari to an entry-level contract on June 8th, 2015. At that point, he would play at the American Hockey League level until he was called up to play with the Boston Bruins on March 1st, 2016. He would face the Calgary Flames with his new team for his NHL debut. However, his first NHL goal would not come until March 28th, 2017, when he scored in a home game against the Nashville Predators. On June 28th, 2017, Acciari signed a two year extension with the Bruins.
FLORIDA BOUND
In 2019, Acciari, now an unrestricted free agent, signed a three-year $5 million contract with the Florida Panthers. With his new team, he was noted for being a versatile player. General Manager Dale Tallon suggested acquiring Acciari would provide the team with physicality and passion. In his initial season with the Panthers, he collected a career-best of 27, including 20 goals in 66 games that season.
A STOP IN ST. LOUIS
At the end of summer 2022, Acciari became a free agent with the conclusion of his contract with the Florida Panthers. On July 13th, 2022, Acciari signed a $1.25 million contract with the St. Louis Blues. In a Blues jersey, Acciari recorded ten goals and eight assists in 54 games with the team.
A TRADE TO TORONTO
Once the trade was official, Acciari's former Blues captain and now brand-new Toronto Maple Leaf teammate helped Noel to get acquainted with their new team by making his nickname widely known in the locker room and amongst Leafs Nation. A pivotal part of Acciari's pregame ritual is devouring some delicious cookies. He has recently stated that the nickname "cookie" was given to him by a previous teammate and has stuck with him. He shares "cookie time" with his son Greyson before each game.
Tim Horton's even got wind of this news and invited the brand-new Toronto Maple Leaf to Tim Horton's headquarters to try his first Tim Horton's cookie. He was certainly not disappointed and left with a mountain of cookie boxes. He also helped with the concoction of Saint Patrick's Day milkshakes That would be available for sale on the concourse at Scotiabank arena on March 17th. Acciari and the rest of the team voted, and the result was that mint chocolate chip flavor would be sold on the concourse for the game. Yum!
On March 17th, 2023, in a game against the Carolina Hurricanes, Acciari would be forced to leave at the end of the first period after taking a hit from Jesse Puljujarvi. Later it would be confirmed that Acciari did not suffer a concussion. The Maple Leafs would close that game with a 5-2 victory. Cookie wears #52 for his new team, poetic.
After staying home in Toronto when the team played Ottawa on the weekend, Acciari was able to participate in a full practice on Monday morning. It seems he will be able to join his new team on a road trip kicking off in New York with the Islanders, followed by his former team, the Florida Panthers, on Thursday.
WELCOME BACK TO LEAFS LATE NIGHT! Presented by Inside The RinkRoscoe / Galaxy Biehn – Dubas Out?!?- Remember All The Good Times We Shared- I Don't Love Our Options- Matthews Next Deal?- Keefe's Fate- AI MascotsSPORTS! IS FUNMERCH IS AVAILABLE!JOIN OUR DISCORD!Remember to follow us on Twitter @LeafsLateNight & IG @LeafsLateNightCheck out Mike, Josh, and Nathan's articles on the Leafs + many more! insidetherink.com