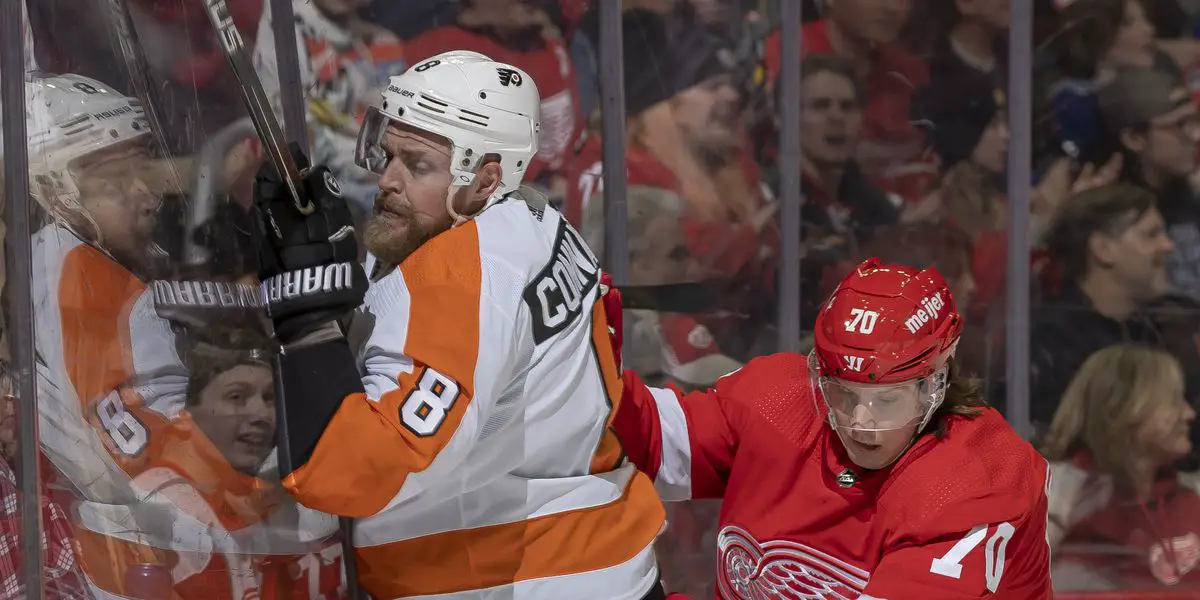 In a trade that saw the Detroit Red Wings send defensemen Nick Leddy and Luke Witowski to the St. Louis Blues for center Oskar Sundqvist, defensemen Jake Walman and a 2023 second round draft pick, Sundqvist has played LW for the Red Wings, and has brought balance to the third line. So how did Oskar Sundqvist get his hockey start, and does he have a future in Detroit beyond his current contract? Let's take a look.
Sundqvist Drafted in 2012
In 2012 the Pittsburgh Penguins drafted Oskar Sundqvist 81 overall (third round). Post-draft saw the Penguins invite their new member to the organizations Prospect Development Camp, where Sundqvist showed flashes of his immense size, his range, and how he skates and plays hard every shift. Sundqvist also showed good hands close to the net, something that had been a pre-draft concern. Sundqvist would return to Sweden, where he would play one season for Skellefea.
June 5, 2014, Sundqvist would agree to terms on his ELC with Pittsburg, three years and $2,775,000. Sundqvist would play parts of two seasons in the Steel City and win a Stanley Cup with the franchise in 2016. Due to a logjam and lack of minutes, the Penguins traded Sundqvist and the number 31 (second round) draft pick to the St. Louis Blues for Ryan Reaves and the number 51 pick.
July 1, 2017, saw the Blue and Sundqvist agree on a one-year $650,000 deal. Sundqvist would spend much of the 2018 season playing for San Antonio (AHL), appearing in 42 games for the Blues. 2018, St. Louis signed the young player to a one-year $7000,000 contract. That season Sundqvist would cement himself in St. Louis.
July 21, 2019, Sundqvist signed a 4-year $11 million deal. Sundqvist would net 14 goals that season, a career-high. Traded to the Detroit Red Wings has brought life to Sundqvist and the Detroit third line. A big, gritty player is just what Detroit has needed. He has become a fan favorite in a short time.
The fact that he can get into the dirty areas and uses his size to his advantage has been one of the biggest boosts to the Red Wings. His play on the power play unit is also worth netting, as he is a problem for goalies when he is in front of the net. His willingness to be an agitator and to work down low has allowed Sundqvist to make friends with teammates who sing his praises.
Sundqvist's Future
The question is, does Oskar Sundqvist have a future on a Detroit hockey team that is pulling out of a rebuild? Right now, the answer is yes due to a few factors—his already mentioned size (6′ 3″) and his quick hands down low. Perhaps his greatest value for the Red Wings is his ability to play wing or center. At just 28 years old, with his best days ahead, it would be wise to keep Sundqvist around for a little while anyways. What GM Steve Yzerman chooses to do with the talented, versatile Sundqvist beyond his current contract is anyone's guess. Based on history and his preference to have younger yet seasoned players for his roster, it seems that Sundqvist's stay in Detroit could be longer than his current deal.
In this episode, we recap the Detroit Red Wings' 2023 trade deadline moves of Tyler Bertuzzi, Jakub Vrana, and Oskar Sundqvist. We also dive into Steve Yzerman's media availability and what's next in Hockeytown. We wrap by talking about the Red Wings' past three games and the play of the "2018 line" and more!Please rate and review our show on your favorite listening platform. Check out our partner's website at www.insidetherink.com for all your latest hockey news.