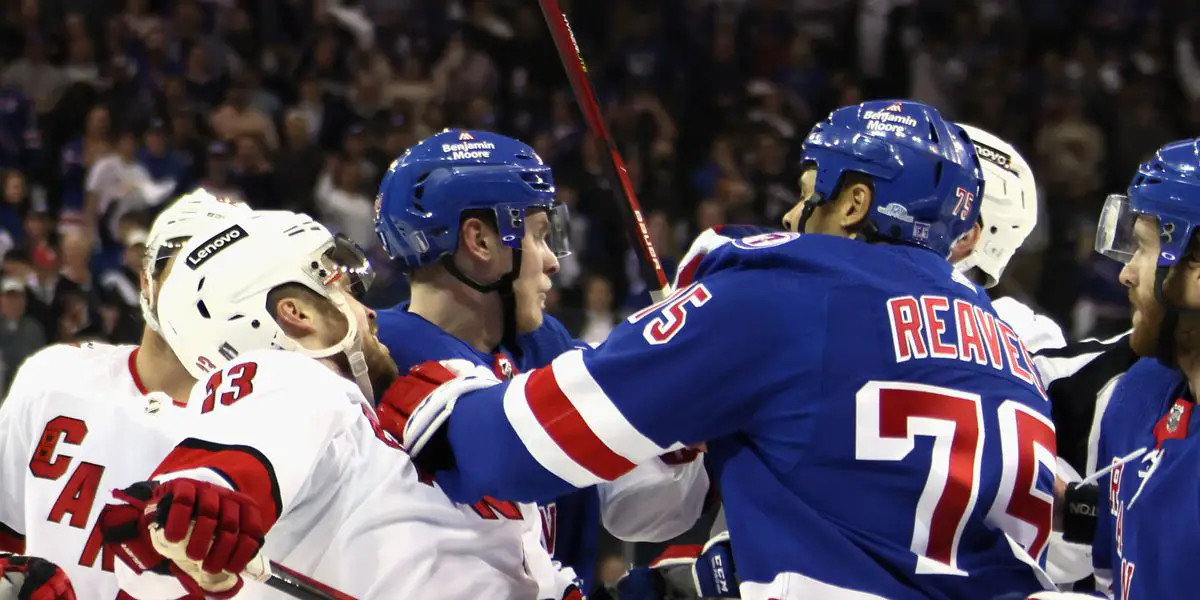 In his 12th NHL season, Ryan Reaves is still setting the tone and gaining his team momentum on a nightly basis. Drafted in the fifth round of the 2005 NHL Entry Draft by St. Louis, the Winnipeg, Manitoba native has outlasted most of those who came before him. Instead of relying on his skills with his skates and stick, he uses his strength and tenacity to secure a spot on an NHL roster each season.
It is better to have Reaves on your squad than to face him.
Reaves' Journey
Born on January 20, 1987, the 35-year-old now plays for the New York Rangers. This is his fourth team since joining the NHL, with the others being the St. Louis Blues, Pittsburgh Penguins, and Vegas Golden Knights.
He spent seven seasons with the St. Louis Blues before being traded to the Pittsburgh Penguins alongside a second-round pick for a first-round pick in the 2017 NHL Entry Draft. He spent just 58 games in Pittsburgh before being traded again to the Vegas Golden Knights in their inaugural year of 2017-18. It was a three-team trade with Ottawa, Vegas, and Pittsburgh.
He stayed in Vegas, signing a two-year deal worth $5.55 Million in 2018 and then again in 2020 with another two-year deal worth $3.5 Million. The 2018-19 season was also the best of his career, as he scored nine goals and added 11 assists for 20 points. This was the only time he reached the 20-point mark for a season in his career thus far. Reaves also had 305 hits on the season, the second-most of his career until a year later when he had 316.
Before the 2021-22 season, Reaves was traded to the New York Rangers. He signed a one-year contract extension with the Rangers in the 2022-23 season.
The Rangers are under the direction of Gerard Gallant. Gallant was Reaves' Head Coach in Vegas. The trust is there between the two of them, and it is evident in Gallant starting Reaves in all 13 playoff games for the Rangers this year.
Ryan Reaves: A Lion in the Jungle
At 6′ 2″ and 225 pounds, Reaves has been used primarily as an enforcer. His role is to ruffle feathers and keep the puck away from his goaltender. Another responsibility of his is, if necessary, dropping the gloves and getting momentum away from the opposition. He has done this on 84 occasions in his career.
What he has excelled at is laying the body on his opponents. In 755 games played at the NHL level, he has a total of 2601 hits. That is an average of 3.4 hits per game throughout his career. And that is just in the regular season. In 97 career playoff appearances, he has 400 hits. When the game gets tougher, so does Reaves.
It is smashmouth hockey, and no one can do it quite like Reaves can. He causes tension on the ice and dramatizes the game. He may not play a lot of minutes on the ice, but he leaves his mark all over the opposition's bodies.
In this weeks episode former Rangers goalie Dan Blackburn comes on to discuss his time with the Rangers, the draft, and more.Thanks for listening! Please rate and review our show on your favorite listening platform. Check out our partner's website at www.insidetherink.com for all your latest hockey news.